Gomisin N Inhibits Melanogenesis through Regulating the PI3K/Akt and MAPK/ERK Signaling Pathways in Melanocytes
1
College of Pharmacy, Gachon University, #191, Hambakmoero, Yeonsu-gu, Incheon 21936, Korea
2
College of Pharmacy, Institute of Pharmaceutical Science and Technology, Hanyang University, Ansan 15588, Korea
3
Department of Applied Chemistry and Institute of Natural Sciences, Kyung Hee University, Global Campus, #1732 Deogyeong-daero, Giheung-gu, Yongin, Gyenggi-do 17104, Korea
4
Gachon Medical Research Institute, Gil Medical Center, Inchon 21565, Korea
5
Gachon Institute of Pharmaceutical Science, Gachon University; #191 Hambakmoe-ro, Yeonsu-gu, Incheon 21565, Korea
*
Author to whom correspondence should be addressed.
Academic Editor: Manickam Sugumaran
Received: 20 December 2016 / Revised: 9 February 2017 / Accepted: 13 February 2017 / Published: 22 February 2017
Abstract
Gomisin N, one of the lignan compounds found in
Schisandra chinensis
has been shown to possess anti-oxidative, anti-tumorigenic, and anti-inflammatory activities in various studies. Here we report, for the first time, the anti-melenogenic efficacy of Gomisin N in mammalian cells as well as in zebrafish embryos. Gomisin N significantly reduced the melanin content without cellular toxicity. Although it was not capable of modulating the catalytic activity of mushroom tyrosinase in vitro, Gomisin N downregulated the expression levels of key proteins that function in melanogenesis. Gomisin N downregulated melanocortin 1 receptor (MC1R), adenylyl cyclase 2, microphthalmia-associated transcription factor (MITF), tyrosinase, tyrosinase-related protein-1 (TRP-1), and tyrosinase-related protein-2 (TRP-2). In addition, Gomisin N-treated Melan-A cells exhibited increased p-Akt and p-ERK levels, which implies that the activation of the PI3K/Akt and MAPK/ERK pathways may function to inhibit melanogenesis. We also validated that Gomisin N reduced melanin production by repressing the expression of MITF, tyrosinase, TRP-1, and TRP-2 in mouse and human cells as well as in developing zebrafish embryos. Collectively, we conclude that Gomisin N inhibits melanin synthesis by repressing the expression of MITF and melanogenic enzymes, probably through modulating the PI3K/Akt and MAPK/ERK pathways.
View Full-Text
►

▼

Figures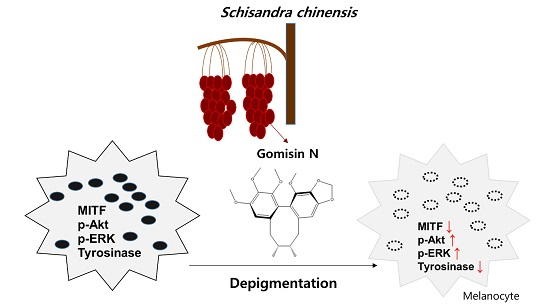 This is an open access article distributed under the
Creative Commons Attribution License
which permits unrestricted use, distribution, and reproduction in any medium, provided the original work is properly cited. (CC BY 4.0).
Share & Cite This Article
MDPI and ACS Style
Chae, J.K.; Subedi, L.; Jeong, M.; Park, Y.U.; Kim, C.Y.; Kim, H.; Kim, S.Y. Gomisin N Inhibits Melanogenesis through Regulating the PI3K/Akt and MAPK/ERK Signaling Pathways in Melanocytes. Int. J. Mol. Sci. 2017, 18, 471.
Note that from the first issue of 2016, MDPI journals use article numbers instead of page numbers. See further details here.
Related Articles
Comments
[Return to top]