Talin Modulation by a Synthetic N-Acylurea Derivative Reduces Angiogenesis in Human Endothelial Cells
1
Department of Cardiology, Cardiovascular Center, College of Medicine, Korea University, Seoul 02841, Korea
2
College of Pharmacy, Research Institute of Pharmaceutical Sciences, Kyungpook National University, Daegu 41566, Korea
3
Department of Life Sciences, Korea University, Seoul 02841, Korea
†
These authors contributed equally to this work.
*
Author to whom correspondence should be addressed.
Academic Editor: Ritva Tikkanen
Received: 8 November 2016 / Revised: 15 January 2017 / Accepted: 17 January 2017 / Published: 22 January 2017
Abstract
Talin is a focal adhesion protein that activates integrins and recruits other focal adhesion proteins. Talin regulates the interactions between integrins and the extracellular matrix, which are critical for endothelial cells during angiogenesis. In this study, we successfully synthesized a novel talin modulator,
N
-((2-(1
H
-indol-3-yl)ethyl)carbamoyl)-2-(benzo[
d
][1,3]dioxol-5-yloxy)acetamide, referred to as KCH-1521. KCH-1521 was determined to bind talin and modulate downstream signaling molecules of talin. After 24 h of treatment, KCH-1521 changed the cell morphology of human umbilical vein endothelial cells (HUVECs) and reduced focal adhesion protein expression including vinculin and paxillin. Talin downstream signaling is regulated via focal adhesion kinase (FAK), kinase B (AKT), and extracellular signal-regulated kinase (ERK) pathways, however, treatment with KCH-1521 decreased phosphorylation of FAK, AKT, and ERK, leading to reduction of cell proliferation, survival, and angiogenesis. Interestingly, the expression of various angiogenic genes was significantly decreased after treatment with KCH-1521. Also, in vitro tube forming assay revealed that KCH-1521 reduced angiogenic networks in a time-dependent manner. To investigate the reversibility of its effects, KCH-1521 was removed after treatment. HUVECs recovered their morphology through rearrangement of the cytoskeleton and the expression of angiogenic genes was also recovered. By further optimization and in vivo studies of KCH-1521, a novel drug of talin modulation could be used to achieve therapeutic anti-angiogenesis for vascular diseases and cancers.
View Full-Text
►

▼

Figures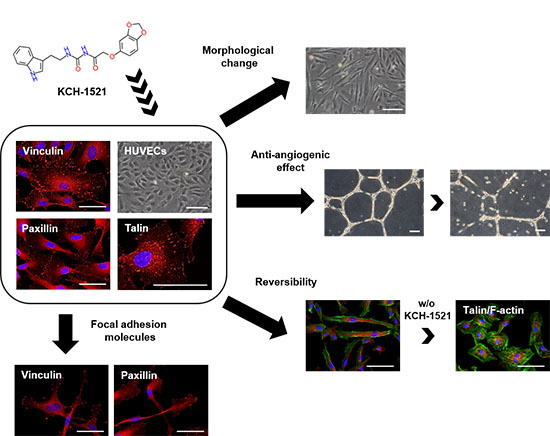 This is an open access article distributed under the
Creative Commons Attribution License
which permits unrestricted use, distribution, and reproduction in any medium, provided the original work is properly cited. (CC BY 4.0).
Supplementary materials
Supplementary File 1:

PDF-Document (PDF, 225 KB)

Externally hosted supplementary file 1
Doi: .
Link: http://.
Description: Contents: 1. Supplementary Table (Table S1) 2. Supplementary Figures and Figure legends (Figure S1)
Share & Cite This Article
MDPI and ACS Style
Lim, I.-R.; Joo, H.J.; Jeong, M.; Kim, J.-H.; Choi, S.-C.; Kim, C.; Jung, J.-W.; Hong, S.J. Talin Modulation by a Synthetic N-Acylurea Derivative Reduces Angiogenesis in Human Endothelial Cells. Int. J. Mol. Sci. 2017, 18, 221.
Note that from the first issue of 2016, MDPI journals use article numbers instead of page numbers. See further details here.
Related Articles
Comments
[Return to top]