Susceptibility and Immune Defence Mechanisms of Rhynchophorus ferrugineus (Olivier) (Coleoptera: Curculionidae) against Entomopathogenic Fungal Infections
1
Laboratory of Bio-control and Molecular Biology, Department of Arid Land Agriculture, College of Agricultural and Food Sciences, King Faisal University, Hofuf 31982, Saudi Arabia
2
Life science and Environment Research Institute, King Abdulaziz City for Science and Technology, P.O. Box 6086, Riyadh 11442, Saudi Arabia
*
Author to whom correspondence should be addressed.
Academic Editor: Patrick C. Y. Woo
Received: 23 July 2016 / Revised: 22 August 2016 / Accepted: 2 September 2016 / Published: 9 September 2016
Abstract
Insects infected with entomopathogenic fungi, experience physiological changes that influence their growth and immune defence. The potential of nine isolates of entomopathogenic fungi was evaluated after determining percent germination and relative conidial hydrophobicity. However, nutritional indices were evaluated after immersing eighth-instar
Rhynchophorus ferrugineus
larvae into each isolate suspension (1 × 10
7
conidia/mL). The results showed that isolates B6884 and M9374 had 44.51% and 39.02% higher conidial hydrophobicity compared with isolate I03011 (least virulent). The results of nutritional index assays revealed a significant reduction in growth indices after infection with different isolates. Compared with control, B6884 and M9374 greatly decreased larval growth by reducing the efficacy of conversion of ingested food (36%–47%) and Efficacy of conversion of digested food (50%–63%). Furthermore, only isolate B6884 induced 100% mortality within 12 days. Compared with control, isolate I03011, possessing the lowest conidial hydrophobicity, only reduced 0.29% of the efficacy of conversion of ingested food (ECI) and 0.48% of the efficacy of conversion of digested food (ECD). Similarly, transcriptomic analysis of genes related to the Red palm weevil (RPW) immune response, including pathogen recognition receptors (
C-type lectin
and
endo-beta-1,4-glucanse
), signal modulator (
Serine protease-like protein
), signal transductors (
Calmodulin-like protein
and
EF-hand domain containing protein
) and effectors (
C-type
lysozyme,
Cathepsin
L.,
Defensin-like protein
,
Serine carboxypeptidase
, and
Thaumatin-like protein
), was significantly increased in larval samples infected with B6884 and M9374. These results suggest that for an isolate to be virulent, conidial hydrophobicity and germination should also be considered during pathogen selection, as these factors could significantly impact host growth and immune defence mechanisms.
View Full-Text
►

▼

Figures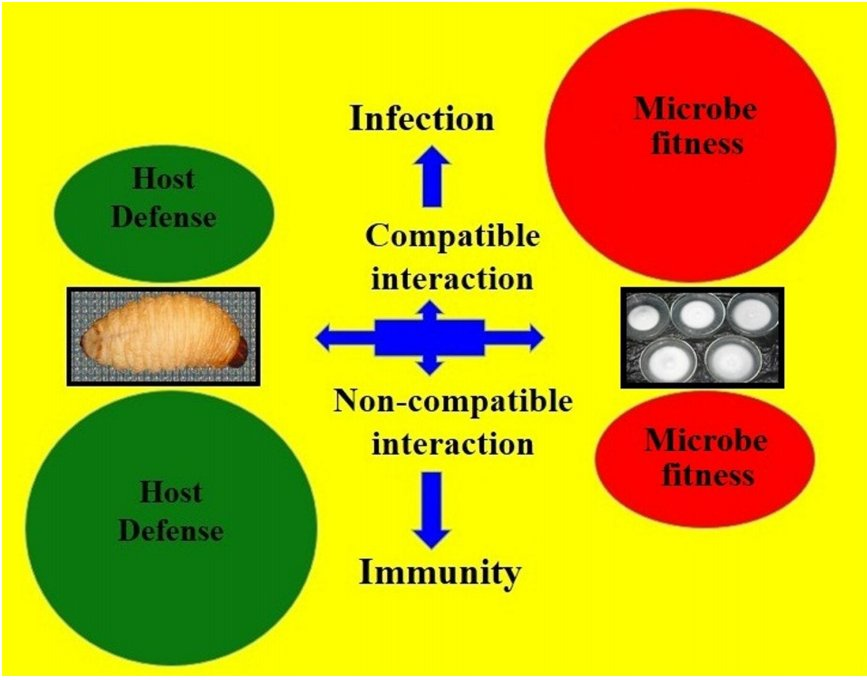 This is an open access article distributed under the
Creative Commons Attribution License
which permits unrestricted use, distribution, and reproduction in any medium, provided the original work is properly cited. (CC BY 4.0).
Share & Cite This Article
MDPI and ACS Style
Hussain, A.; Rizwan-ul-Haq, M.; Al-Ayedh, H.; AlJabr, A.M. Susceptibility and Immune Defence Mechanisms of Rhynchophorus ferrugineus (Olivier) (Coleoptera: Curculionidae) against Entomopathogenic Fungal Infections. Int. J. Mol. Sci. 2016, 17, 1518.
Note that from the first issue of 2016, MDPI journals use article numbers instead of page numbers. See further details here.
Related Articles
Comments
[Return to top]