"Fifty Shades" of Black and Red or How Carboxyl Groups Fine Tune Eumelanin and Pheomelanin Properties
1
Department of Clinical Medicine and Surgery, University of Naples "Federico II", Naples 80131, Italy
2
Department of Chemical Sciences, University of Naples "Federico II", Naples 80126, Italy
3
Hair Care Products Research Laboratories, Kao Corporation, Tokyo 131-8501, Japan
*
Author to whom correspondence should be addressed.
Academic Editor: Manickam Sugumaran
Received: 12 April 2016 / Revised: 2 May 2016 / Accepted: 5 May 2016 / Published: 17 May 2016
Abstract
Recent advances in the chemistry of melanins have begun to disclose a number of important structure-property-function relationships of crucial relevance to the biological role of human pigments, including skin (photo) protection and UV-susceptibility. Even slight variations in the monomer composition of black eumelanins and red pheomelanins have been shown to determine significant differences in light absorption, antioxidant, paramagnetic and redox behavior, particle morphology, surface properties, metal chelation and resistance to photo-oxidative wear-and-tear. These variations are primarily governed by the extent of decarboxylation at critical branching points of the eumelanin and pheomelanin pathways, namely the rearrangement of dopachrome to 5,6-dihydroxyindole (DHI) and 5,6-dihydroxyindole-2-carboxylic acid (DHICA), and the rearrangement of 5-
S
-cysteinyldopa
o
-quinoneimine to 1,4-benzothiazine (BTZ) and its 3-carboxylic acid (BTZCA). In eumelanins, the DHICA-to-DHI ratio markedly affects the overall antioxidant and paramagnetic properties of the resulting pigments. In particular, a higher content in DHICA decreases visible light absorption and paramagnetic response relative to DHI-based melanins, but markedly enhances antioxidant properties. In pheomelanins, likewise, BTZCA-related units, prevalently formed in the presence of zinc ions, appear to confer pronounced visible and ultraviolet A (UVA) absorption features, accounting for light-dependent reactive oxygen species (ROS) production, whereas non-carboxylated benzothiazine intermediates seem to be more effective in inducing ROS production by redox cycling mechanisms in the dark. The possible biological and functional significance of carboxyl retention in the eumelanin and pheomelanin pathways is discussed.
View Full-Text
►

▼

Figures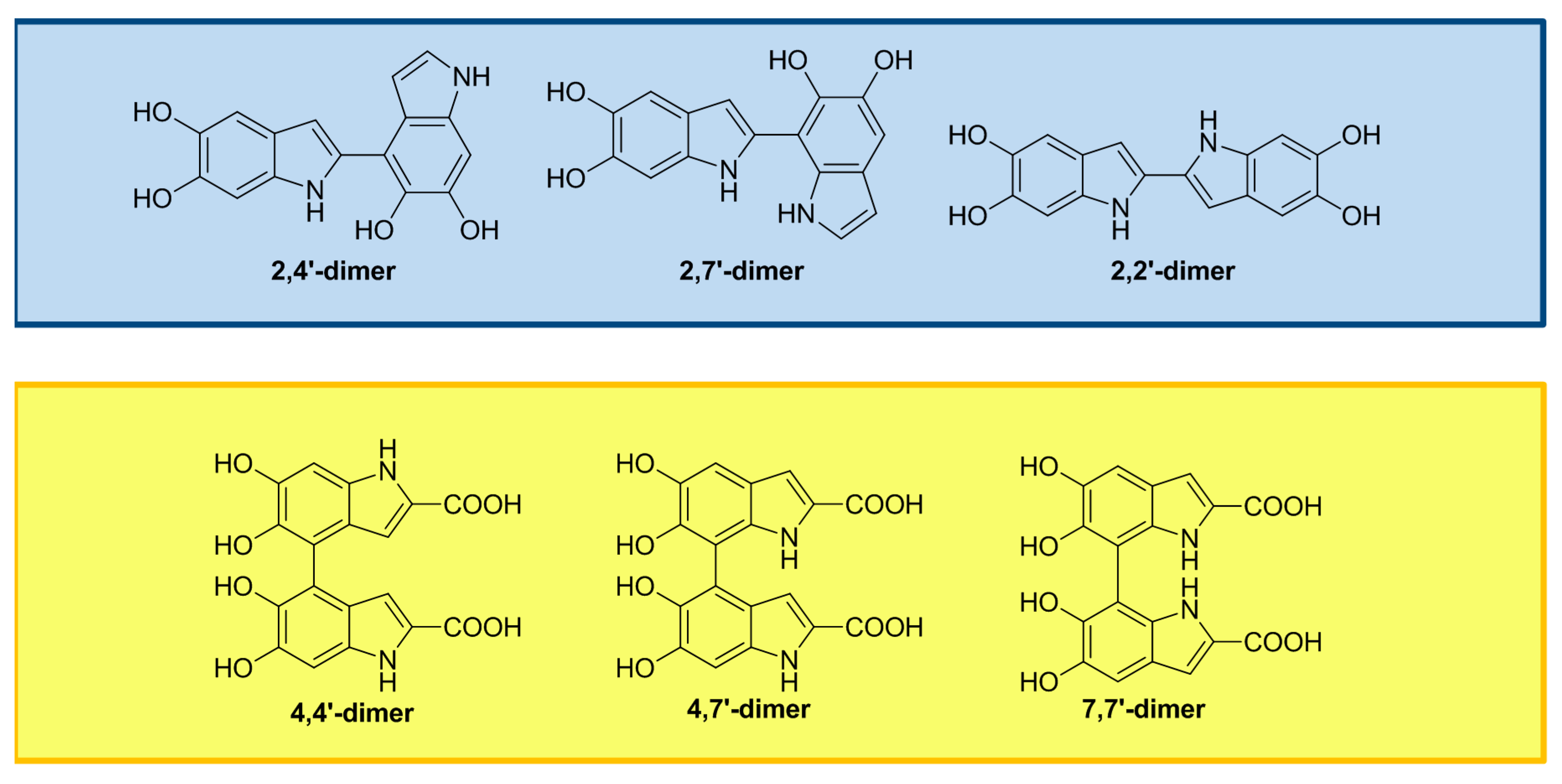 Figure 1
This is an open access article distributed under the
Creative Commons Attribution License
which permits unrestricted use, distribution, and reproduction in any medium, provided the original work is properly cited. (CC BY 4.0).
Share & Cite This Article
MDPI and ACS Style
Micillo, R.; Panzella, L.; Koike, K.; Monfrecola, G.; Napolitano, A.; d'Ischia, M. "Fifty Shades" of Black and Red or How Carboxyl Groups Fine Tune Eumelanin and Pheomelanin Properties. Int. J. Mol. Sci. 2016, 17, 746.
Note that from the first issue of 2016, MDPI journals use article numbers instead of page numbers. See further details here.
Related Articles
Comments
[Return to top]