Identification of 1,2,3,4,6-Penta-O-galloyl-β-
d

-glucopyranoside as a Glycine N-Methyltransferase Enhancer by High-Throughput Screening of Natural Products Inhibits Hepatocellular Carcinoma

1

Institute of Microbiology and Immunology, National Yang-Ming University, Taipei 11221, Taiwan

2

Center for Infectious Disease and Cancer Research (CICAR), Kaohsiung Medical University, Kaohsiung 80708, Taiwan

3

Graduate Institute of Natural Products, College of Pharmacy, Kaohsiung Medical University, Kaohsiung 80708, Taiwan

4

Lipid Science and Aging Research Center (CHY), Kaohsiung Medical University, Kaohsiung 80708, Taiwan

5

Research Center for natural products and Drug Development (CHY), Kaohsiung Medical University, Kaohsiung 80708, Taiwan

6

National Research Institute of Chinese Medicine, Taipei 11221, Taiwan

7

Department of Life Sciences and Institute of Genome Sciences, College of Life Science, National Yang-Ming University, Taipei 11221, Taiwan

8

School of Pharmacy, College of Pharmacy, Kaohsiung Medical University, Kaohsiung 80708, Taiwan

9

Ph.D. Program in Toxicology, College of Pharmacy, Kaohsiung Medical University, Kaohsiung 80708, Taiwan

10

Institute of Biomedical Sciences, National Sun Yat-sen University, Kaohsiung 80708, Taiwan

11

Department of Microbiology and Immunology, Institute of Medical Research and Institute of Clinical Medicine, College of Medicine, Kaohsiung Medical University, Kaohsiung 80708, Taiwan

†

These authors contributed equally to this work.

*

Author to whom correspondence should be addressed.

Academic Editor: Vladimír Křen

Received: 1 April 2016 / Revised: 25 April 2016 / Accepted: 25 April 2016 / Published: 4 May 2016
Abstract
Glycine
N
-methyltransferase (GNMT) expression is vastly downregulated in hepatocellular carcinomas (HCC). High rates of GNMT knockout mice developed HCC, while overexpression of GNMT prevented aflatoxin-induced carcinogenicity and inhibited liver cancer cell proliferation. Therefore, in this study, we aimed for the identification of a GNMT inducer for HCC therapy. We established a GNMT promoter-driven luciferase reporter assay as a drug screening platform. Screening of 324 pure compounds and 480 crude extracts from Chinese medicinal herbs resulted in the identification of
Paeonia lactiflora
Pall (PL) extract and the active component 1,2,3,4,6-penta-
O
-galloyl-β-
d
-glucopyranoside (PGG) as a GNMT inducer. Purified PL extract and PGG induced GNMT mRNA and protein expression in Huh7 human hepatoma cells and in xenograft tumors. PGG and PL extract had potent anti-HCC effects both
in vitro
and
in vivo
. Furthermore, PGG treatment induced apoptosis in Huh7 cells. Moreover, PGG treatment sensitized Huh7 cells to sorafenib treatment. Therefore, these results indicated that identifying a GNMT enhancer using the GNMT promoter-based assay might be a useful approach to find drugs for HCC. These data also suggested that PGG has therapeutic potential for the treatment of HCC.
View Full-Text
►

▼

Figures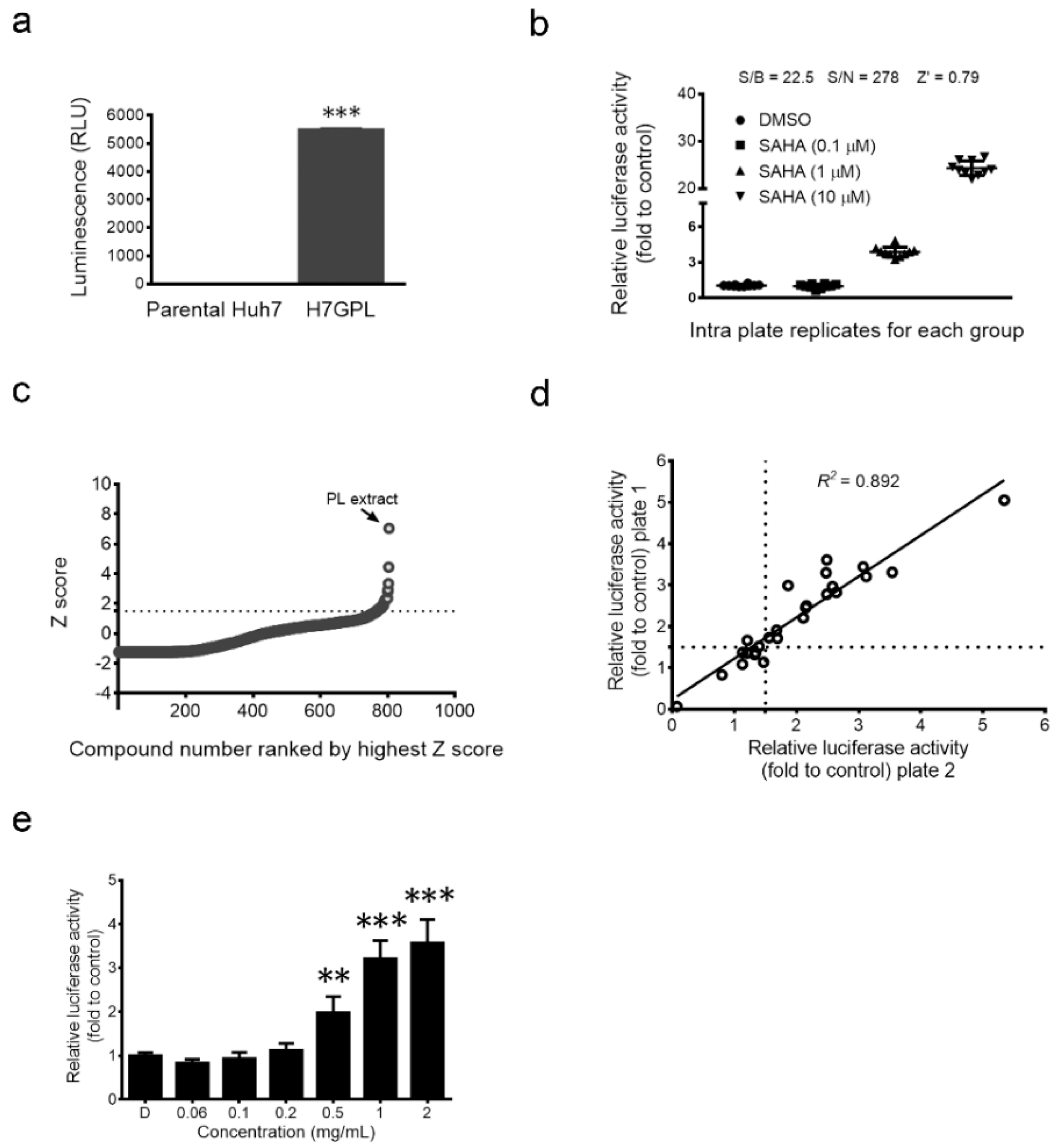 Figure 1
This is an open access article distributed under the
Creative Commons Attribution License
which permits unrestricted use, distribution, and reproduction in any medium, provided the original work is properly cited. (CC BY 4.0).
Share & Cite This Article
MDPI and ACS Style
Kant, R.; Yen, C.-H.; Lu, C.-K.; Lin, Y.-C.; Li, J.-H.; Chen, Y.-M.A. Identification of 1,2,3,4,6-Penta-O-galloyl-β-d-glucopyranoside as a Glycine N-Methyltransferase Enhancer by High-Throughput Screening of Natural Products Inhibits Hepatocellular Carcinoma. Int. J. Mol. Sci. 2016, 17, 669.
Note that from the first issue of 2016, MDPI journals use article numbers instead of page numbers. See further details here.
Related Articles
Comments
[Return to top]