Anti-Inflammatory and Cytoprotective Effects of TMC-256C1 from Marine-Derived Fungus Aspergillus sp. SF-6354 via up-Regulation of Heme Oxygenase-1 in Murine Hippocampal and Microglial Cell Lines
1
Institute of Pharmaceutical Research and Development, College of Pharmacy, Wonkwang University, Iksan 54538, Korea
2
College of Medical and Life Sciences, Silla University, Busan 46958, Korea
3
Korea Polar Research Institute, KORDI, Yeonsu-gu, Incheon 21990, Korea
*
Author to whom correspondence should be addressed.
Academic Editor: Katalin Prokai-Tatrai
Received: 29 February 2016 / Revised: 18 March 2016 / Accepted: 25 March 2016 / Published: 8 April 2016
Abstract
In the course of searching for bioactive secondary metabolites from marine fungi, TMC-256C1 was isolated from an ethyl acetate extract of the marine-derived fungus
Aspergillus
sp. SF6354. TMC-256C1 displayed anti-neuroinflammatory effect in BV2 microglial cells induced by lipopolysaccharides (LPS) as well as neuroprotective effect against glutamate-stimulated neurotoxicity in mouse hippocampal HT22 cells. TMC-256C1 was shown to develop a cellular resistance to oxidative damage caused by glutamate-induced cytotoxicity and reactive oxygen species (ROS) generation in HT22 cells, and suppress the inflammation process in LPS-stimulated BV2 cells. Furthermore, the neuroprotective and anti-neuroinflammatory activities of TMC-256C1 were associated with upregulated expression of heme oxygenase (HO)-1 and nuclear translocation of nuclear factor-E2-related factor 2 (Nrf2) in HT22 and BV2 cells. We also found that TMC-256C1 activated p38 mitogen-activated protein kinases (MAPK) and phosphatidylinositol 3-kinase (PI3K)/Akt signaling pathways in HT22 and BV2 cells. These results demonstrated that TMC-256C1 activates HO-1 protein expression, probably by increasing nuclear Nrf2 levels via the activation of the p38 MAPK and PI3K/Akt pathways.
View Full-Text
►

▼

Figures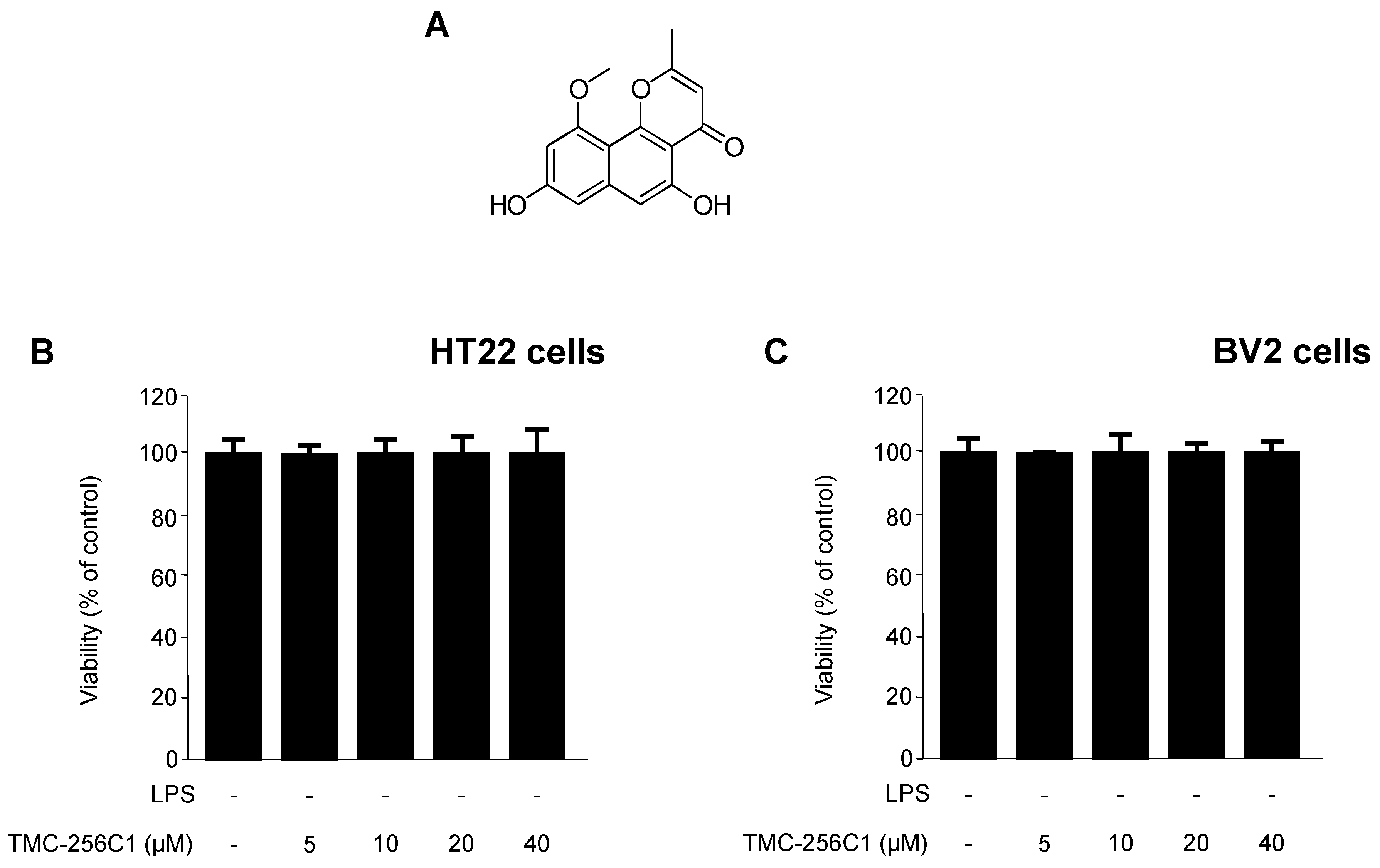 Figure 1
This is an open access article distributed under the
Creative Commons Attribution License
which permits unrestricted use, distribution, and reproduction in any medium, provided the original work is properly cited. (CC BY 4.0).
Share & Cite This Article
MDPI and ACS Style
Kim, D.-C.; Cho, K.-H.; Ko, W.; Yoon, C.-S.; Sohn, J.H.; Yim, J.H.; Kim, Y.-C.; Oh, H. Anti-Inflammatory and Cytoprotective Effects of TMC-256C1 from Marine-Derived Fungus Aspergillus sp. SF-6354 via up-Regulation of Heme Oxygenase-1 in Murine Hippocampal and Microglial Cell Lines. Int. J. Mol. Sci. 2016, 17, 529.
Note that from the first issue of 2016, MDPI journals use article numbers instead of page numbers. See further details here.
Related Articles
Comments
[Return to top]