Modeling of the Reaction Mechanism of Enzymatic Radical C–C Coupling by Benzylsuccinate Synthase
1
Jerzy Haber Institute of Catalysis and Surface Chemistry, Polish Academy of Sciences, Kraków 30-239, Poland
2
Laboratory of Microbial Biochemistry, and LOEWE-Center for Synthetic Microbiology, Philipps-University of Marburg, Marburg 35043, Germany
*
Author to whom correspondence should be addressed.
Academic Editor: Samuel De Visser
Received: 15 February 2016 / Revised: 15 March 2016 / Accepted: 24 March 2016 / Published: 7 April 2016
Abstract
Molecular modeling techniques and density functional theory calculations were performed to study the mechanism of enzymatic radical C–C coupling catalyzed by benzylsuccinate synthase (BSS). BSS has been identified as a glycyl radical enzyme that catalyzes the enantiospecific fumarate addition to toluene initiating its anaerobic metabolism in the denitrifying bacterium
Thauera aromatica
, and this reaction represents the general mechanism of toluene degradation in all known anaerobic degraders. In this work docking calculations, classical molecular dynamics (MD) simulations, and DFT+D2 cluster modeling was employed to address the following questions: (i) What mechanistic details of the BSS reaction yield the most probable molecular model? (ii) What is the molecular basis of enantiospecificity of BSS? (iii) Is the proposed mechanism consistent with experimental observations, such as an inversion of the stereochemistry of the benzylic protons,
syn
addition of toluene to fumarate, exclusive production of (
R
)-benzylsuccinate as a product and a kinetic isotope effect (KIE) ranging between 2 and 4? The quantum mechanics (QM) modeling confirms that the previously proposed hypothetical mechanism is the most probable among several variants considered, although C–H activation and not C–C coupling turns out to be the rate limiting step. The enantiospecificity of the enzyme seems to be enforced by a thermodynamic preference for binding of fumarate in the pro(
R
) orientation and reverse preference of benzyl radical attack on fumarate in pro(
S
) pathway which results with prohibitively high energy barrier of the radical quenching. Finally, the proposed mechanism agrees with most of the experimental observations, although the calculated intrinsic KIE from the model (6.5) is still higher than the experimentally observed values (4.0) which suggests that both C–H activation and radical quenching may jointly be involved in the kinetic control of the reaction.
View Full-Text
►

▼

Figures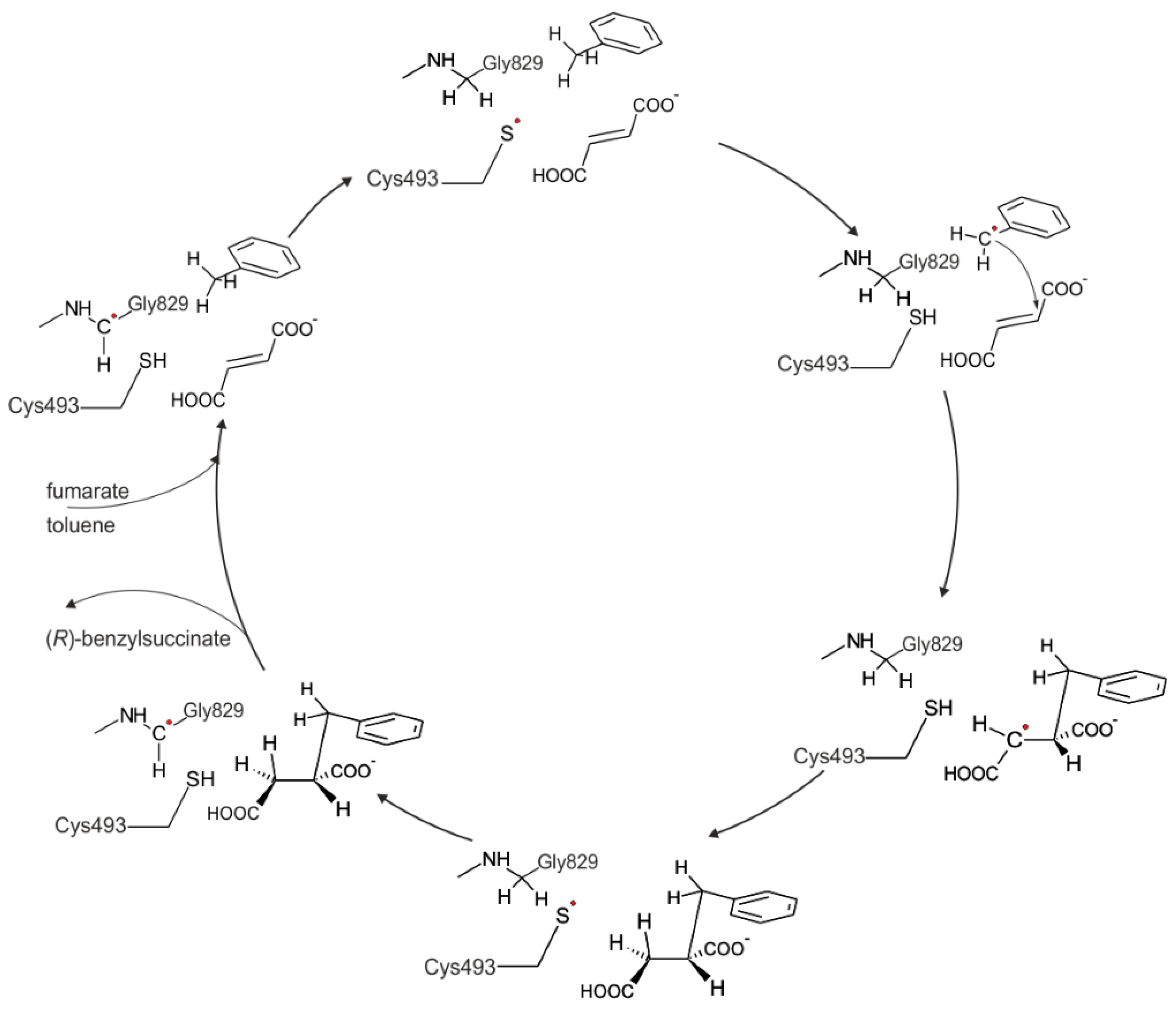 Figure 1
This is an open access article distributed under the
Creative Commons Attribution License
which permits unrestricted use, distribution, and reproduction in any medium, provided the original work is properly cited. (CC BY 4.0).
Share & Cite This Article
MDPI and ACS Style
Szaleniec, M.; Heider, J. Modeling of the Reaction Mechanism of Enzymatic Radical C–C Coupling by Benzylsuccinate Synthase. Int. J. Mol. Sci. 2016, 17, 514.
Note that from the first issue of 2016, MDPI journals use article numbers instead of page numbers. See further details here.
Related Articles
Comments
[Return to top]