Individual Assessment of Brain Tissue Changes in MS and the Effect of Focal Lesions on Short-Term Focal Atrophy Development in MS: A Voxel-Guided Morphometry Study
1
Universitätsmedizin Mannheim, Department of Neurology, Theodor-Kutzer-Ufer 1-3, Mannheim 68167, Germany
2
Hospital zum Heiligen Geist, Department for Early Rehabilitation, Kempen 47906, Germany
3
Institute for Anatomy, Heinrich-Heine-University Düsseldorf, Universitätsstr. 1, Düsseldorf 40001, Germany
4
Deutsches Institut für Medizinische Dokumentation und Information, Waisenhausgasse 36-38a, Köln 50676, Germany
5
Fraunhofer MEVIS, Institut für Bildgestützte Medizin, Universitätsallee 29, Bremen 28359, Germany
6
Department of Biometry and Statistics, Medical Faculty Mannheim, Ruprecht-Karls University Heidelberg, Mannheim 68167, Germany
7
MIAC, Basel, Universitätsspital Basel, Mittlere Strasse 83, Basel 4056, Switzerland
8
Neurology, Departments of Medicine, Clinical Research and Biomedical Engineering, University Hospital Basel, Petersgraben 4, Basel 4052, Switzerland
*
Author to whom correspondence should be addressed.
Academic Editor: Christoph Kleinschnitz
Received: 17 August 2015 / Revised: 22 February 2016 / Accepted: 25 February 2016 / Published: 1 April 2016
Abstract
We performed voxel-guided morphometry (VGM) investigating the mechanisms of brain atrophy in multiple sclerosis (MS) related to focal lesions. VGM maps detect regional brain changes when comparing 2 time points on high resolution T1-weighted (T1w) magnetic resonace imaging (MRI). Two T1w MR datasets from 92 relapsing-remitting MS patients obtained 12 months apart were analysed with VGM. New lesions and volume changes of focal MS lesions as well as in the surrounding tissue were identified by visual inspection on colour coded VGM maps. Lesions were dichotomized in active and inactive lesions. Active lesions, defined by either new lesions (NL) (volume increase > 5% in VGM), chronic enlarging lesions (CEL) (pre-existent T1w lesions with volume increase > 5%), or chronic shrinking lesions (CSL) (pre-existent T1w lesions with volume reduction > 5%) in VGM, were accompanied by tissue shrinkage in surrounding and/or functionally related regions. Volume loss within the corpus callosum was highly correlated with the number of lesions in its close proximity. Volume loss in the lateral geniculate nucleus was correlated with lesions along the optic radiation. VGM analysis provides strong evidence that all active lesion types (NL, CEL, and CSL) contribute to brain volume reduction in the vicinity of lesions and/or in anatomically and functionally related areas of the brain.
View Full-Text
►

▼

Figures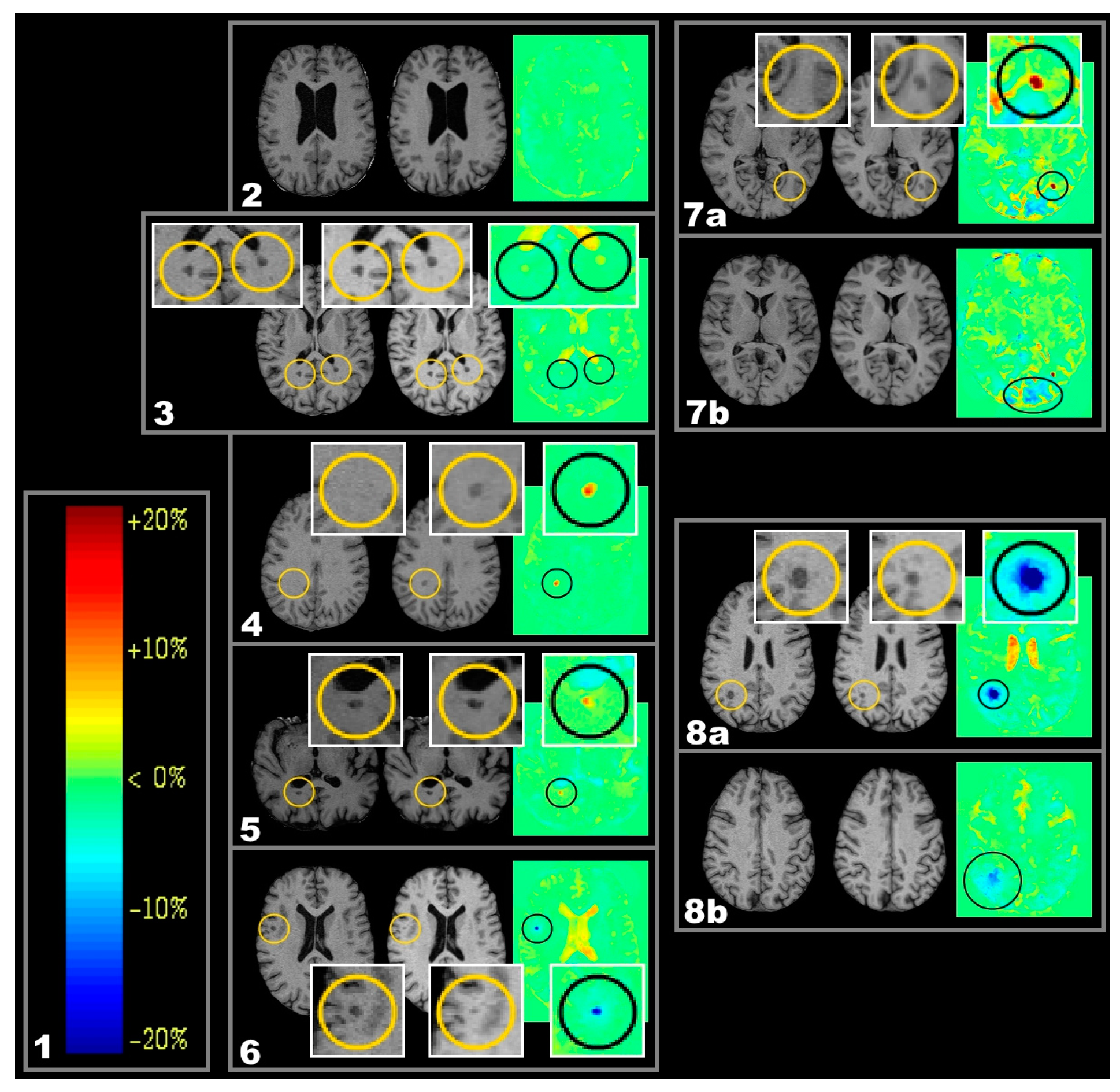 Figure 1
This is an open access article distributed under the
Creative Commons Attribution License
which permits unrestricted use, distribution, and reproduction in any medium, provided the original work is properly cited. (CC BY 4.0).
Share & Cite This Article
MDPI and ACS Style
Fox, J.; Kraemer, M.; Schormann, T.; Dabringhaus, A.; Hirsch, J.; Eisele, P.; Szabo, K.; Weiss, C.; Amann, M.; Weier, K.; Naegelin, Y.; Kappos, L.; Gass, A. Individual Assessment of Brain Tissue Changes in MS and the Effect of Focal Lesions on Short-Term Focal Atrophy Development in MS: A Voxel-Guided Morphometry Study. Int. J. Mol. Sci. 2016, 17, 489.
Note that from the first issue of 2016, MDPI journals use article numbers instead of page numbers. See further details here.
Related Articles
Comments
[Return to top]