Open Access This article is
freely available
re-usable
Review
Molecular Mechanisms of p53 Deregulation in Cancer: An Overview in Multiple Myeloma
1
Cancer Research Center-IBMCC (USAL-CSIC), 37007 Salamanca, Spain
2
Institute of Biomedical Research of Salamanca (IBSAL), 37007 Salamanca, Spain
3
National Medicines Institute, 00725 Warsaw, Poland
4
Hematology Department, University Hospital of Salamanca, 37007 Salamanca, Spain
*
Correspondence: Tel.: +34-923-291-384; Fax: +34-923-294-624
†
These authors contributed equally to this work.
Academic Editor: Tomoo Iwakuma
Received: 29 September 2016 / Accepted: 22 November 2016 / Published: 30 November 2016
Abstract
:
The p53 pathway is inactivated in the majority of human cancers. Although this perturbation frequently occurs through the mutation or deletion of p53 itself, there are other mechanisms that can attenuate the pathway and contribute to tumorigenesis. For example, overexpression of important p53 negative regulators, such as murine double minute 2 (MDM2) or murine double minute 4 (MDM4), epigenetic deregulation, or even alterations in
TP53
mRNA splicing. In this work, we will review the different mechanisms of p53 pathway inhibition in cancer with special focus on multiple myeloma (MM), the second most common hematological malignancy, with low incidence of p53 mutations/deletions but growing evidence of indirect p53 pathway deregulation. Translational implications for MM and cancer prognosis and treatment are also reviewed.
Keywords:
p53; myeloma; cancer;
TP53
mutations; epigenetics;
TP53
methylation;
TP53
splicing; miRNAs; p53-based therapy
2. Alterations of
TP53

Gene in Human Cancers and Particularly in Multiple Myeloma (MM)

The tumor suppressor p53 is mutated in approximately 50% of human cancers [

6

,

20

].

TP53

mutations are distributed mainly in coding exons with a strong predominance for exons 4–9, which encode the DNA-binding domain of the protein. In fact, 95% of the

TP53

mutations stand in the core DNA-binding domain [

21

].

TP53

mutations can be classified in two categories: contact and structural mutations [

22

]. Contact mutations affects residues involved directly in DNA-contacts without altering p53 folding, and perturb the transcriptional function of p53 protein. In contrast, structural mutations lead to destabilization of the local structure of p53 core domain [

23

,

24

,

25

]. In all types of human cancers, the missense

TP53

mutations have been detected predominantly in 6 hotspot residues located within the DNA-binding domain (residues R175, G245, R248, R249, R273, and R282) [

26

,

27

].

Although the frequency of

TP53

mutations in hematological malignancies is generally lower than in solid neoplasms, they have been reported in Burkitt's lymphomas, chronic myeloid leukemia, adult T-cell leukemia, B-cell prolymphocytic leukemia and chronic lymphocytic leukemia (CLL) [

12

,

13

,

14

,

15

]. In MM,

TP53

mutations are uncommon at diagnosis (~8%) [

28

,

29

,

30

], although the incidence increases in the advanced stages of the disease, suggesting its essential role in MM progression [

31

,

32

]. These findings have also been confirmed by using massively parallel sequencing [

16

,

33

]. Thus, only 8% of MM patients analyzed by Lohr et al. showed missense

TP53

mutations, two of which corresponded to hotspot residues R273 and R248 within the DNA-binding domain, and commonly mutated in other human tumors [

33

]. In contrast, the frequency of

TP53

mutations increases up to 25% in plasma cell leukemia [

16

]. Furthermore, longitudinal analysis of MM patients reveals that

TP53

mutations are often acquired at relapse [

16

].

On the other hand, deletion of the chromosomal region 17p13, containing the

TP53

gene locus, is a recurrent cytogenetic abnormality in MM present in around 10% of new cases. It is one of the most powerful prognostic factors associated with unfavorable outcome [

34

,

35

,

36

,

37

,

38

,

39

]. Moreover,

TP53

deletion has been associated with resistance to chemotherapy and early evolution to extramedullary disease [

39

,

40

,

41

,

42

,

43

,

44

].

TP53

deletions remain a negative prognostic factor marker after high-dose chemotherapy plus autologous stem cell transplantation [

45

], and even when bortezomib-based induction has been used [

46

]. The relevance of the clonal size carrying del(17p) is currently a matter of debate. Several studies suggest that del(17p) is a survival predictor only if the abnormality is present in more than 50%–60% of the cells [

43

,

47

,

48

]. Interestingly, Lodé et al. reported that

TP53

mutations were exclusively associated with del(17p) [

28

]. Furthermore, it has been recently reported that biallelic inactivation of

TP53

is more common in aggressive plasma cell neoplasms, and is frequently seen at relapse leading to rapid progression to plasma cell leukemia and/or extramedullary disease [

16

,

49

]. All these findings highlight the critical value of

TP53

deletion and/or mutation in the pathogenesis of MM and reinforce the necessity of new therapeutic approaches for these high-risk patients.
3. Alterations of p53 Regulators
4. Deregulation of p53 through Epigenetic Modifications
4.1. TP53 DNA Methylation
4.2. miRNAs that Regulate the Activity of p53
5. Altered Pattern of Human p53 Isoforms
Although, originally, p53 was considered a single protein, an alternative C-terminally-spliced isoform was soon described in mouse [
119
]. Several
TP53
isoforms were later discovered in humans. Decades of research on p53 isoforms have established that a p53-mediated cell response is the sum of the intrinsic activities of the coexpressed p53 isoforms and that alterations of their expression may also trigger p53 pathway deregulation, resulting in cancer and other diseases [
120
]. At least twelve p53 protein isoforms has been described encoded by nine p53 mRNAs (p53α, p53β, p53γ, Δ40p53α, Δ40p53β, Δ40p53γ, Δ133p53α, Δ133p53β, Δ133p53γ, Δ160p53α, Δ160p53β, and Δ160p53γ). The p53 protein isoforms are a consequence of alternative promoter usage (proximal and internal promoter), four alternative initiation codons (ATG1, ATG40, ATG133 and ATG160) and alternative splicing of introns 2 and/or 9, the last producing distinct C-terminal domains (α, β or γ) (
Figure 1
) [
121
,
122
,
123
]. All twelve p53 proteins isoforms share a common region of the DNA-binding domain but they have different transactivation and C-terminal domains [
122
], which allow them to differentially regulate the expression of different
TP53
target genes.
In the last years, numerous studies have demonstrated that p53 isoforms are differentially expressed in several human cancers types: breast cancer, colon carcinoma, melanoma, renal cell carcinoma (RCC), head and neck tumors (HNSSCs), hepatic cholangiocarcinoma, acute myeloid leukemia (AML), ovarian cancer, lung tumor, and glioblastoma [
120
,
121
,
122
,
124
,
125
,
126
]. Additionally, an association between the expression of p53 isoforms and clinical response and prognosis has been described [
121
]. These observations strongly suggest that deregulation of the expression of p53 isoforms may affect tumorigenesis. For example, in the malignant transformation from colorectal adenoma to carcinoma, a correlation exists between the increase of Δ133p53α and the decrease of p53β isoforms [
127
]. In AML, a clear interrelation of p53 isoforms profile with clinical outcome [
128
] has been demonstrated, and, in melanoma, high levels of p53β and Δ40p53α isoforms were expressed in tumor cells but not in melanocytes or fibroblasts [
129
].
Notably, various studies in different types of human cancers has revealed that
TP53
mutation status have superior prognostic value when is combined with the analysis of p53 isoform expression. Thus, the expression of p53 isoforms can modify the effects of
TP53
mutations in breast cancer and determination of p53γ isoform expression in
TP53
mutant breast cancer patients allows the identification of those with poor prognosis [
124
]. In serous ovarian cancer, patients with mutated
TP53
and Δ133p53α have a better overall survival than those with mutant
TP53
but no Δ133p53α isoform expression [
130
].
To date, there are no studies regarding the expression of p53 isoforms in MM, neither its putative clinical implication. Since mutation of
TP53
is not a frequent event at diagnosis, it would be interesting to explore this mechanism of p53 regulation in MM to evaluate its potential impact on response to treatment and disease prognosis.
6. p53-Based Antitumor Therapy
7. Conclusions
Inactivation of the p53 pathway occurs in the majority of human cancers and usually confers resistance to therapy and poor survival. Although mutations and deletions in the
TP53
locus are the most common alterations in p53 pathway, a number of other molecular mechanisms can also attenuate the p53 function. In fact, growing evidence of indirect p53 deregulation in MM through MDM2 overexpression,
TP53
promoter hypermethylation and alterations in certain miRNAs that directly or indirectly affect p53 expression, such as miR-25, miR-30d, miR-125a-5p and miR-214, have been reported. However, the impact of other known p53 negative regulators or variations in isoform expression in p53 inactivation remains to be elucidated. A systematic study of p53 status that integrates all these parameters would probably increase the proportion of MM patients exhibiting a dysfunctional p53 pathway. Therefore, the determination of p53 status in clinical studies would strongly contribute to a better management of cancer and could support the rationale for clinical trials with p53-based therapy.
Acknowledgments
This study was partially supported by the Instituto de Salud Carlos III-Cofinanciación con fondos FEDER (PI16/01074), the Gerencia Regional de Salud, Junta de Castilla y León (1344/A/16) grants, and the INNOCAM-PUS Program (CEI10-1-0010).
Author Contributions
Ana B. Herrero and Elizabeta Á. Rojas organized the complete review and wrote the main topics of the manuscript. Irena Misiewicz-Krzeminska and Patryk Krzeminski wrote the "epigenetic modifications" section and Norma C. Gutiérrez corrected and reviewed the whole manuscript.
Conflicts of Interest
The authors declare no conflict of interest.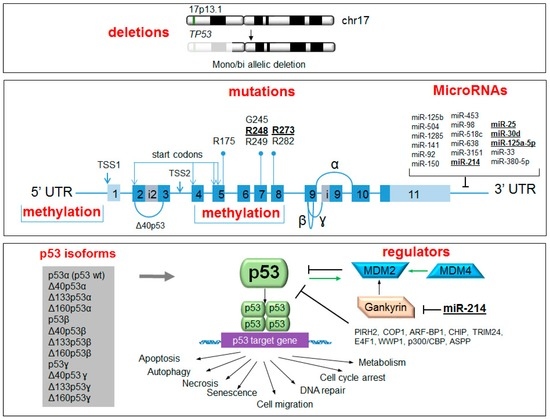 Figure 1.
Mechanisms of p53 regulation in cancer. p53 can be attenuated directly, by mutation or deletion, or indirectly through alterations in methylation, miRNAs, isoform expression and p53 regulators. Six
TP53
hotspot mutations and regions potentially affected by methylation are indicated. p53 isoforms arise from the use of two alternative transcription start sites (TSS1 and TSS2), four start codons and alternative splicing, which originates the isoforms α, β and γ. miRNAs and regulators reported to affect p53 expression are shown. Alterations reported in MM are highlighted in bold and underlined.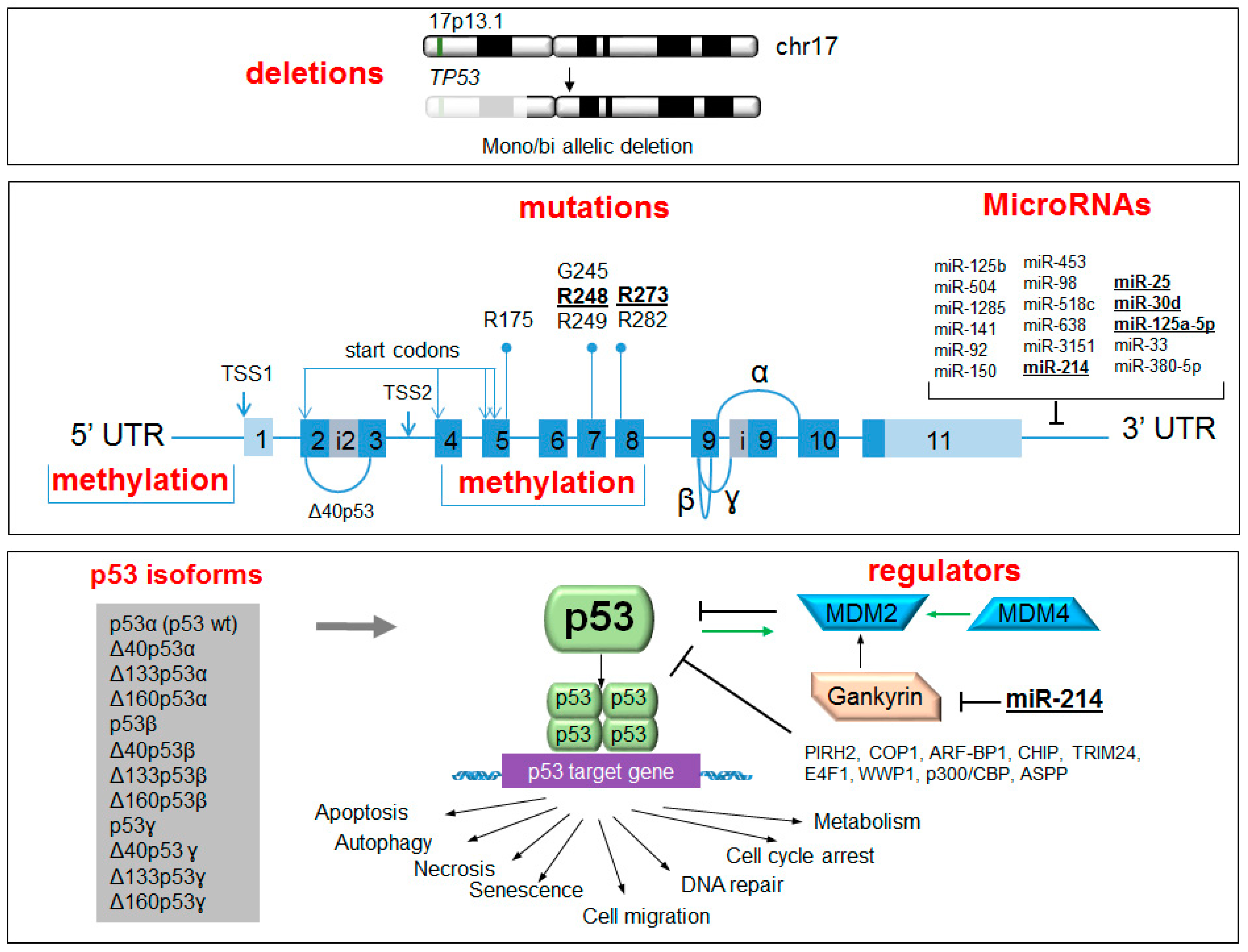 © 2016 by the authors; licensee MDPI, Basel, Switzerland. This article is an open access article distributed under the terms and conditions of the Creative Commons Attribution (CC-BY) license (http://creativecommons.org/licenses/by/4.0/).