Towards Clinical Application of Neurotrophic Factors to the Auditory Nerve; Assessment of Safety and Efficacy by a Systematic Review of Neurotrophic Treatments in Humans
Department of Otorhinolaryngology and Head & Neck Surgery, Brain Center Rudolf Magnus, University Medical Center Utrecht, Utrecht 3584 CX, The Netherlands
*
Author to whom correspondence should be addressed.
Academic Editor: Katalin Prokai-Tatrai
Received: 1 September 2016 / Revised: 11 November 2016 / Accepted: 21 November 2016 / Published: 26 November 2016
Abstract
Animal studies have evidenced protection of the auditory nerve by exogenous neurotrophic factors. In order to assess clinical applicability of neurotrophic treatment of the auditory nerve, the safety and efficacy of neurotrophic therapies in various human disorders were systematically reviewed. Outcomes of our literature search included disorder, neurotrophic factor, administration route, therapeutic outcome, and adverse event. From 2103 articles retrieved, 20 randomized controlled trials including 3974 patients were selected. Amyotrophic lateral sclerosis (53%) was the most frequently reported indication for neurotrophic therapy followed by diabetic polyneuropathy (28%). Ciliary neurotrophic factor (50%), nerve growth factor (24%) and insulin-like growth factor (21%) were most often used. Injection site reaction was a frequently occurring adverse event (61%) followed by asthenia (24%) and gastrointestinal disturbances (20%). Eighteen out of 20 trials deemed neurotrophic therapy to be safe, and six out of 17 studies concluded the neurotrophic therapy to be effective. Positive outcomes were generally small or contradicted by other studies. Most non-neurodegenerative diseases treated by targeted deliveries of neurotrophic factors were considered safe and effective. Hence, since local delivery to the cochlea is feasible, translation from animal studies to human trials in treating auditory nerve degeneration seems promising.
View Full-Text
►

▼

Figures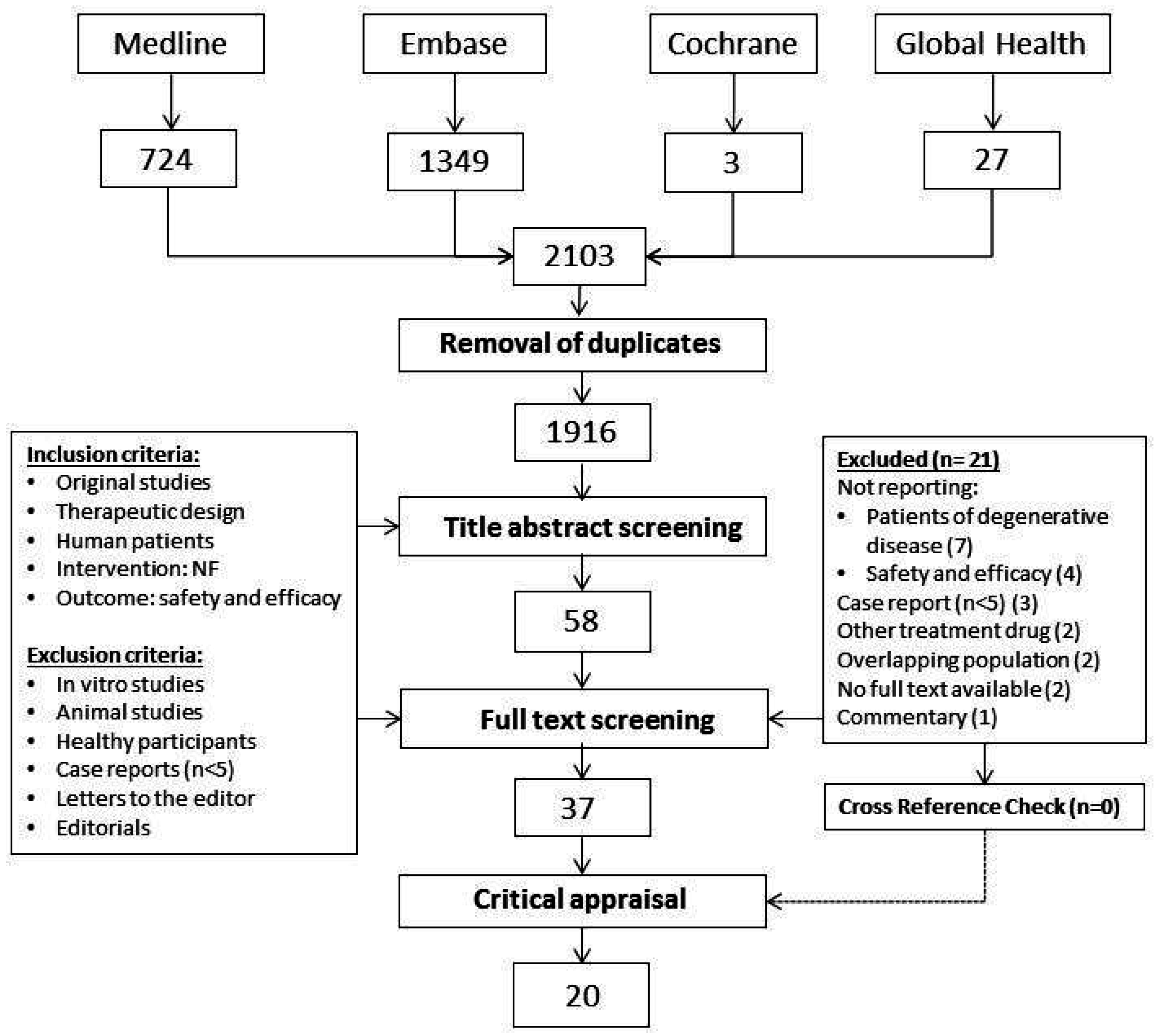 Figure 1
This is an open access article distributed under the
Creative Commons Attribution License
which permits unrestricted use, distribution, and reproduction in any medium, provided the original work is properly cited. (CC BY 4.0).
Share & Cite This Article
MDPI and ACS Style
Bezdjian, A.; Kraaijenga, V.J.C.; Ramekers, D.; Versnel, H.; Thomeer, H.G.X.M.; Klis, S.F.L.; Grolman, W. Towards Clinical Application of Neurotrophic Factors to the Auditory Nerve; Assessment of Safety and Efficacy by a Systematic Review of Neurotrophic Treatments in Humans. Int. J. Mol. Sci. 2016, 17, 1981.
Note that from the first issue of 2016, MDPI journals use article numbers instead of page numbers. See further details here.
Related Articles
Comments
[Return to top]