Protective Effect of Tempol against Cisplatin-Induced Ototoxicity
1
Department of Otolaryngology-Head and Neck Surgery, Chosun University School of Medicine, Gwangju 61453, Korea
2
Division of Natural Medical Science, Chosun University School of Medicine, Gwangju 61452, Korea
†
These authors contributed equally to this work.
*
Author to whom correspondence should be addressed.
Academic Editor: Katalin Prokai-Tatrai
Received: 9 August 2016 / Revised: 1 November 2016 / Accepted: 15 November 2016 / Published: 18 November 2016
Abstract
One of the major adverse effects of cisplatin chemotherapy is hearing loss. Cisplatin-induced ototoxicity hampers treatment because it often necessitates dose reduction, which decreases cisplatin efficacy. This study was performed to investigate the effect of Tempol on cisplatin-induced ototoxicity in an auditory cell line, House Ear Institute-Organ of Corti 1 (HEI-OC1). Cultured HEI-OC1 cells were exposed to 30 μM cisplatin for 24 h with or without a 2 h pre-treatment with Tempol. Cell viability was determined using 3-[4,5-dimethylthiazol-2-yl]-2,5-diphenyltetrazolium bromide (MTT) assay and apoptotic cells were identified using terminal deoxynucleotidyl transferase dUTP nick end labeling of nuclei (TUNEL) assay and flow cytometry. The effects of Tempol on cisplatin-induced cleaved poly(ADP-ribose) polymerase, cleaved caspase, and mitochondrial inducible nitric oxide synthase expression were evaluated using western blot analysis. Levels of intracellular reactive oxygen species (ROS) were measured to assess the effects of Tempol on cisplatin-induced ROS accumulation. Mitochondria were evaluated by confocal microscopy, and the mitochondrial membrane potential was measured to investigate whether Tempol protected against cisplatin-induced mitochondrial dysfunction. Cisplatin treatment decreased cell viability, and increased apoptotic features and markers, ROS accumulation, and mitochondrial dysfunction. Tempol pre-treatment before cisplatin exposure significantly inhibited all these cisplatin-induced effects. These results demonstrate that Tempol inhibits cisplatin-induced cytotoxicity in HEI-OC1, and could play a preventive role against cisplatin-induced ototoxicity.
View Full-Text
►

▼

Figures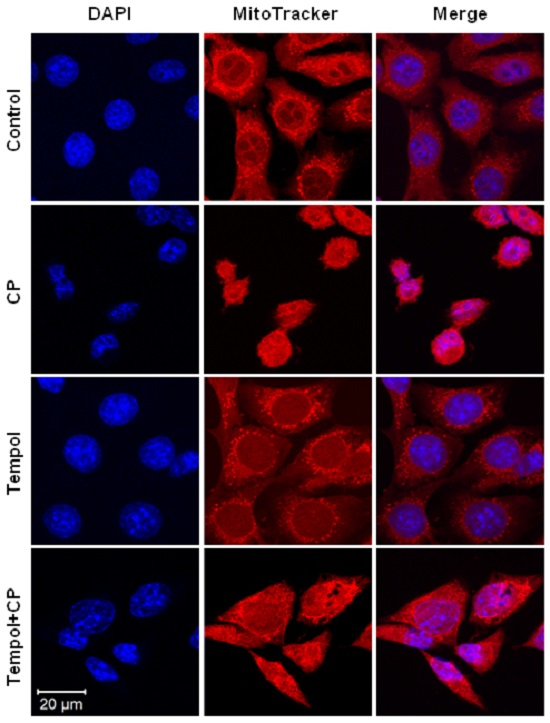 This is an open access article distributed under the
Creative Commons Attribution License
which permits unrestricted use, distribution, and reproduction in any medium, provided the original work is properly cited. (CC BY 4.0).
Share & Cite This Article
MDPI and ACS Style
Youn, C.K.; Kim, J.; Jo, E.-R.; Oh, J.; Do, N.Y.; Cho, S.I. Protective Effect of Tempol against Cisplatin-Induced Ototoxicity. Int. J. Mol. Sci. 2016, 17, 1931.
Note that from the first issue of 2016, MDPI journals use article numbers instead of page numbers. See further details here.
Related Articles
Comments
[Return to top]