Effect of Post-Translational Amidation on Islet Amyloid Polypeptide Conformational Ensemble: Implications for Its Aggregation Early Steps
BioCIS, Université Paris-Sud, CNRS, Université Paris-Saclay, 92290 Châtenay-Malabry, France
*
Author to whom correspondence should be addressed.
Academic Editor: Cheorl-Ho Kim
Received: 22 September 2016 / Revised: 2 November 2016 / Accepted: 9 November 2016 / Published: 14 November 2016
Abstract
The human islet amyloid polypeptide (hIAPP) is an intrinsically disordered protein that can self-assemble into fibrillar aggregates that play a key role in the pathogenesis of the type II diabetes mellitus. hIAPP can transiently adopt
-helix and
-strand conformations that could be important intermediate species on the fibrillization pathway. However, experimental studies of the monomeric peptide conformations are limited due to its high aggregation propensity, and the early steps of the hIAPP association are not clearly characterized. In particular, the question of whether the aggregation-prone conformation is
-helical or
-strand-rich is still debated. In this study, combining extensive all-atom molecular dynamics (MD) and replica exchange molecular dynamics (REMD) simulations in explicit water, we shed some light on the differences between the amidated and non-amidated hIAPP conformational ensembles. Our study shows that, when compared to the amidated monomer, the non-amidation of hIAPP induces a significantly lower propensity to form
-strands, especially aggregation-prone
-hairpins. Since the fibrillization of the non-amidated hIAPP is significantly slower than that of the amidated peptide, this indicates that the early steps of the peptide oligomerization involve the association of
-hairpins or
-strands structures.
View Full-Text
►

▼

Figures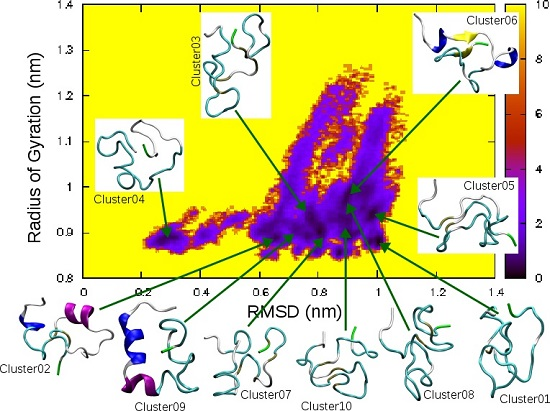 This is an open access article distributed under the
Creative Commons Attribution License
which permits unrestricted use, distribution, and reproduction in any medium, provided the original work is properly cited. (CC BY 4.0).
Share & Cite This Article
MDPI and ACS Style
Tran, L.; Ha-Duong, T. Effect of Post-Translational Amidation on Islet Amyloid Polypeptide Conformational Ensemble: Implications for Its Aggregation Early Steps. Int. J. Mol. Sci. 2016, 17, 1896.
Note that from the first issue of 2016, MDPI journals use article numbers instead of page numbers. See further details here.
Related Articles
Comments
[Return to top]