Sodium Butyrate Promotes Reassembly of Tight Junctions in Caco-2 Monolayers Involving Inhibition of MLCK/MLC2 Pathway and Phosphorylation of PKCβ2
1
Key Laboratory of Arrhythmias, Ministry of Education, East Hospital, Tongji University School of Medicine, Shanghai 200120, China
2
Research Center for Translational Medicine, Shanghai East Hospital, Tongji University School of Medicine, Shanghai 200120, China
3
Department of Pathology and Pathophysiology, Tongji University School of Medicine, Shanghai 200092, China
*
Authors to whom correspondence should be addressed.
Academic Editor: Masatoshi Maki
Received: 16 July 2016 / Revised: 15 September 2016 / Accepted: 26 September 2016 / Published: 10 October 2016
Abstract
As a physiological small molecular product from the microbial fermentation of dietary fibers, butyrate plays an important role in maintaining intestinal health. Our previous works have proved that the effect of sodium butyrate (NaB) on the intestinal barrier function is mediated by activation of AMP-activated protein kinase (AMPK). However, the detailed pathway involved remains unknown. Using the calcium switch assay in the Caco-2 cell monolayer model, we found here that NaB activated AMPK mainly by increasing the calcium level, but not the ATP concentration, via promoting store-operated calcium entry (SOCE). Upon the activation of AMPK, NaB promoted the reassembly of tight junctions (TJs) based on reducing the phosphorylation of myosin II regulatory light chain (MLC2) at Ser19 and increasing phosphorylation of protein kinase C β2 (PKCβ2) at Ser660. Inhibiting (protein kinase C β) PKCβ blocked the reassembly of TJs induced by NaB in the barrier monolayer model. These results indicated that NaB could activate the calcium/calmodulin-dependent protein kinase kinase β (CaMKKβ) pathway to mediate AMPK phosphorylating, which then inhibited the phosphorylation of MLC2 and promoted the phosphorylation of PKCβ2, respectively, so that the downstream molecules of AMPK coordinately contributed to the reassembly of TJs in the Caco-2 barrier model. These results suggested a potential mechanism of butyrate for intestine homeostasis and protection.
View Full-Text
►

▼

Figures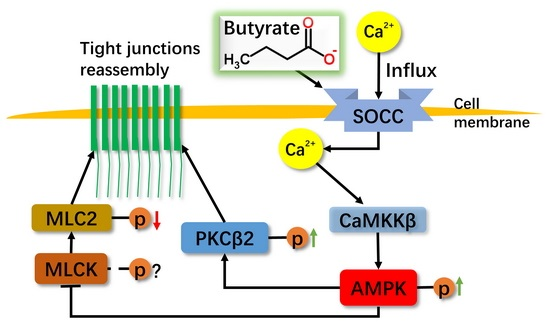 This is an open access article distributed under the
Creative Commons Attribution License
which permits unrestricted use, distribution, and reproduction in any medium, provided the original work is properly cited. (CC BY 4.0).
Share & Cite This Article
MDPI and ACS Style
Miao, W.; Wu, X.; Wang, K.; Wang, W.; Wang, Y.; Li, Z.; Liu, J.; Li, L.; Peng, L. Sodium Butyrate Promotes Reassembly of Tight Junctions in Caco-2 Monolayers Involving Inhibition of MLCK/MLC2 Pathway and Phosphorylation of PKCβ2. Int. J. Mol. Sci. 2016, 17, 1696.
Note that from the first issue of 2016, MDPI journals use article numbers instead of page numbers. See further details here.
Related Articles
Comments
[Return to top]