Ultra-Deep Sequencing Characterization of HCV Samples with Equivocal Typing Results Determined with a Commercial Assay
Laboratory of Virology, National Institute for Infectious Diseases "Lazzaro Spallanzani"—IRCCS, Via Portuense 292, Rome 00149, Italy
*
Author to whom correspondence should be addressed.
Academic Editor: Tatsuo Kanda
Received: 22 July 2016 / Revised: 13 September 2016 / Accepted: 23 September 2016 / Published: 7 October 2016
Abstract
Hepatitis C virus (HCV) is classified into seven phylogenetically distinct genotypes, which are further subdivided into related subtypes. Accurate assignment of genotype/subtype is mandatory in the era of directly acting antivirals. Several molecular methods are available for HCV genotyping; however, a relevant number of samples with indeterminate, mixed, or unspecified subtype results, or even with misclassified genotypes, may occur. Using NS5B direct (DS) and ultra-deep pyrosequencing (UDPS), we have tested 43 samples, which resulted in genotype 1 unsubtyped (n = 17), mixed infection (n = 17), or indeterminate (n = 9) with the Abbott RealTime HCV Genotype II assay. Genotype 1 was confirmed in 14/17 samples (82%): eight resulted in subtype 1b, and five resulted in subtype 1a with both DS and UDPS, while one was classified as subtype 1e by DS and mixed infection (1e + 1a) by UDPS. Three of seventeen genotype 1 samples resulted in genotype 3h with both sequencing approaches. Only one mixed infection was confirmed by UDPS (4d + 1a), while in 88% of cases a single component of the mixture was detected (five genotype 1a, four genotype 1b, two genotype 3a, two genotype 4m, and two genotype 4d); 44% of indeterminate samples resulted genotype 2c by both DS and UDPS, 22% resulted genotype 3a; one indeterminate sample by Abbott resulted in genotype 4d, one resulted in genotype 6n, and one was classified as subtype 3a by DS, and resulted mixed infection (3a + 3h) by UDPS. The concordance between DS and UDPS was 94%, 88%, and 89% for genotype 1, co-infection, and indeterminate results, respectively. UDPS should be considered very useful to resolve ambiguous HCV genotyping results.
View Full-Text
►

▼

Figures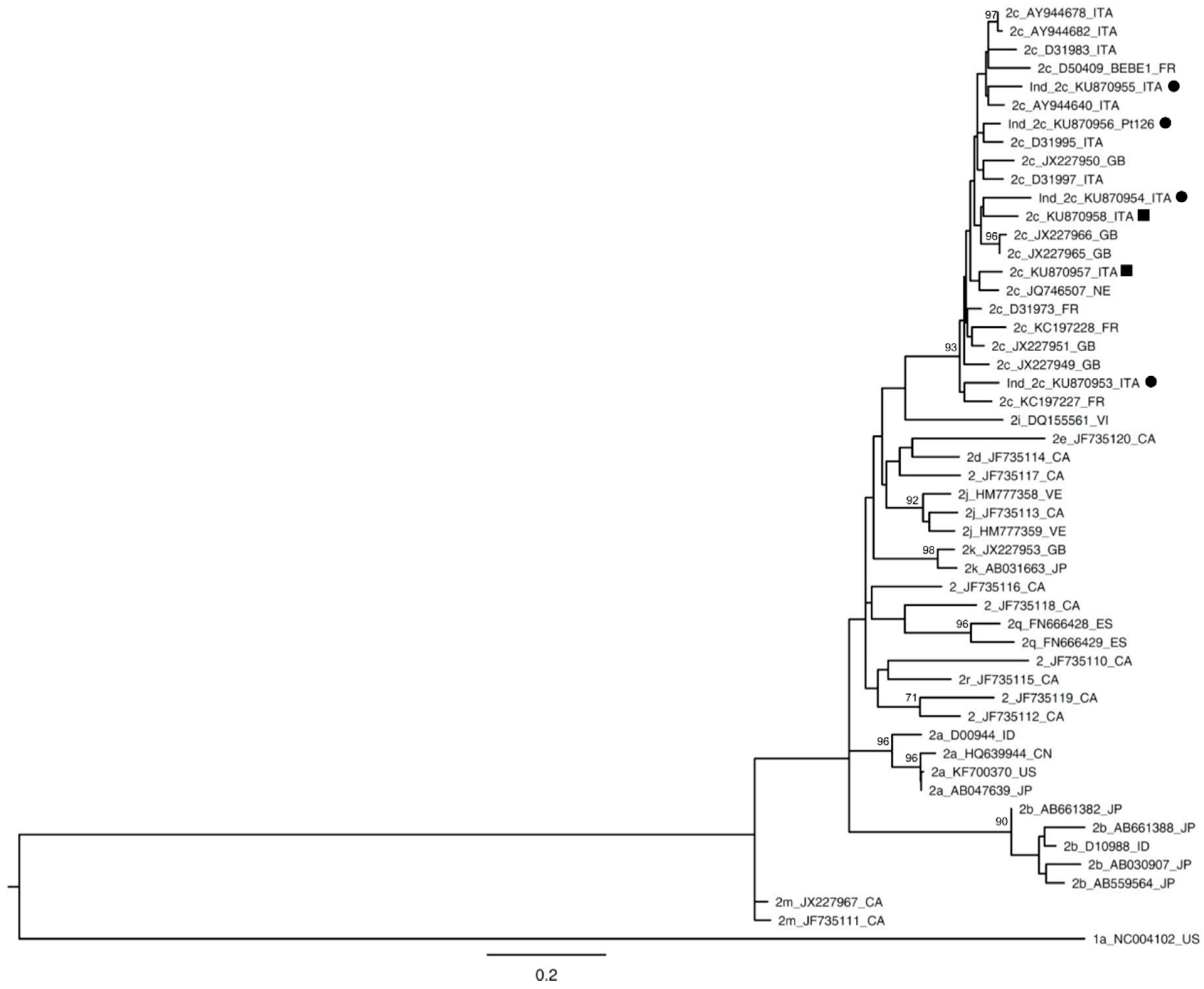 Figure 1
This is an open access article distributed under the
Creative Commons Attribution License
which permits unrestricted use, distribution, and reproduction in any medium, provided the original work is properly cited. (CC BY 4.0).
Share & Cite This Article
MDPI and ACS Style
Minosse, C.; Giombini, E.; Bartolini, B.; Capobianchi, M.R.; Garbuglia, A.R. Ultra-Deep Sequencing Characterization of HCV Samples with Equivocal Typing Results Determined with a Commercial Assay. Int. J. Mol. Sci. 2016, 17, 1679.
Note that from the first issue of 2016, MDPI journals use article numbers instead of page numbers. See further details here.
Related Articles
Comments
[Return to top]