Extraction of Natural Antioxidants from the Thelephora ganbajun Mushroom by an Ultrasound-Assisted Extraction Technique and Evaluation of Antiproliferative Activity of the Extract against Human Cancer Cells
1
Guangdong Provincial Key Laboratory of Food, Nutrition and Health, School of Public Health, Sun Yat-sen University, Guangzhou 510080, China
2
School of Chinese Medicine, The University of Hong Kong, Hong Kong 999077, China
3
South China Sea Bioresource Exploitation and Utilization Collaborative Innovation Center, Sun Yat-sen University, Guangzhou 510006, China
†
These authors contributed equally to this work.
*
Author to whom correspondence should be addressed.
Academic Editor: Chang Won Choi
Received: 22 July 2016 / Revised: 22 September 2016 / Accepted: 27 September 2016 / Published: 1 October 2016
Abstract
The
Thelephora ganbajun
mushroom has been found to be a potential rich source of natural antioxidants. In this study, an ultrasound-assisted extraction (UAE) technique together with GRAS (generally recognized as safe) solvents (ethanol and water) was used to maximize the extraction of antioxidants from
Thelephora ganbajun
. Five extraction parameters (ethanol concentration, solvent to solid ratio, extraction time, temperature and ultrasound power) were investigated by single-factor experiments, and then a central composite rotatable design was employed to study interaction of three key extraction parameters. The optimum conditions were as follows: 57.38% ethanol, 70.15 mL/g solvent to solid ratio, 10.58 min extraction time, 40 °C extraction temperature and 500 W ultrasound power. Under the optimum conditions, the antioxidant activity obtained was 346.98 ± 12.19 µmol Trolox/g DW, in accordance with the predicted value of 344.67 µmol Trolox/g DW. Comparison of UAE with conventional maceration and Soxhlet extraction, the UAE method showed stronger extract efficiency in a shorter extraction time. These results showed that UAE was an effective technique to extract antioxidants from
Thelephora ganbajun
. Furthermore, the extracts obtained under the optimized conditions exhibited antiproliferative activities toward human lung (A549), breast (MCF-7), liver (HepG2) and colon (HT-29) cancer cells, especially for liver and lung cancer cells. In addition, rutin, 2-hydrocinnamic acid and epicatechin were identified in the extract, which might contribute to antioxidant and antiproliferative activities.
View Full-Text
►

▼

Figures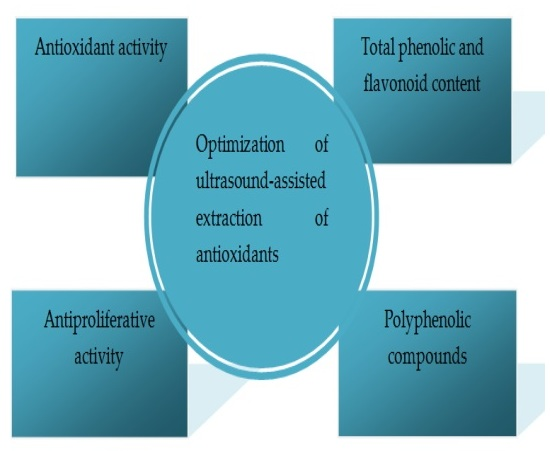 This is an open access article distributed under the
Creative Commons Attribution License
which permits unrestricted use, distribution, and reproduction in any medium, provided the original work is properly cited. (CC BY 4.0).
Share & Cite This Article
MDPI and ACS Style
Xu, D.-P.; Zheng, J.; Zhou, Y.; Li, Y.; Li, S.; Li, H.-B. Extraction of Natural Antioxidants from the Thelephora ganbajun Mushroom by an Ultrasound-Assisted Extraction Technique and Evaluation of Antiproliferative Activity of the Extract against Human Cancer Cells. Int. J. Mol. Sci. 2016, 17, 1664.
Note that from the first issue of 2016, MDPI journals use article numbers instead of page numbers. See further details here.
Related Articles
Comments
[Return to top]