Decreased Expression of SRSF2 Splicing Factor Inhibits Apoptotic Pathways in Renal Cancer
1
Department of Biochemistry and Molecular Biology, Centre of Postgraduate Medical Education, 01-813 Warsaw, Poland
2
Laboratory of Flow Cytometry, Centre of Postgraduate Medical Education, 01-813 Warsaw, Poland
3
Department of Urology, Regional Hospital, 07-410 Ostrołęka, Poland
4
Laboratory for Microarray Analysis, Institute of Biochemistry and Biophysics, Polish Academy of Sciences, 02-106 Warsaw, Poland
5
Laboratory of Systems Biology, Faculty of Biology, University of Warsaw, 02-106 Warsaw, Poland
*
Author to whom correspondence should be addressed.
Academic Editor: William Chi-shing Cho
Received: 2 August 2016 / Revised: 31 August 2016 / Accepted: 5 September 2016 / Published: 28 September 2016
Abstract
Serine and arginine rich splicing factor 2(SRSF2) belongs to the serine/arginine (SR)-rich family of proteins that regulate alternative splicing. Previous studies suggested that SRSF2 can contribute to carcinogenic processes. Clear cell renal cell carcinoma (ccRCC) is the most common subtype of kidney cancer, highly aggressive and difficult to treat, mainly due to resistance to apoptosis. In this study we hypothesized that SRSF2 contributes to the regulation of apoptosis in ccRCC. Using tissue samples obtained from ccRCC patients, as well as independent validation on The Cancer Genome Atlas (TCGA) data, we demonstrate for the first time that expression of SRSF2 is decreased in ccRCC tumours when compared to non-tumorous control tissues. Furthermore, by employing a panel of ccRCC-derived cell lines with silenced SRSF2 expression and qPCR arrays we show that SRSF2 contributes not only to splicing patterns but also to expression of multiple apoptotic genes, including new SRSF2 targets:
DIABLO
,
BIRC5
/survivin,
TRAIL
,
BIM
,
MCL1
,
TNFRSF9
,
TNFRSF1B
,
CRADD
,
BCL2L2
,
BCL2A1
, and
TP53
. We also identified a new splice variant of
CFLAR
, an inhibitor of caspase activity. These changes culminate in diminished caspase-9 activity and inhibition of apoptosis. In summary, we show for the first time that decreased expression of SRSF2 in ccRCC contributes to protection of cancer cells viability.
View Full-Text
►

▼

Figures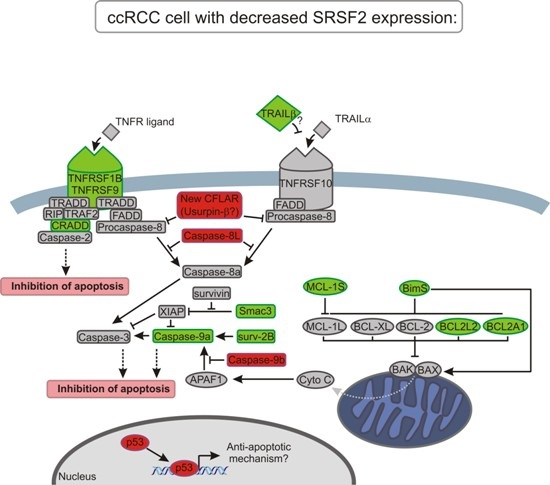 This is an open access article distributed under the
Creative Commons Attribution License
which permits unrestricted use, distribution, and reproduction in any medium, provided the original work is properly cited. (CC BY 4.0).
Share & Cite This Article
MDPI and ACS Style
Kędzierska, H.; Popławski, P.; Hoser, G.; Rybicka, B.; Rodzik, K.; Sokół, E.; Bogusławska, J.; Tański, Z.; Fogtman, A.; Koblowska, M.; Piekiełko-Witkowska, A. Decreased Expression of SRSF2 Splicing Factor Inhibits Apoptotic Pathways in Renal Cancer. Int. J. Mol. Sci. 2016, 17, 1598.
Note that from the first issue of 2016, MDPI journals use article numbers instead of page numbers. See further details here.
Related Articles
Comments
[Return to top]