Compartmentalization and Functionality of Nuclear Disorder: Intrinsic Disorder and Protein-Protein Interactions in Intra-Nuclear Compartments
1
Department of Electrical and Computer Engineering, University of Alberta, Edmonton, AB T6G 2V4, Canada
2
Department of Molecular Medicine, Morsani College of Medicine, University of South Florida, Tampa, FL 33612, USA
3
Department of Computer Science, Virginia Commonwealth University, Richmond, VA 23219, USA
4
University of South Florida Health Byrd Alzheimer's Research Institute, Morsani College of Medicine, University of South Florida, Tampa, FL 33612, USA
5
Institute for Biological Instrumentation, Russian Academy of Sciences, Pushchino, Moscow Region 142292, Russian
6
Biology Department, Faculty of Science, King Abdulaziz University, P.O. Box 80203, Jeddah 21589, Saudi Arabia
7
Laboratory of Structural Dynamics, Stability and Folding of Proteins, Institute of Cytology, Russian Academy of Sciences, Saint Petersburg 194064, Russian
*
Authors to whom correspondence should be addressed.
Academic Editors: Christo Z. Christov and Mark L. Richter
Received: 11 October 2015 / Revised: 23 November 2015 / Accepted: 18 December 2015 / Published: 25 December 2015
Abstract
The cell nucleus contains a number of membrane-less organelles or intra-nuclear compartments. These compartments are dynamic structures representing liquid-droplet phases which are only slightly denser than the bulk intra-nuclear fluid. They possess different functions, have diverse morphologies, and are typically composed of RNA (or, in some cases, DNA) and proteins. We analyzed 3005 mouse proteins localized in specific intra-nuclear organelles, such as nucleolus, chromatin, Cajal bodies, nuclear speckles, promyelocytic leukemia (PML) nuclear bodies, nuclear lamina, nuclear pores, and perinuclear compartment and compared them with ~29,863 non-nuclear proteins from mouse proteome. Our analysis revealed that intrinsic disorder is enriched in the majority of intra-nuclear compartments, except for the nuclear pore and lamina. These compartments are depleted in proteins that lack disordered domains and enriched in proteins that have multiple disordered domains. Moonlighting proteins found in multiple intra-nuclear compartments are more likely to have multiple disordered domains. Protein-protein interaction networks in the intra-nuclear compartments are denser and include more hubs compared to the non-nuclear proteins. Hubs in the intra-nuclear compartments (except for the nuclear pore) are enriched in disorder compared with non-nuclear hubs and non-nuclear proteins. Therefore, our work provides support to the idea of the functional importance of intrinsic disorder in the cell nucleus and shows that many proteins associated with sub-nuclear organelles in nuclei of mouse cells are enriched in disorder. This high level of disorder in the mouse nuclear proteins defines their ability to serve as very promiscuous binders, possessing both large quantities of potential disorder-based interaction sites and the ability of a single such site to be involved in a large number of interactions.
View Full-Text
►

▼

Figures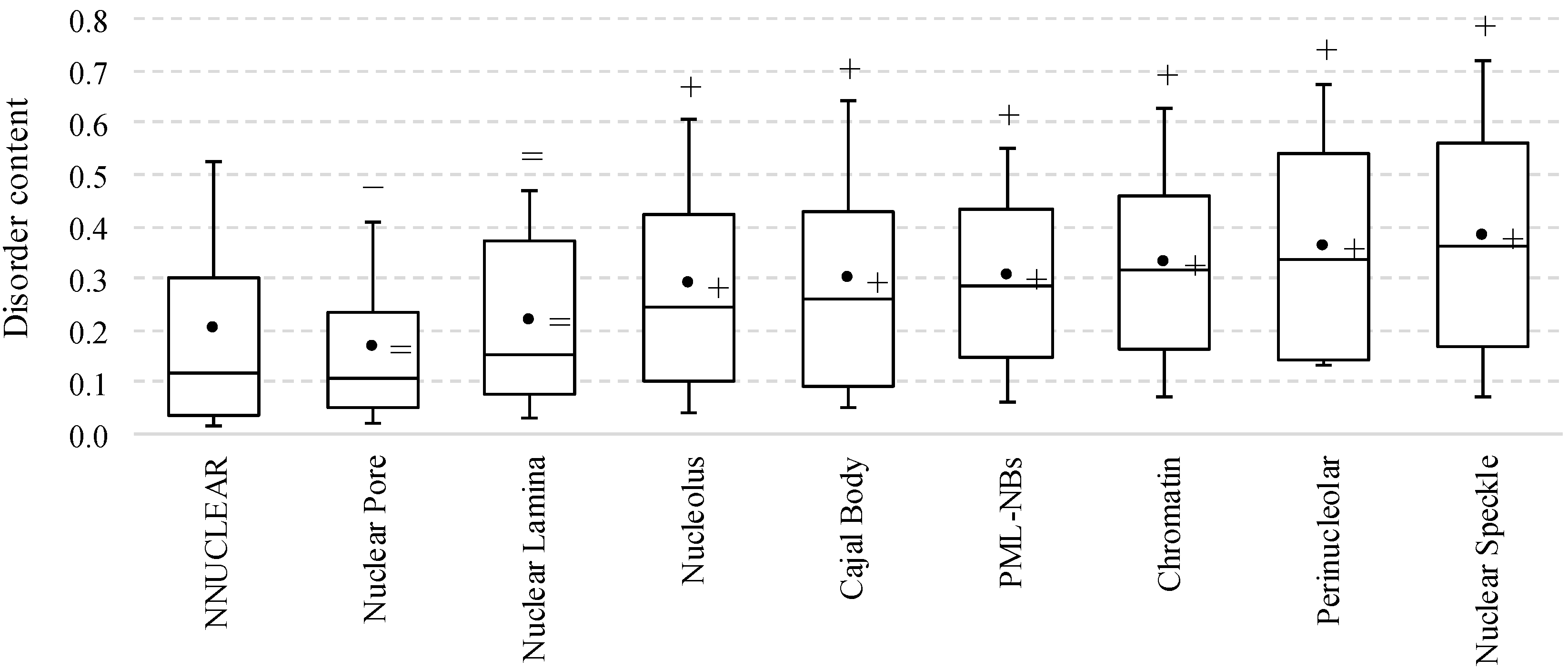 Figure 1
This is an open access article distributed under the
Creative Commons Attribution License
which permits unrestricted use, distribution, and reproduction in any medium, provided the original work is properly cited. (CC BY 4.0).
Share & Cite This Article
MDPI and ACS Style
Meng, F.; Na, I.; Kurgan, L.; Uversky, V.N. Compartmentalization and Functionality of Nuclear Disorder: Intrinsic Disorder and Protein-Protein Interactions in Intra-Nuclear Compartments. Int. J. Mol. Sci. 2016, 17, 24.
Note that from the first issue of 2016, MDPI journals use article numbers instead of page numbers. See further details here.
Related Articles
Comments
[Return to top]