Antitumor Effects of Vitamin D Analogs on Hamster and Mouse Melanoma Cell Lines in Relation to Melanin Pigmentation
1
Department of Histology, Medical University of Gdańsk, Dębinki 1a, 80-211 Gdańsk, Poland
2
Department of Endocrinology and Internal Medicine, Medical University of Gdańsk, Dębinki 1a, 80-211 Gdańsk, Poland
3
Department of Embryology, Medical University of Gdańsk, Dębinki 1a, 80-211 Gdańsk, Poland
4
Department of Dermatology, University of Alabama Birmingham, VA Medical Center, Birmingham, AL 35294, USA
5
School of Chemistry and Biochemistry, the University of Western Australia, Crawley, Perth, WA 6009, Australia
*
Author to whom correspondence should be addressed.
Received: 13 January 2015 / Revised: 5 March 2015 / Accepted: 12 March 2015 / Published: 24 March 2015
Abstract
Deregulated melanogenesis is involved in melanomagenesis and melanoma progression and resistance to therapy. Vitamin D analogs have anti-melanoma activity. While the hypercalcaemic effect of the active form of Vitamin D (1,25(OH)
2
D
3
) limits its therapeutic use, novel Vitamin D analogs with a modified side chain demonstrate low calcaemic activity. We therefore examined the effect of secosteroidal analogs, both classic (1,25(OH)
2
D
3
and 25(OH)D
3
), and novel relatively non-calcemic ones (20(OH)D
3
, calcipotriol, 21(OH)pD, pD and 20(OH)pL), on proliferation, colony formation in monolayer and soft-agar, and mRNA and protein expression by melanoma cells. Murine B16-F10 and hamster Bomirski Ab cell lines were shown to be effective models to study how melanogenesis affects anti-melanoma treatment. Novel Vitamin D analogs with a short side-chain and lumisterol-like 20(OH)pL efficiently inhibited rodent melanoma growth. Moderate pigmentation sensitized rodent melanoma cells towards Vitamin D analogs, and altered expression of key genes involved in Vitamin D signaling, which was opposite to the effect on heavily pigmented cells. Interestingly, melanogenesis inhibited ligand-induced Vitamin D receptor translocation and ligand-induced expression of
VDR
and
CYP24A1
genes. These findings indicate that melanogenesis can affect the anti-melanoma activity of Vitamin D analogs in a complex manner.
View Full-Text
►

▼

Figures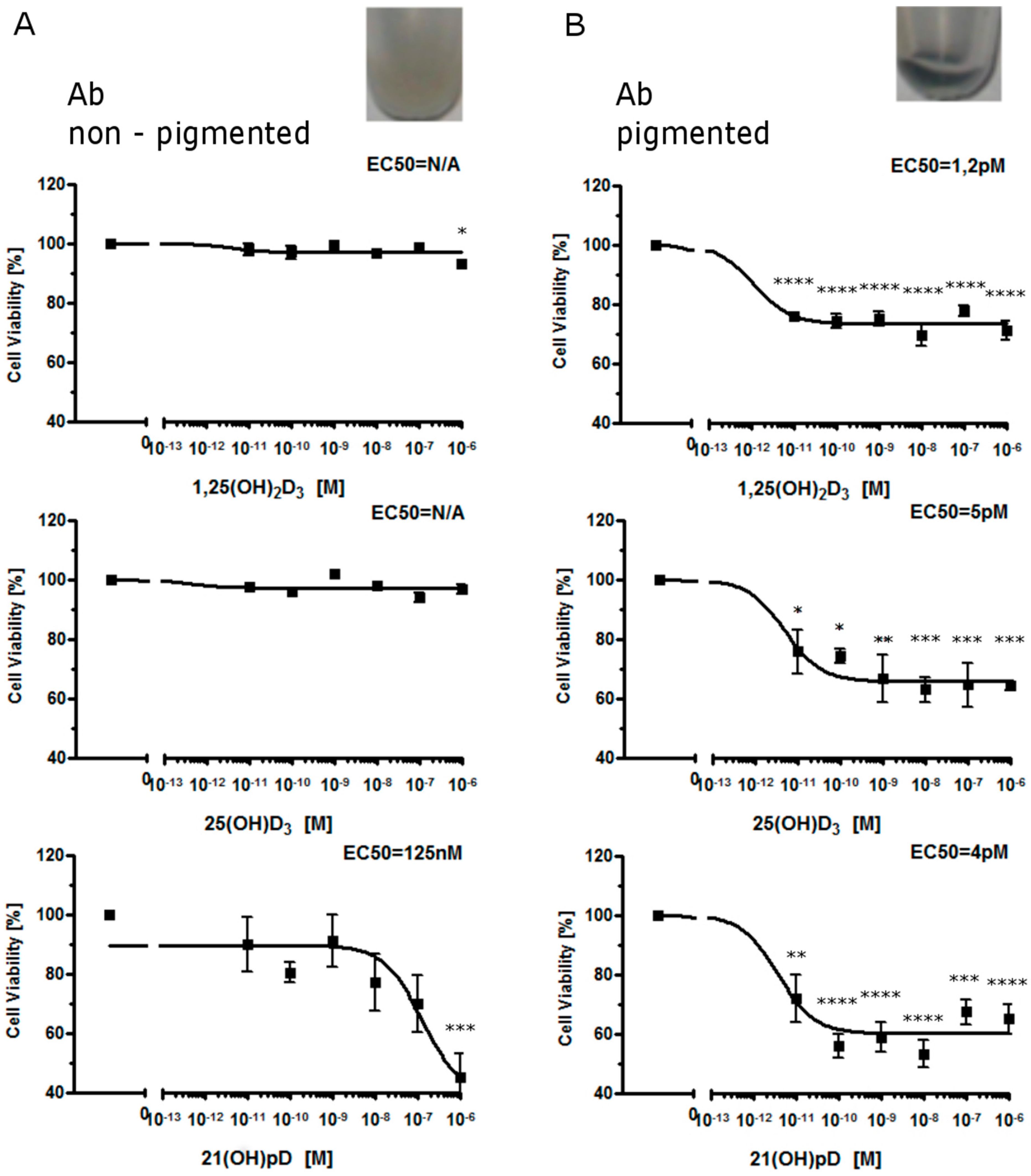 Figure 1
This is an open access article distributed under the
Creative Commons Attribution License
which permits unrestricted use, distribution, and reproduction in any medium, provided the original work is properly cited. (CC BY 4.0).
Share & Cite This Article
MDPI and ACS Style
Wasiewicz, T.; Szyszka, P.; Cichorek, M.; Janjetovic, Z.; Tuckey, R.C.; Slominski, A.T.; Zmijewski, M.A. Antitumor Effects of Vitamin D Analogs on Hamster and Mouse Melanoma Cell Lines in Relation to Melanin Pigmentation. Int. J. Mol. Sci. 2015, 16, 6645-6667.
Related Articles
Comments
[Return to top]