IgG and IgA with Potential Microbial-Binding Activity Are Expressed by Normal Human Skin Epidermal Cells
1
Department of Immunology, School of Basic Medical Sciences, Peking University, Beijing 100191, China
2
Center for Human Disease Genomics, Peking University, Beijing 100191, China
3
Key Laboratory of Medical Immunology, Ministry of Health, Beijing 100191, China
4
Hematology Oncology Center, Beijing Children's Hospital, Beijing 100045, China
5
Andrology Laboratory, University of British Columbia Center for Reproductive Health, Vancouver, BC V6H 3N1, Canada
*
Author to whom correspondence should be addressed.
Academic Editor: Miroslav Blumenberg
Received: 16 October 2014 / Revised: 25 November 2014 / Accepted: 7 January 2015 / Published: 23 January 2015
Abstract
The innate immune system of the skin is thought to depend largely on a multi-layered mechanical barrier supplemented by epidermis-derived antimicrobial peptides. To date, there are no reports of antimicrobial antibody secretion by the epidermis. In this study, we report the expression of functional immunoglobulin G (IgG) and immunoglobulin A (IgA), previously thought to be only produced by B cells, in normal human epidermal cells and the human keratinocyte line HaCaT. While B cells express a fully diverse Ig, epidermal cell-expressed IgG or IgA showed one or two conservative V
H
DJ
H
rearrangements in each individual. These unique VDJ rearrangements in epidermal cells were found neither in the B cell-derived Ig VDJ databases published by others nor in our positive controls. IgG and IgA from epidermal cells of the same individual had different VDJ rearrangement patterns. IgG was found primarily in prickle cells, and IgA was mainly detected in basal cells. Both epidermal cell-derived IgG and IgA showed potential antibody activity by binding pathogens like
Staphylococcus aureus
, the most common pathogenic skin bacteria, but the microbial-binding profile was different. Our data indicates that normal human epidermal cells spontaneously express IgG and IgA, and we speculate that these Igs participate in skin innate immunity.
View Full-Text
►

▼

Figures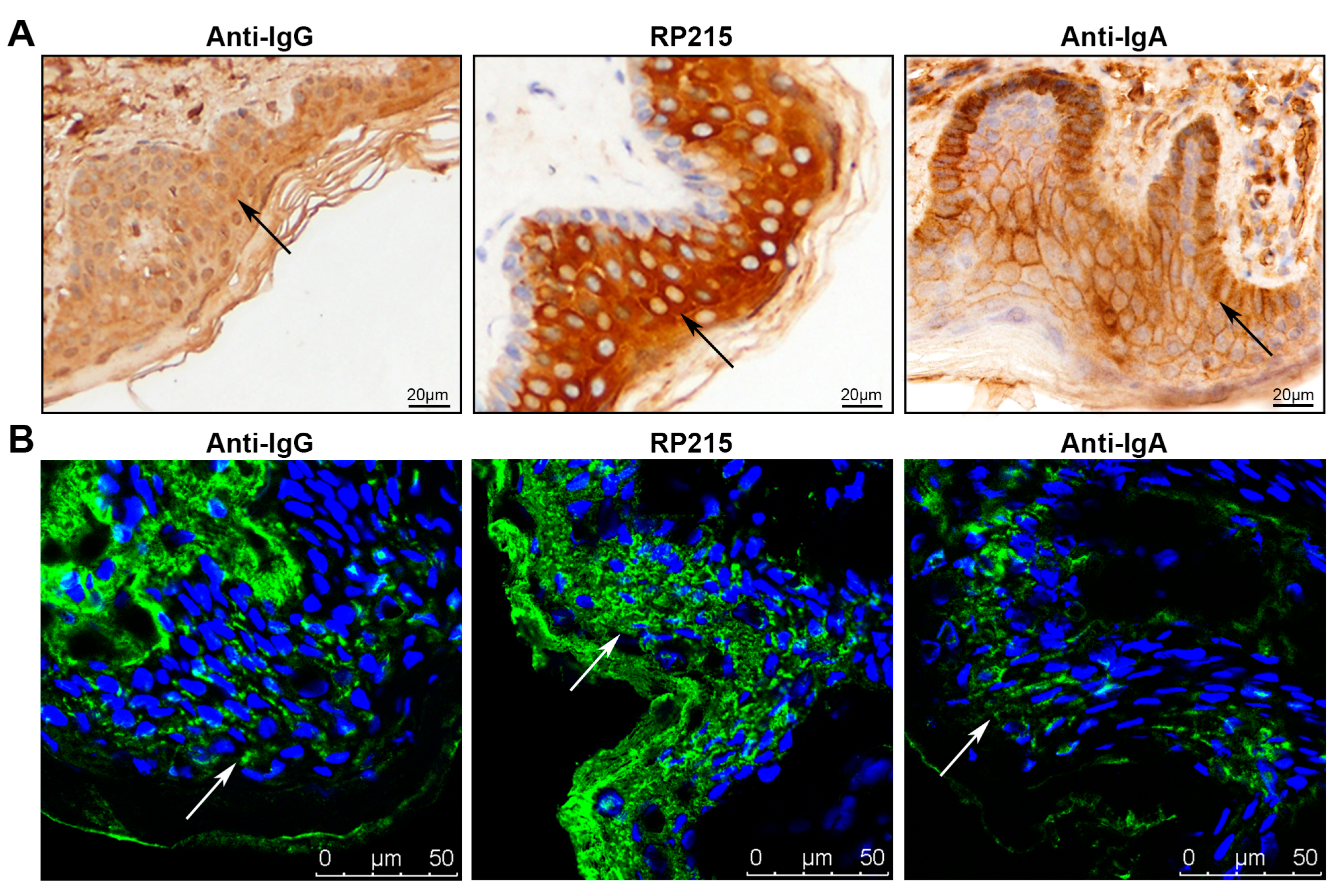 Figure 1
This is an open access article distributed under the
Creative Commons Attribution License
which permits unrestricted use, distribution, and reproduction in any medium, provided the original work is properly cited. (CC BY 4.0).
Share & Cite This Article
MDPI and ACS Style
Jiang, D.; Ge, J.; Liao, Q.; Ma, J.; Liu, Y.; Huang, J.; Wang, C.; Xu, W.; Zheng, J.; Shao, W.; Lee, G.; Qiu, X. IgG and IgA with Potential Microbial-Binding Activity Are Expressed by Normal Human Skin Epidermal Cells. Int. J. Mol. Sci. 2015, 16, 2574-2590.
Related Articles
Comments
[Return to top]