Variation and Genetic Structure in Platanus mexicana (Platanaceae) along Riparian Altitudinal Gradient
1
Instituto de Biotecnología y Ecología Aplicada (INBIOTECA), Universidad Veracruzana, Av. de las Culturas Veracruzanas No. 101 Col. Emiliano Zapata, Xalapa 91090, Mexico
2
Facultad de Biología, Universidad Veracruzana, Zona Universitaria, Circuito Gonzalo Aguirre Beltrán s/n, Xalapa 91090, Mexico
3
Centro de Investigaciones Tropicales, Universidad Veracruzana, Ex Hacienda Lucas Martín, Privada de Araucarias s/n, Col. Periodistas, Xalapa 91019, Mexico
†
These authors contributed equally to this work.
*
Authors to whom correspondence should be addressed.
Academic Editor: Marcello Iriti
Received: 4 September 2014 / Accepted: 17 November 2014 / Published: 19 January 2015
Abstract
Platanus mexicana
is a dominant arboreal species of riparian ecosystems. These ecosystems are associated with altitudinal gradients that can generate genetic differences in the species, especially in the extremes of the distribution. However, studies on the altitudinal effect on genetic variation to riparian species are scarce. In Mexico, the population of
P. mexicana
along the Colipa River (Veracruz State) grows below its reported minimum altitude range, possibly the lowest where this tree grows. This suggests that altitude might be an important factor in population genetics differentiation. We examined the genetic variation and population structuring at four sites with different altitudes (70, 200, 600 and 1700 m a.s.l.) using ten inter-simple sequence repeats (ISSR) markers. The highest value for Shannon index and Nei's gene diversity was obtained at 1700 m a.s.l. (
H
e = 0.27,
N
e = 1.47,
I
= 0.42) and polymorphism reached the top value at the middle altitude (%
p
= 88.57). Analysis of molecular variance (AMOVA) and STRUCTURE analysis indicated intrapopulation genetic differentiation. The arithmetic average (UPGMA) dendrogram identified 70 m a.s.l. as the most genetically distant site. The genetic structuring resulted from limited gene flow and genetic drift. This is the first report of genetic variation in populations of
P. mexicana
in Mexico. This research highlights its importance as a dominant species, and its ecological and evolutionary implications in altitudinal gradients of riparian ecosystems.
View Full-Text
►

▼

Figures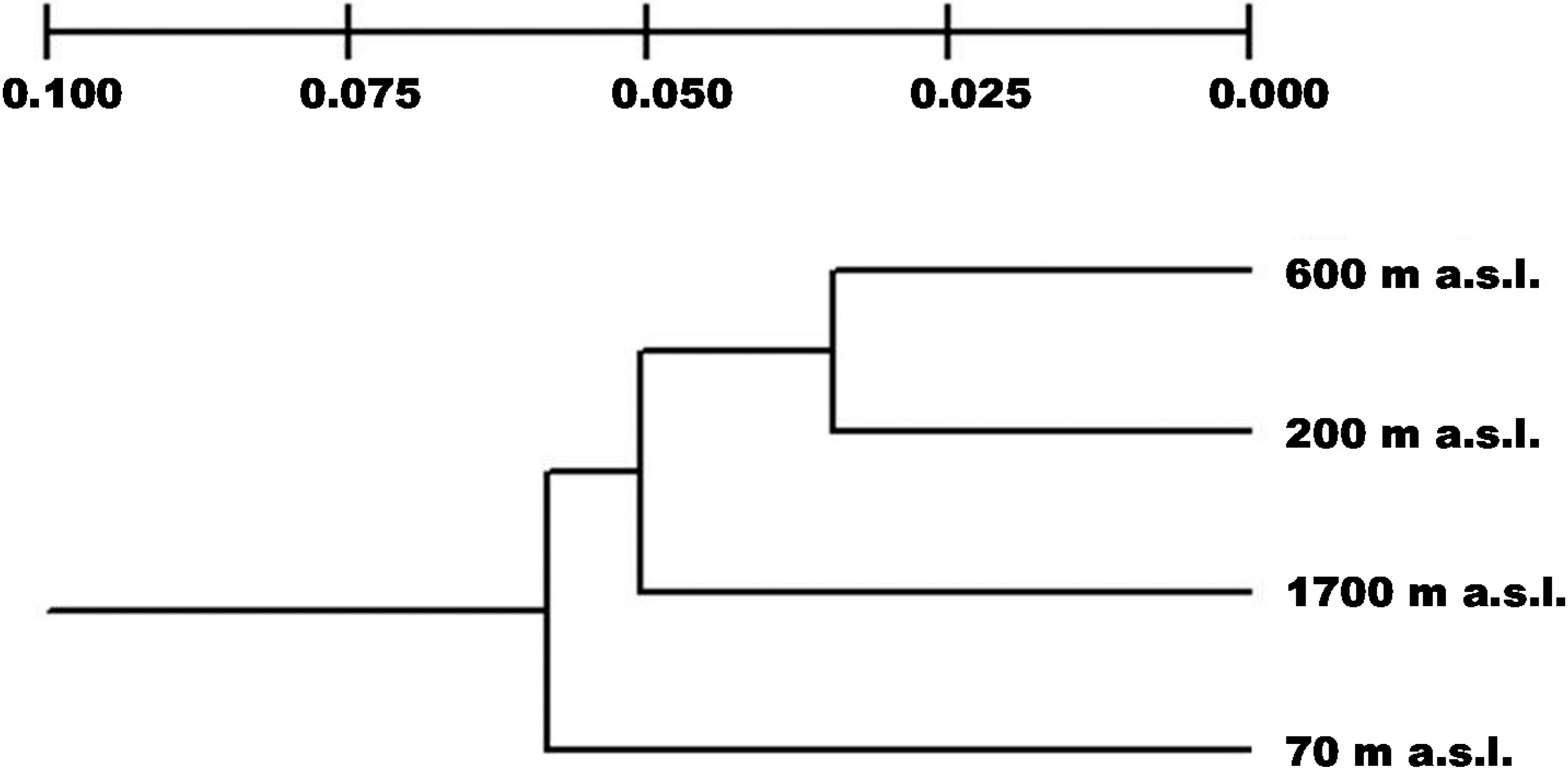 Figure 1
This is an open access article distributed under the
Creative Commons Attribution License
which permits unrestricted use, distribution, and reproduction in any medium, provided the original work is properly cited. (CC BY 4.0).
Share & Cite This Article
MDPI and ACS Style
Galván-Hernández, D.M.; Lozada-García, J.A.; Flores-Estévez, N.; Galindo-González, J.; Vázquez-Torres, S.M. Variation and Genetic Structure in Platanus mexicana (Platanaceae) along Riparian Altitudinal Gradient. Int. J. Mol. Sci. 2015, 16, 2066-2077.
Related Articles
Comments
[Return to top]