Does Prop-2-ynylideneamine, HC≡CCH=NH, Exist in Space? A Theoretical and Computational Investigation
1
Chemistry Department, Faculty of Science, King Abdulaziz University, P.O. Box 80203, Jeddah 21589, Saudi Arabia
2
Chemistry Department, Faculty of Science, University of Khartoum, P.O. Box 321, Khartoum 11111, Sudan
3
Chemistry Department, Faculty of Science, Benisuief University, Benisuief 6251, Egypt
4
Chemistry Department, Faculty of Science, Cairo University, Cairo 12613, Egypt
*
Author to whom correspondence should be addressed.
Received: 25 March 2014 / Revised: 6 May 2014 / Accepted: 12 May 2014 / Published: 19 June 2014
Abstract
MP2, DFT and CCSD methods with 6-311++G** and aug-cc-pvdz basis sets have been used to probe the structural changes and relative energies of E-prop-2-ynylideneamine (I), Z-prop-2-ynylideneamine (II), prop-1,2-diene-1-imine (III) and vinyl cyanide (IV). The energy near-equivalence and provenance of preference of isomers and tautomers were investigated by NBO calculations using HF and B3LYP methods with 6-311++G** and aug-cc-pvdz basis sets. All substrates have Cs symmetry. The optimized geometries were found to be mainly theoretical method dependent. All elected levels of theory have computed I/II total energy of isomerization (Δ
E
) of 1.707 to 3.707 kJ/mol in favour of II at 298.15 K. MP2 and CCSD methods have indicated clearly the preference of II over III; while the B3LYP functional predicted nearly similar total energies. All tested levels of theory yielded a global II/IV tautomerization total energy (Δ
E
) of 137.3–148.4 kJ/mol in support of IV at 298.15 K. The negative values of Δ
S
indicated that IV is favoured at low temperature. At high temperature, a reverse tautomerization becomes spontaneous and II is preferred. The existence of II in space was debated through the interpretation and analysis of the thermodynamic and kinetic studies of this tautomerization reaction and the presence of similar compounds in the Interstellar Medium (ISM).
View Full-Text
►

▼

Figures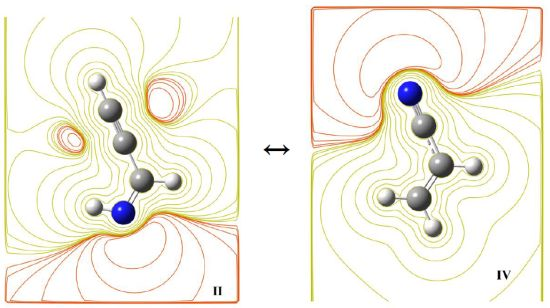 Share & Cite This Article
MDPI and ACS Style
Osman, O.I.; Elroby, S.A.; Aziz, S.G.; Hilal, R.H. Does Prop-2-ynylideneamine, HC≡CCH=NH, Exist in Space? A Theoretical and Computational Investigation. Int. J. Mol. Sci. 2014, 15, 11064-11081.
Related Articles
Comments
[Return to top]