Sperm-Egg Fusion: A Molecular Enigma of Mammalian Reproduction
1
BIOCEV Group, Department of Zoology, Charles University in Prague, Vinicna 7, Prague 2 128 44, Czech Republic
2
Cell Biology, Faculty of Science, Charles University in Prague, Vinicna 7, Prague 2 128 44, Czech Republic
*
Author to whom correspondence should be addressed.
Received: 9 April 2014 / Revised: 13 May 2014 / Accepted: 30 May 2014 / Published: 13 June 2014
Abstract
The mechanism of gamete fusion remains largely unknown on a molecular level despite its indisputable significance. Only a few of the molecules required for membrane interaction are known, among them IZUMO1, which is present on sperm, tetraspanin CD9, which is present on the egg, and the newly found oolema protein named Juno. A concept of a large multiprotein complex on both membranes forming fusion machinery has recently emerged. The Juno and IZUMO1, up to present, is the only known extracellular receptor pair in the process of fertilization, thus, facilitating the essential binding of gametes. However, neither IZUMO1 nor Juno appears to be the fusogenic protein. At the same time, the tetraspanin is expected to play a role in organizing the egg membrane order and to interact laterally with other factors. This review summarizes, to present, the known molecules involved in the process of sperm-egg fusion. The complexity and expected redundancy of the involved factors makes the process an intricate and still poorly understood mechanism, which is difficult to comprehend in its full distinction.
View Full-Text
►

▼

Figures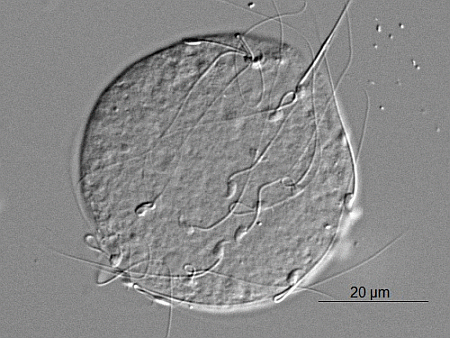 Share & Cite This Article
MDPI and ACS Style
Klinovska, K.; Sebkova, N.; Dvorakova-Hortova, K. Sperm-Egg Fusion: A Molecular Enigma of Mammalian Reproduction. Int. J. Mol. Sci. 2014, 15, 10652-10668.
Related Articles
Comments
[Return to top]