Functional Annotation of Proteomic Data from Chicken Heterophils and Macrophages Induced by Carbon Nanotube Exposure
1
Department of Animal Science, National Chung Hsing University, Taichung 40227, Taiwan
2
Proteomics Core Laboratory, Department of Medical Research, China Medical University Hospital, Taichung 40402, Taiwan
3
Graduate Institute of Integrated Medicine, China Medical University, Taichung 40402, Taiwan
4
Department of Soil and Environmental Sciences, National Chung Hsing University, Taichung 40227, Taiwan
5
Center of Nanoscience and Nanotechnology, National Chung Hsing University, Taichung 40227, Taiwan
6
Agricultural Biotechnology Center, National Chung Hsing University, Taichung 40227, Taiwan
7
Center for the Integrative and Evolutionary Galliformes Genomics, iEGG Center, National Chung Hsing University, Taichung 40227, Taiwan
*
Authors to whom correspondence should be addressed.
Received: 17 March 2014 / Revised: 28 April 2014 / Accepted: 4 May 2014 / Published: 12 May 2014
Abstract
With the expanding applications of carbon nanotubes (CNT) in biomedicine and agriculture, questions about the toxicity and biocompatibility of CNT in humans and domestic animals are becoming matters of serious concern. This study used proteomic methods to profile gene expression in chicken macrophages and heterophils in response to CNT exposure. Two-dimensional gel electrophoresis identified 12 proteins in macrophages and 15 in heterophils, with differential expression patterns in response to CNT co-incubation (0, 1, 10, and 100 µg/mL of CNT for 6 h) (
p
< 0.05). Gene ontology analysis showed that most of the differentially expressed proteins are associated with protein interactions, cellular metabolic processes, and cell mobility, suggesting activation of innate immune functions. Western blot analysis with heat shock protein 70, high mobility group protein, and peptidylprolyl isomerase A confirmed the alterations of the profiled proteins. The functional annotations were further confirmed by effective cell migration, promoted interleukin-1β secretion, and more cell death in both macrophages and heterophils exposed to CNT (
p
< 0.05). In conclusion, results of this study suggest that CNT exposure affects protein expression, leading to activation of macrophages and heterophils, resulting in altered cytoskeleton remodeling, cell migration, and cytokine production, and thereby mediates tissue immune responses.
View Full-Text
►

▼

Figures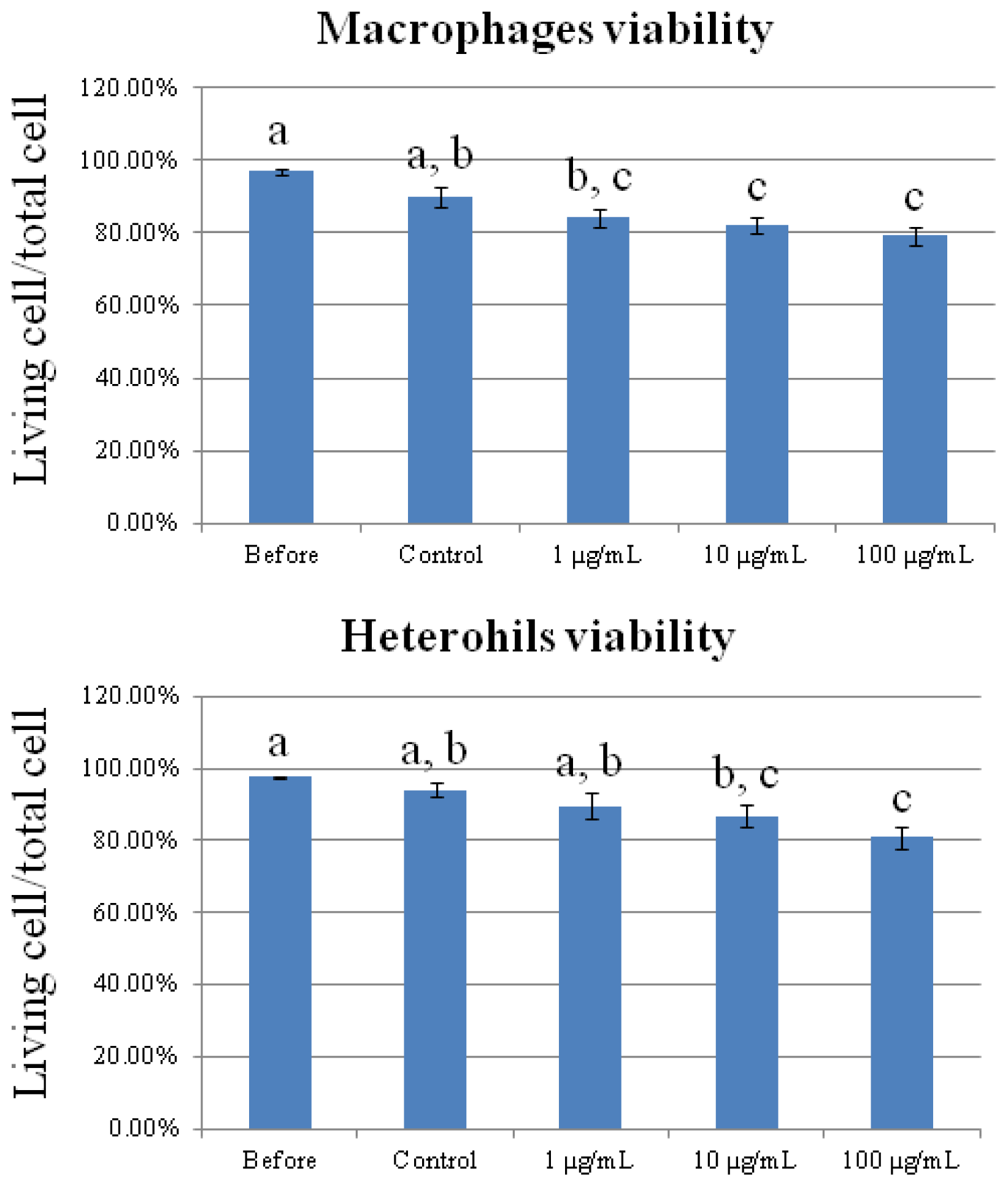 Share & Cite This Article
MDPI and ACS Style
Li, Y.-Z.; Cheng, C.-S.; Chen, C.-J.; Li, Z.-L.; Lin, Y.-T.; Chen, S.-E.; Huang, S.-Y. Functional Annotation of Proteomic Data from Chicken Heterophils and Macrophages Induced by Carbon Nanotube Exposure. Int. J. Mol. Sci. 2014, 15, 8372-8392.
Related Articles
Comments
[Return to top]