miR-21 Promotes Human Nucleus Pulposus Cell Proliferation through PTEN/AKT Signaling
Department of Orthopedic Surgery, Hunan Provincial People's Hospital, Changsha 10005, China
*
Author to whom correspondence should be addressed.
Received: 24 November 2013 / Revised: 16 January 2014 / Accepted: 26 January 2014 / Published: 5 March 2014
Abstract
The precise role of nucleus pulposus cell proliferation in the pathogenesis of intervertebral disc degeneration remains to be elucidated. Recent findings have revealed that microRNAs, a class of small noncoding RNAs, may regulate cell proliferation in many pathological conditions. Here, we showed that miR-21 was significantly upregulated in degenerative nucleus pulposus tissues when compared with nucleus pulposus tissues that were isolated from patients with idiopathic scoliosis and that miR-10b levels were associated with disc degeneration grade. Moreover, bioinformatics target prediction identified PTEN as a putative target of miR-21. miR-21 inhibited PTEN expression by directly targeting the 3'UTR, and this inhibition was abolished through miR-21 binding site mutations. miR-21 overexpression stimulated cell proliferation and AKT signaling pathway activation, which led to cyclin D1 translation. Additionally, the increase in proliferation and cyclin D1 expression induced by miR-21 overexpression was almost completely blocked by Ly294002, an AKT inhibitor. Taken together, aberrant miR-21 upregulation in intervertebral disc degeneration could target PTEN, which would contribute to abnormal nucleus pulposus cell proliferation through derepressing the Akt pathway. Our study also underscores the potential of miR-21 and the PTEN/Akt pathway as novel therapeutic targets in intervertebral disc degeneration.
View Full-Text
►

▼

Figures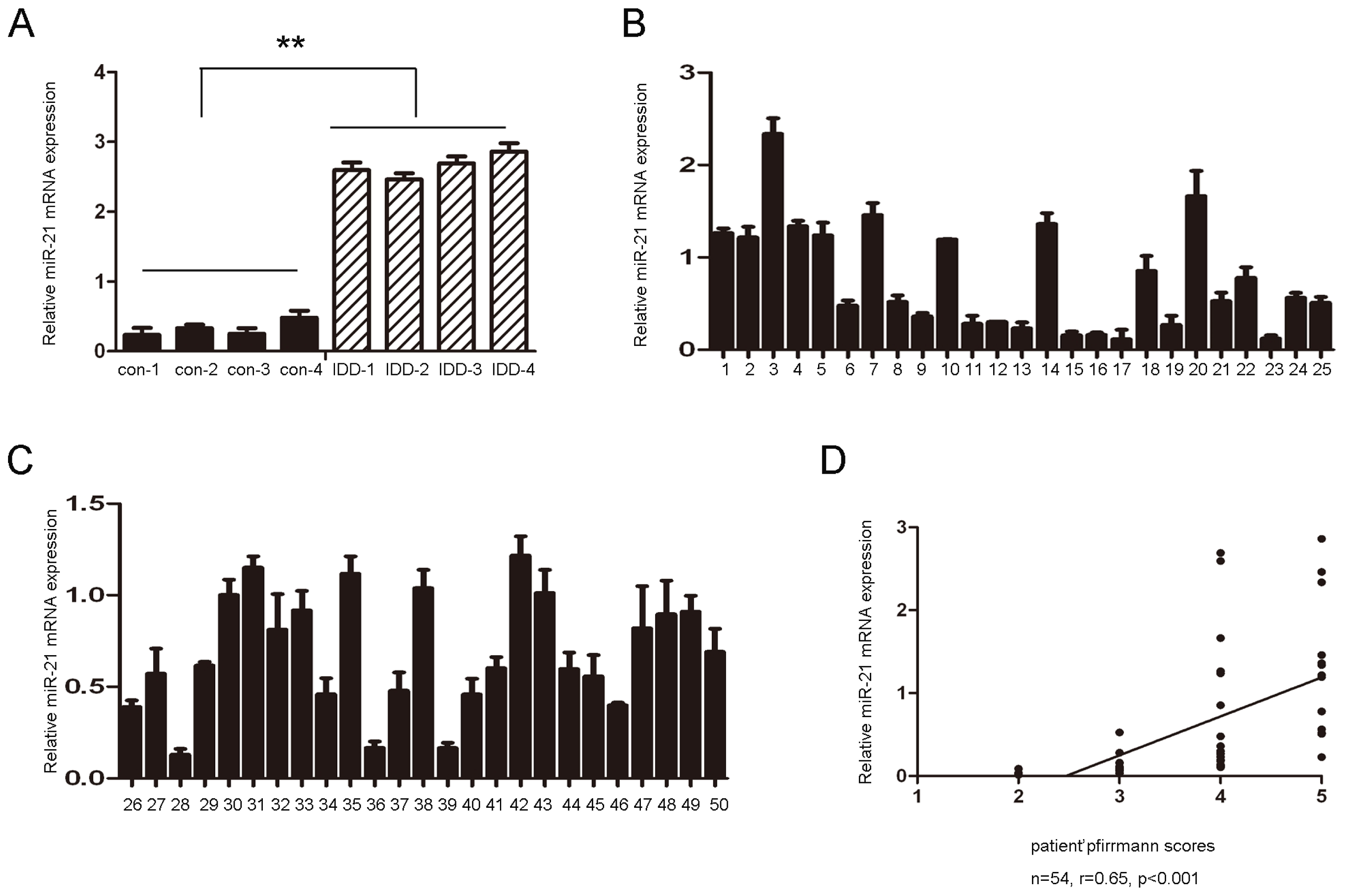 Share & Cite This Article
MDPI and ACS Style
Liu, H.; Huang, X.; Liu, X.; Xiao, S.; Zhang, Y.; Xiang, T.; Shen, X.; Wang, G.; Sheng, B. miR-21 Promotes Human Nucleus Pulposus Cell Proliferation through PTEN/AKT Signaling. Int. J. Mol. Sci. 2014, 15, 4007-4018.
Related Articles
Comments
[Return to top]