Design and Synthesis of Chiral Zn2+ Complexes Mimicking Natural Aldolases for Catalytic C–C Bond Forming Reactions in Aqueous Solution
1
Production Technology Laboratories, Kaken Pharmaceutical Co., LTD, 301 Gensuke, Fujieda, Shizuoka 426-8646, Japan
2
Faculty of Pharmaceutical Sciences, Tokyo University of Science, 2641 Yamazaki, Noda, Chiba 278-8510, Japan
3
Center for Technologies against Cancer, Tokyo University of Science, 2641 Yamazaki, Noda, Chiba 278-8510, Japan
*
Author to whom correspondence should be addressed.
Received: 29 October 2013 / Revised: 15 January 2014 / Accepted: 16 January 2014 / Published: 29 January 2014
Abstract
Extending carbon frameworks via a series of C–C bond forming reactions is essential for the synthesis of natural products, pharmaceutically active compounds, active agrochemical ingredients, and a variety of functional materials. The application of stereoselective C–C bond forming reactions to the one-pot synthesis of biorelevant compounds is now emerging as a challenging and powerful strategy for improving the efficiency of a chemical reaction, in which some of the reactants are subjected to successive chemical reactions in just one reactor. However, organic reactions are generally conducted in organic solvents, as many organic molecules, reagents, and intermediates are not stable or soluble in water. In contrast, enzymatic reactions in living systems proceed in aqueous solvents, as most of enzymes generally function only within a narrow range of temperature and pH and are not so stable in less polar organic environments, which makes it difficult to conduct chemoenzymatic reactions in organic solvents. In this review, we describe the design and synthesis of chiral metal complexes with Zn
2+
ions as a catalytic factor that mimic aldolases in stereoselective C–C bond forming reactions, especially for enantioselective aldol reactions. Their application to chemoenzymatic reactions in aqueous solution is also presented.
View Full-Text
►

▼

Figures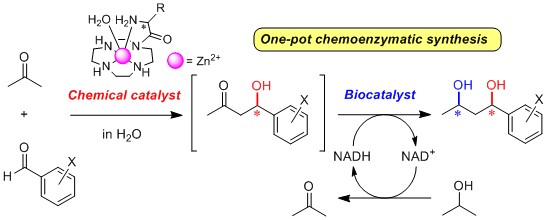 Share & Cite This Article
MDPI and ACS Style
Itoh, S.; Sonoike, S.; Kitamura, M.; Aoki, S. Design and Synthesis of Chiral Zn2+ Complexes Mimicking Natural Aldolases for Catalytic C–C Bond Forming Reactions in Aqueous Solution. Int. J. Mol. Sci. 2014, 15, 2087-2118.
Related Articles
Comments
[Return to top]