Structures of the Inducer-Binding Domain of Pentachlorophenol-Degrading Gene Regulator PcpR from Sphingobium chlorophenolicum
1
Department of Chemistry, Washington State University, Pullman, WA 99164-4630, USA
2
School of Molecular Biosciences, Washington State University, Pullman, WA 99164-4660, USA
*
Authors to whom correspondence should be addressed.
Received: 21 August 2014 / Revised: 29 October 2014 / Accepted: 30 October 2014 / Published: 12 November 2014
Abstract
PcpR is a LysR-type transcription factor from
Sphingobium chlorophenolicum
L-1 that is responsible for the activation of several genes involved in polychlorophenol degradation. PcpR responds to several polychlorophenols
in vivo
. Here, we report the crystal structures of the inducer-binding domain of PcpR in the apo-form and binary complexes with pentachlorophenol (PCP) and 2,4,6-trichlorophenol (2,4,6-TCP). Both X-ray crystal structures and isothermal titration calorimetry data indicated the association of two PCP molecules per PcpR, but only one 2,4,6-TCP molecule. The hydrophobic nature and hydrogen bonds of one binding cavity allowed the tight association of both PCP (
Kd
= 110 nM) and 2,4,6-TCP (
Kd
= 22.8 nM). However, the other cavity was unique to PCP with much weaker affinity (
Kd
= 70 μM) and thus its significance was not clear. Neither phenol nor benzoic acid displayed any significant affinity to PcpR, indicating a role of chlorine substitution in ligand specificity. When PcpR is compared with TcpR, a LysR-type regulator controlling the expression of 2,4,6-trichlorophenol degradation in
Cupriavidus necator
JMP134, most of the residues constituting the two inducer-binding cavities of PcpR are different, except for their general hydrophobic nature. The finding concurs that PcpR uses various polychlorophenols as long as it includes 2,4,6-trichlorophenol, as inducers; whereas TcpR is only responsive to 2,4,6-trichlorophenol.
View Full-Text
►

▼

Figures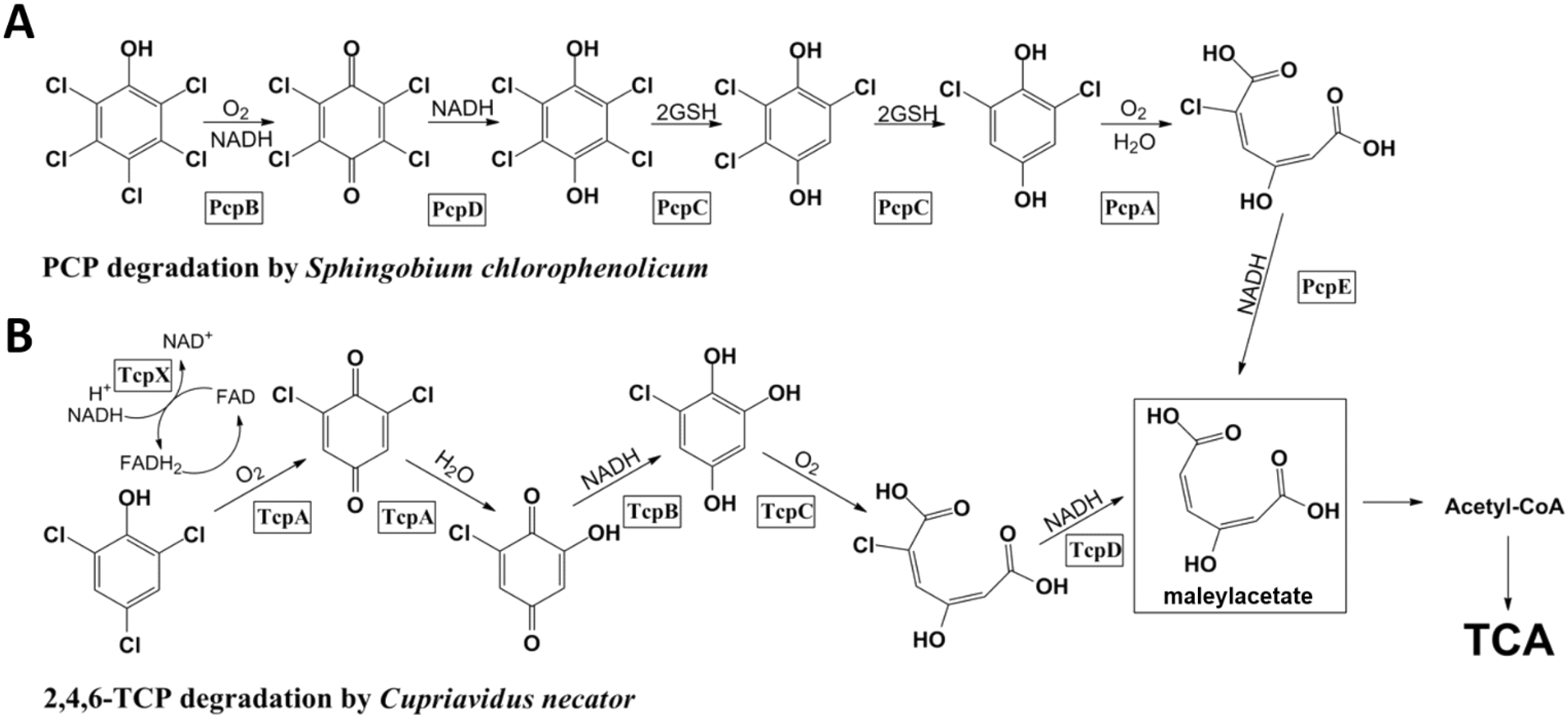 Figure 1
This is an open access article distributed under the
Creative Commons Attribution License
which permits unrestricted use, distribution, and reproduction in any medium, provided the original work is properly cited. (CC BY 4.0).
Share & Cite This Article
MDPI and ACS Style
Hayes, R.P.; Moural, T.W.; Lewis, K.M.; Onofrei, D.; Xun, L.; Kang, C. Structures of the Inducer-Binding Domain of Pentachlorophenol-Degrading Gene Regulator PcpR from Sphingobium chlorophenolicum. Int. J. Mol. Sci. 2014, 15, 20736-20752.
Related Articles
Comments
[Return to top]