Structural Characterization of a Water-Soluble Polysaccharide from the Fruiting Bodies of Agaricus bisporus
1
College of Biological and Environmental Engineering, Zhejiang University of Technology, Hangzhou 310032, China
2
Yuhang District Agricultural Monitoring Centre of Hangzhou, Hangzhou 311199, China
*
Author to whom correspondence should be addressed.
Received: 22 November 2013 / Revised: 12 December 2013 / Accepted: 17 December 2013 / Published: 8 January 2014
Abstract
An edible fungal polysaccharide termed as
ABP
was obtained by extraction with hot water, and followed successive chromatographic purification using DEAE-Sepharose Fast Flow column and Sephacryl S-300 High-Resolution column. A symmetrical peak was obtained on high-performance size-exclusion chromatography with an average molecular weight of 5.17 × 10
4
Da, which was named
ABP
, and its main components were ᴅ-glucose and ᴅ-mannose. Based on the study of methylation analysis, along with FT-IR, GC, GC-MS, 1D
1
H and
13
C NMR and 2D NMR (H-HCOSY, TOCSY, HMQC, and NOESY), its chemical structure was featured with a repeating unit (1→6) linking β-ᴅ-Glc
p
as the main backbone with (1→4)-linked α-ᴅ-Man
p
units. The structure of the mainly repeating units of
ABP
was established as:
→6) −
β
− D − Glucp − (1→4) −
α
− D −Manp(1→6) −
β
− D − Glucp − (1→6) −
β
− D − Glucp − (1→
View Full-Text
►

▼

Figures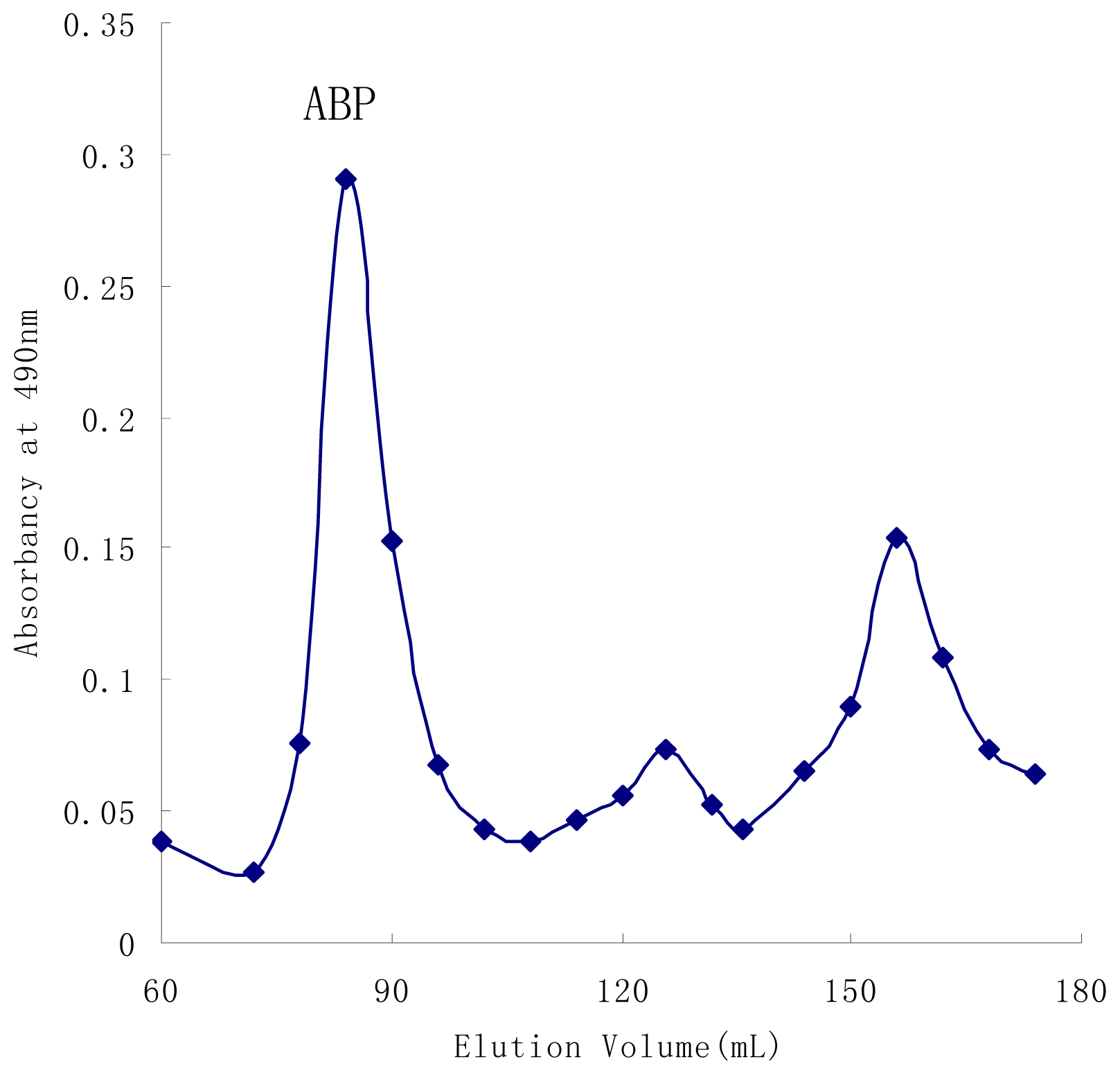 Share & Cite This Article
MDPI and ACS Style
He, J.; Zhang, A.; Ru, Q.; Dong, D.; Sun, P. Structural Characterization of a Water-Soluble Polysaccharide from the Fruiting Bodies of Agaricus bisporus. Int. J. Mol. Sci. 2014, 15, 787-797.
Related Articles
Comments
[Return to top]