MiRNA-199a-3p Regulates C2C12 Myoblast Differentiation through IGF-1/AKT/mTOR Signal Pathway
Laboratory of Animal Fat Deposition and Muscle Development, College of Animal Science and Technology, Northwest A&F University, Yangling 712100, China
†
These authors contributed equally to this work.
*
Author to whom correspondence should be addressed.
Received: 15 November 2013 / Revised: 10 December 2013 / Accepted: 11 December 2013 / Published: 27 December 2013
Abstract
MicroRNAs constitute a class of ~22-nucleotide non-coding RNAs. They modulate gene expression by associating with the 3' untranslated regions (3' UTRs) of messenger RNAs (mRNAs). Although multiple miRNAs are known to be regulated during myoblast differentiation, their individual roles in muscle development are still not fully understood. In this study, we showed that miR-199a-3p was highly expressed in skeletal muscle and was induced during C2C12 myoblasts differentiation. We also identified and confirmed several genes of the IGF-1/AKT/mTOR signal pathway, including
IGF-1
,
mTOR
, and
RPS6KA6
, as important cellular targets of miR-199a-3p in myoblasts. Overexpression of miR-199a-3p partially blocked C2C12 myoblast differentiation and the activation of AKT/mTOR signal pathway, while interference of miR-199a-3p by antisense oligonucleotides promoted C2C12 differentiation and myotube hypertrophy. Thus, our studies have established miR-199a-3p as a potential regulator of myogenesis through the suppression of IGF-1/AKT/mTOR signal pathway.
View Full-Text
►

▼

Figures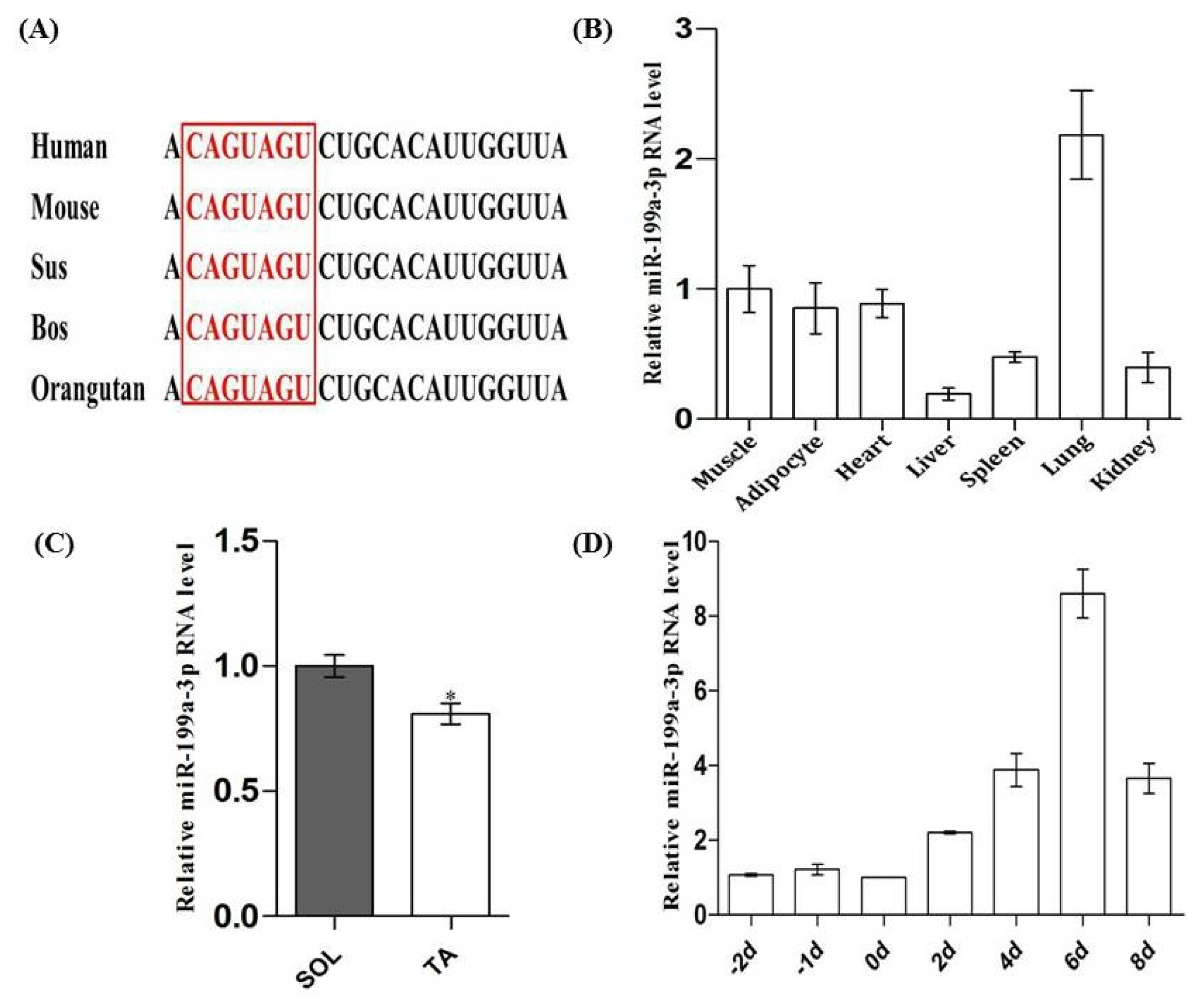 Share & Cite This Article
MDPI and ACS Style
Jia, L.; Li, Y.-F.; Wu, G.-F.; Song, Z.-Y.; Lu, H.-Z.; Song, C.-C.; Zhang, Q.-L.; Zhu, J.-Y.; Yang, G.-S.; Shi, X.-E. MiRNA-199a-3p Regulates C2C12 Myoblast Differentiation through IGF-1/AKT/mTOR Signal Pathway. Int. J. Mol. Sci. 2014, 15, 296-308.
Related Articles
Comments
[Return to top]