Genetic Deletion of Rheb1 in the Brain Reduces Food Intake and Causes Hypoglycemia with Altered Peripheral Metabolism
1
Laboratory of Molecular Neurobiology, State Key Laboratory of Biotherapy/West China Hospital, Sichuan University, Chengdu 610041, China
2
West China School of Preclinical and Forensic Medicine, Sichuan University, Chengdu 610041, China
3
Department of Neurosurgery, West China Hospital, Sichuan University, Chengdu 610041, China
†
These authors contributed equally to this work.
*
Authors to whom correspondence should be addressed.
Received: 16 November 2013 / Revised: 12 December 2013 / Accepted: 7 January 2014 / Published: 21 January 2014
Abstract
Excessive food/energy intake is linked to obesity and metabolic disorders, such as diabetes. The hypothalamus in the brain plays a critical role in the control of food intake and peripheral metabolism. The signaling pathways in hypothalamic neurons that regulate food intake and peripheral metabolism need to be better understood for developing pharmacological interventions to manage eating behavior and obesity. Mammalian target of rapamycin (
mTOR
), a serine/threonine kinase, is a master regulator of cellular metabolism in different cell types. Pharmacological manipulations of
mTOR
complex 1 (
mTORC1
) activity in hypothalamic neurons alter food intake and body weight. Our previous study identified
Rheb1
(Ras homolog enriched in brain 1) as an essential activator of
mTORC1
activity in the brain. Here we examine whether central
Rheb1
regulates food intake and peripheral metabolism through
mTORC1
signaling. We find that genetic deletion of
Rheb1 in the brain causes a reduction in mTORC1
activity and impairs normal food intake. As a result,
Rheb1
knockout mice exhibit hypoglycemia and increased lipid mobilization in adipose tissue and ketogenesis in the liver. Our work highlights the importance of central
Rheb1
signaling in euglycemia and energy homeostasis in animals.
View Full-Text
►

▼

Figures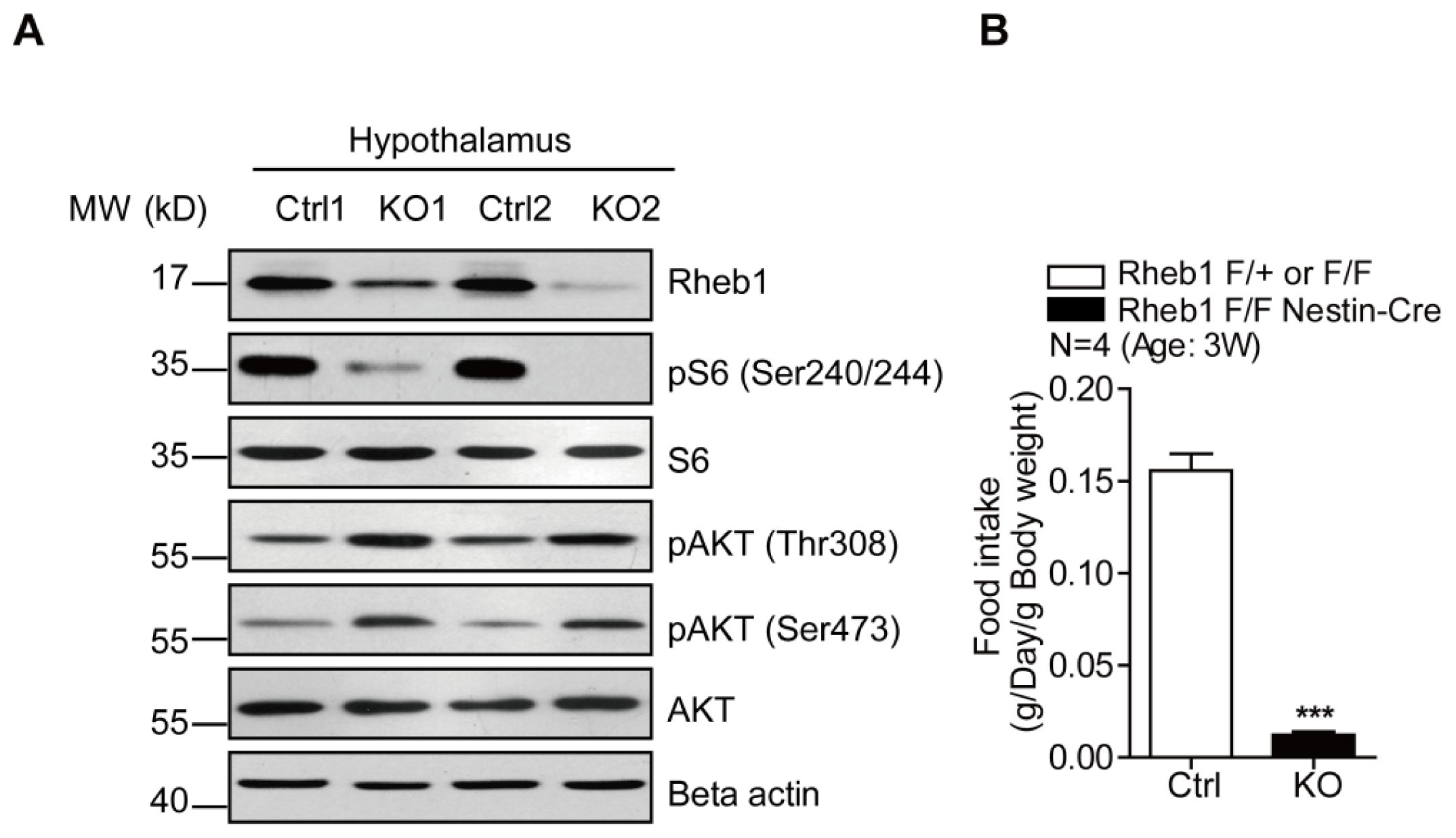 Share & Cite This Article
MDPI and ACS Style
Yang, W.; Jiang, W.; Luo, L.; Bu, J.; Pang, D.; Wei, J.; Du, C.; Xia, X.; Cui, Y.; Liu, S.; Mao, Q.; Chen, M. Genetic Deletion of Rheb1 in the Brain Reduces Food Intake and Causes Hypoglycemia with Altered Peripheral Metabolism. Int. J. Mol. Sci. 2014, 15, 1499-1510.
Related Articles
Comments
[Return to top]