Ischemic Preconditioning Protects against Spinal Cord Ischemia-Reperfusion Injury in Rabbits by Attenuating Blood Spinal Cord Barrier Disruption
1
Department of Anesthesiology, First Affiliated Hospital, China Medical University, Shenyang 110001, Liaoning, China
2
Key Laboratory of Medical Cell Biology, Ministry of Education, China Medical University, Shenyang 110001, Liaoning, China
*
Author to whom correspondence should be addressed.
Received: 25 February 2013 / Revised: 24 April 2013 / Accepted: 2 May 2013 / Published: 17 May 2013
Abstract
Ischemic preconditioning has been reported to protect against spinal cord ischemia-reperfusion (I-R) injury, but the underlying mechanisms are not fully understood. To investigate this, Japanese white rabbits underwent I-R (30 min aortic occlusion followed by reperfusion), ischemic preconditioning (three cycles of 5 min aortic occlusion plus 5 min reperfusion) followed by I-R, or sham surgery. At 4 and 24 h following reperfusion, neurological function was assessed using Tarlov scores, blood spinal cord barrier permeability was measured by Evan's Blue extravasation, spinal cord edema was evaluated using the wet-dry method, and spinal cord expression of zonula occluden-1 (ZO-1), matrix metalloproteinase-9 (MMP-9), and tumor necrosis factor-α (TNF-α) were measured by Western blot and a real-time polymerase chain reaction. ZO-1 was also assessed using immunofluorescence. Spinal cord I-R injury reduced neurologic scores, and ischemic preconditioning treatment ameliorated this effect. Ischemic preconditioning inhibited I-R-induced increases in blood spinal cord barrier permeability and water content, increased ZO-1 mRNA and protein expression, and reduced MMP-9 and TNF-α mRNA and protein expression. These findings suggest that ischemic preconditioning attenuates the increase in blood spinal cord barrier permeability due to spinal cord I-R injury by preservation of tight junction protein ZO-1 and reducing MMP-9 and TNF-α expression.
View Full-Text
►

▼

Figures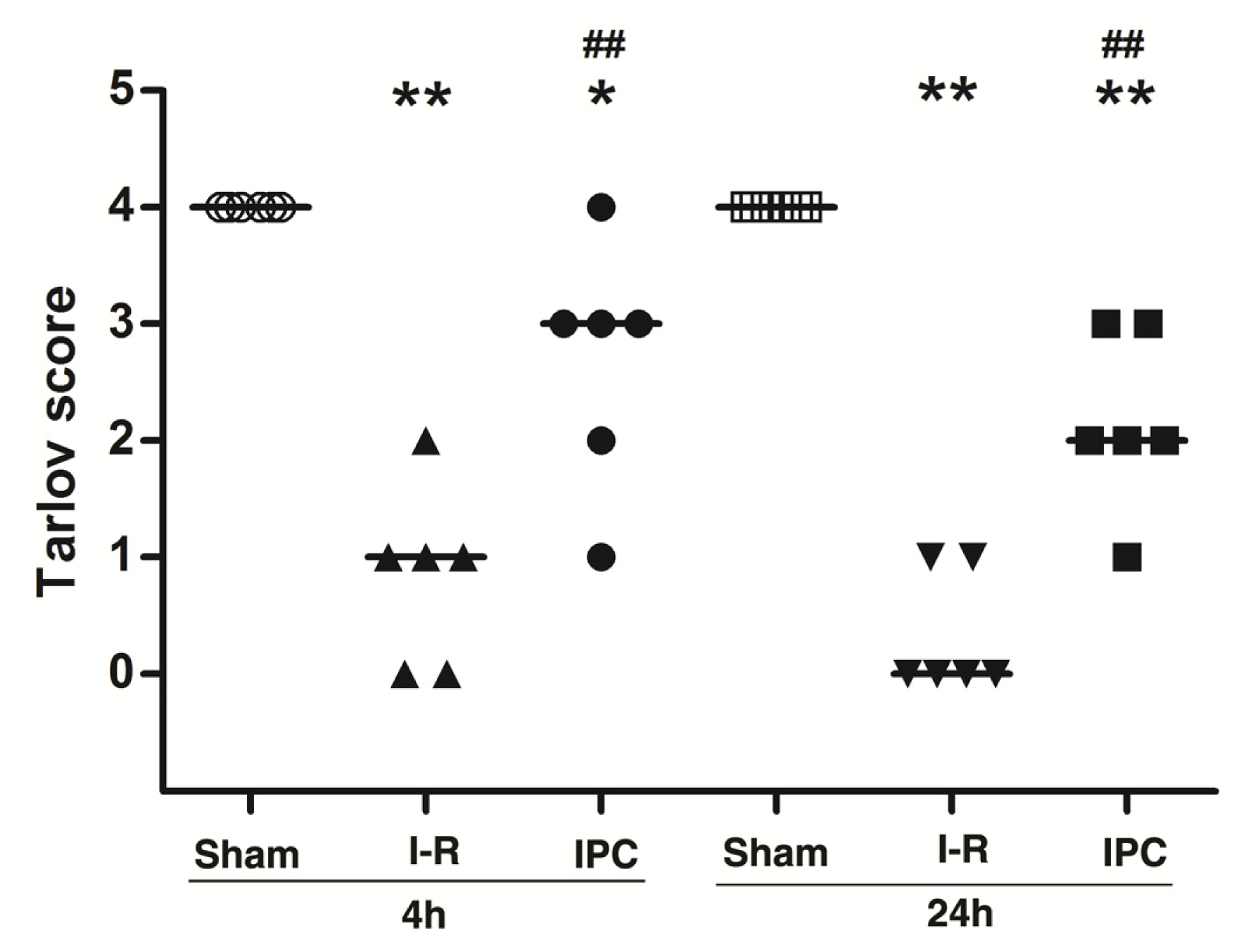 Share & Cite This Article
MDPI and ACS Style
Fang, B.; Li, X.-M.; Sun, X.-J.; Bao, N.-R.; Ren, X.-Y.; Lv, H.-W.; Ma, H. Ischemic Preconditioning Protects against Spinal Cord Ischemia-Reperfusion Injury in Rabbits by Attenuating Blood Spinal Cord Barrier Disruption. Int. J. Mol. Sci. 2013, 14, 10343-10354.
Related Articles
Comments
[Return to top]