Identification and Characterization of Seven Glutathione S-Transferase Genes from Citrus Red Mite, Panonychus citri (McGregor)
Key Laboratory of Entomology and Pest Control Engineering, College of Plant Protection, Southwest University, Chongqing 400715, China
†
These authors contributed equally to this work.
*
Author to whom correspondence should be addressed.
Received: 10 September 2013 / Revised: 21 November 2013 / Accepted: 22 November 2013 / Published: 13 December 2013
Abstract
The citrus red mite,
Panonychus citri
(McGregor), is a global citrus pest, and has developed severe resistance to several types of acaricides. However, the molecular mechanisms of resistance in this mite remain unknown. In this study, seven full-length cDNAs encoding glutathione
S
-transferases (GSTs) genes were identified and characterized in
P. citri
. The effects of pyridaben and fenpropathrin exposure on the expression of these genes were also investigated. Phylogenetic analysis revealed that the seven GSTs genes in
P. citri
cloned in this study belong to three different cytosolic classes, including four in mu, two in delta and one in zeta. Among these seven GSTs genes, the relative expression level of
PcGSTm1
was significantly higher in adult than in the other life stages (egg, larvae and nymph). Compared with the control, the mRNA levels of the seven GST genes did not change significantly following exposure to pyridaben at LC
10
. However, RT-qPCR results showed that, when exposed to LC
10
of fenpropathrin, six GSTs gene (
PcGSTm1
,
PcGSTm3
,
PcGSTm4
,
PcGSTd1
,
PcGSTd2
and
PcGSTz1
) transcripts increased in a time-dependent manner. This is the first insight into the molecular characteristics of GSTs gene cDNAs in
P. citri
. The elevated GSTs gene transcripts following exposure to fenpropathrin might be one of the mechanisms involved in detoxification of this acaricide.
View Full-Text
►

▼

Figures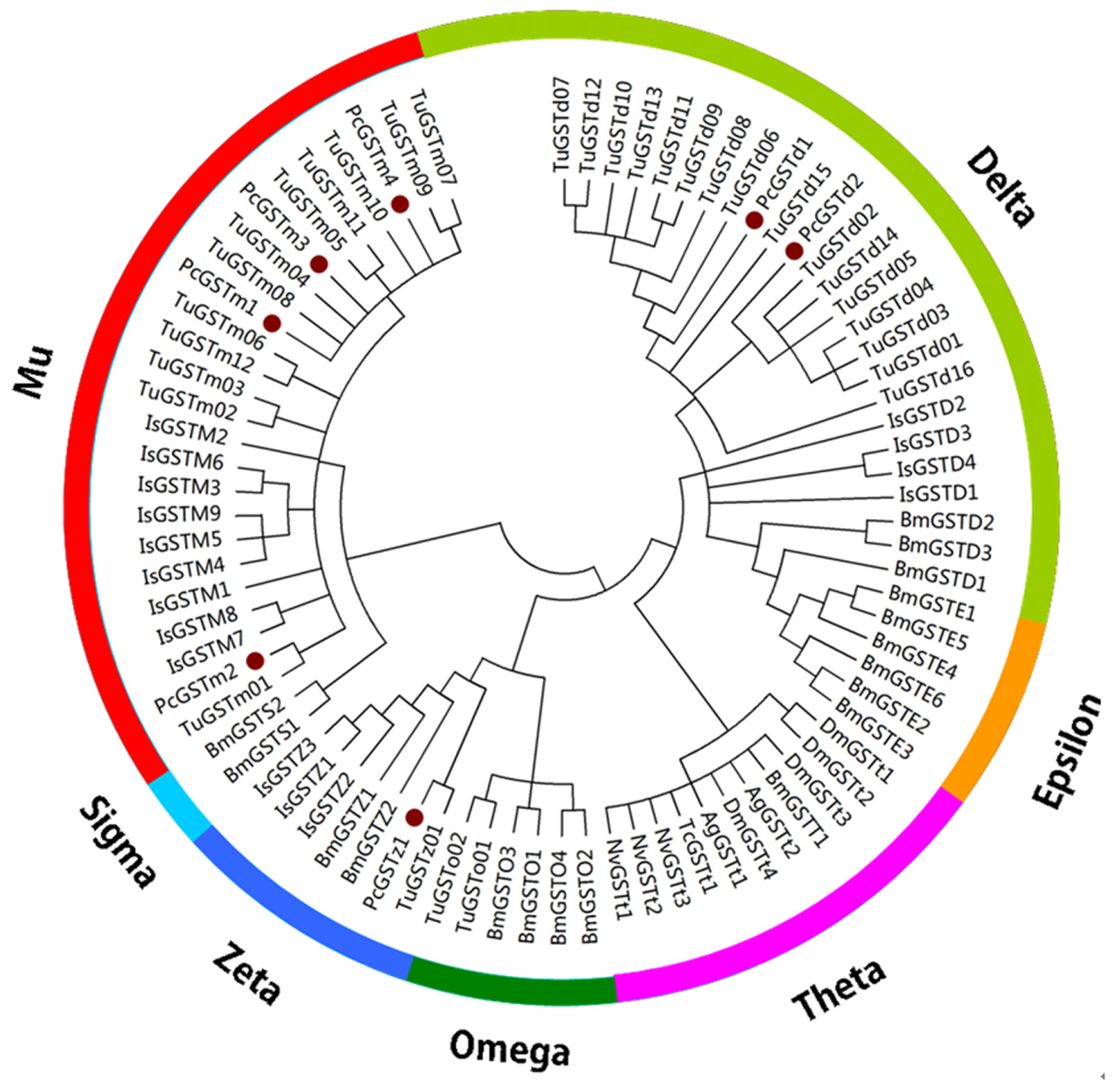 Share & Cite This Article
MDPI and ACS Style
Liao, C.-Y.; Zhang, K.; Niu, J.-Z.; Ding, T.-B.; Zhong, R.; Xia, W.-K.; Dou, W.; Wang, J.-J. Identification and Characterization of Seven Glutathione S-Transferase Genes from Citrus Red Mite, Panonychus citri (McGregor). Int. J. Mol. Sci. 2013, 14, 24255-24270.
Related Articles
Comments
[Return to top]