One Step Synthesis of NiO Nanoparticles via Solid-State Thermal Decomposition at Low-Temperature of Novel Aqua(2,9-dimethyl-1,10-phenanthroline)NiCl2 Complex
1
Department of Chemistry, King Saud University, P.O. Box 2455, Riyadh 11451, Saudi Arabia
2
Department of Chemistry, Hashemite University, Zarqa 13115, Jordan
3
Department of Chemistry, Science College, AN-Najah National University, P.O. Box 7, Nablus, Palestine
4
Department of Physics and Astronomy, King Saud University, P.O. Box 2455, Riyadh 11451, Saudi Arabia
5
Laboratoire de Chimie Appliquée et Environnement, LCAE-URAC18, Faculity of Science, University Mohammed Premier, Oujda 60000, Morocco
6
Lab of Chemical Material, FSO, University Mohammed Premier, Oujda 60000, Morocco
7
Department of Chemistry, the University of Jordan, Amman 11942, Jordan
8
Department of Chemistry, Faculty of Science, Benghazi University, P.O. Box 1308, Benghazi 5341, Libya
*
Author to whom correspondence should be addressed.
Received: 23 October 2013 / Revised: 13 November 2013 / Accepted: 25 November 2013 / Published: 9 December 2013
Abstract
[NiCl
2
(C
14
H
12
N
2
)(H
2
O)] complex has been synthesized from nickel chloride hexahydrate (NiCl
2
·6H
2
O) and 2,9-dimethyl-1,10-phenanthroline (dmphen) as
N
,
N
-bidentate ligand. The synthesized complex was characterized by elemental analysis, infrared (IR) spectroscopy, ultraviolet-visible (UV-vis) spectroscopy and differential thermal/thermogravimetric analysis (TG/DTA). The complex was further confirmed by single crystal X-ray diffraction (XRD) as triclinic with space group P-1. The desired complex, subjected to thermal decomposition at low temperature of 400 °C in an open atmosphere, revealed a novel and facile synthesis of pure NiO nanoparticles with uniform spherical particle; the structure of the NiO nanoparticles product was elucidated on the basis of Fourier transform infrared (FT-IR), UV-vis spectroscopy, TG/DTA, XRD, scanning electron microscopy (SEM), energy-dispersive X-ray spectrometry (EDXS) and transmission electron microscopy (TEM).
View Full-Text
►

▼

Figures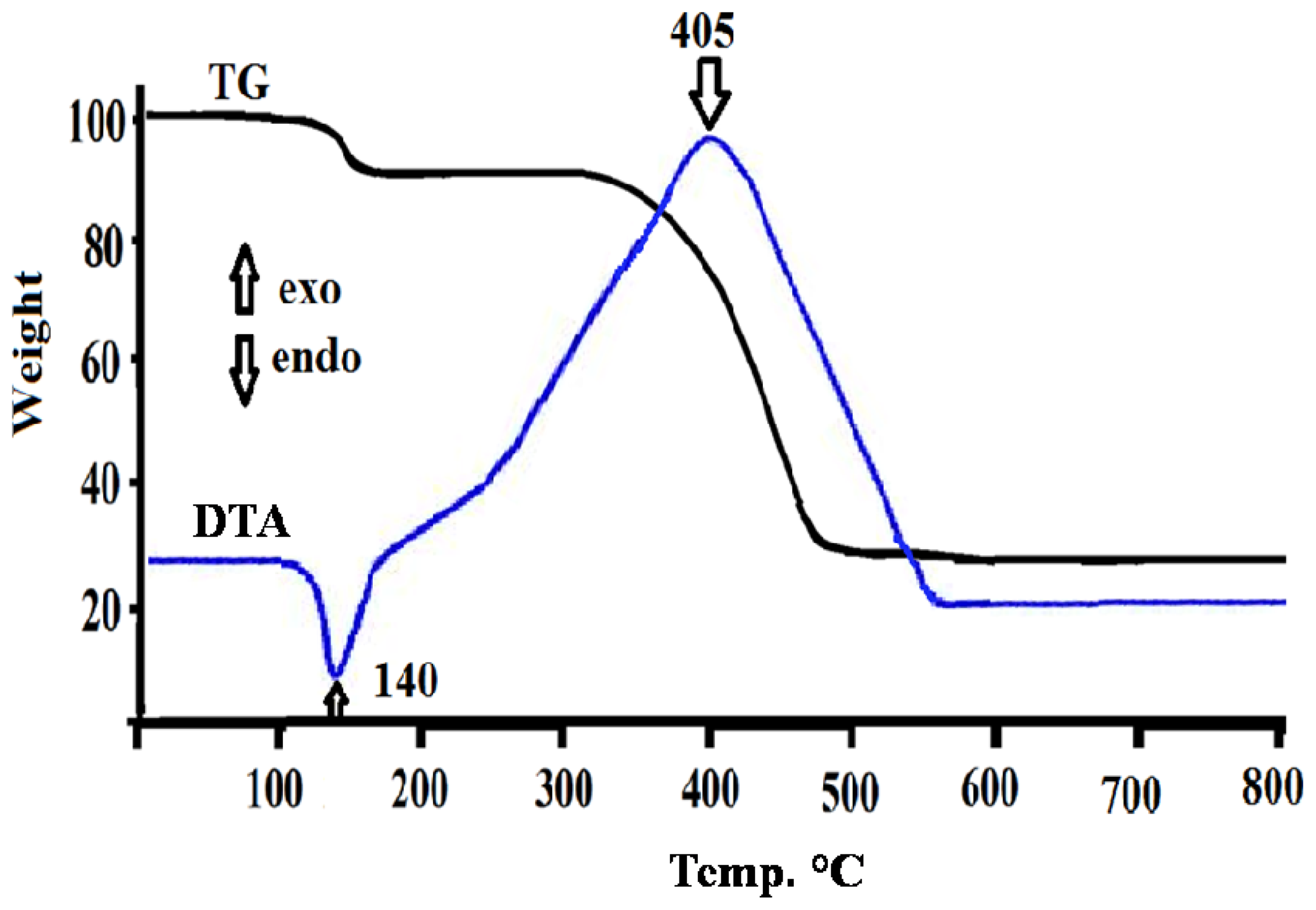 Share & Cite This Article
MDPI and ACS Style
Barakat, A.; Al-Noaimi, M.; Suleiman, M.; Aldwayyan, A.S.; Hammouti, B.; Hadda, T.B.; Haddad, S.F.; Boshaala, A.; Warad, I. One Step Synthesis of NiO Nanoparticles via Solid-State Thermal Decomposition at Low-Temperature of Novel Aqua(2,9-dimethyl-1,10-phenanthroline)NiCl2 Complex. Int. J. Mol. Sci. 2013, 14, 23941-23954.
Related Articles
Comments
[Return to top]