Blocking Autophagic Flux Enhances Matrine-Induced Apoptosis in Human Hepatoma Cells
1
China-Japan Friendship Clinical Medicine College, Peking University Health Science Center, No.2 Yinghua East Road, Beijing 100029, China
2
Department of Gastroenterology, China-Japan Friendship Hospital, Ministry of Health, No.2 Yinghua East Road, Beijing 100029, China
*
Author to whom correspondence should be addressed.
Received: 17 September 2013 / Revised: 12 November 2013 / Accepted: 14 November 2013 / Published: 25 November 2013
Abstract
Autophagy, a self-defense mechanism, has been found to be associated with drug resistance in hepatocellular carcinoma (HCC). Our study was designed to investigate the role and related mechanisms of autophagy in matrine-induced apoptosis in hepatoma cells of HepG2 and Bel
7402
. Cell apoptosis was detected by flow cytometry analysis (Annexin V–FITC/PI double-staining assay), the activity and activating cleavages of caspase-3, -8, and -9. MTT assay and colony forming assay were used to assess the effect of matrine on growth and proliferation of HCC cells. Autophagic flux in HCC cells was analyzed using the expression of LC3BI/II and p62/SQSTM1, GFP-LC3 transfection, and transmission electron microscopy. Moreover, regarding to the associated mechanisms, the effects of matrine on the phosphoinositide 3-kinase/AKT/mTOR pathway and beclin-1 were studied. Our results showed that: (1) both autophagy and apoptosis could be induced by treatment with matrine; (2) using the autophagic inhibitor chloroquine and beclin-1 small-interfering RNA, cell apoptosis induced by matrine could be enhanced in a caspase-dependent manner; and (3) autophagy was induced via inhibition of PI3K/AKT/mTOR pathway and up-regulation of beclin-1. In conclusion, inhibition of autophagy could enhance matrine-induced apoptosis in human hepatoma cells.
View Full-Text
►

▼

Figures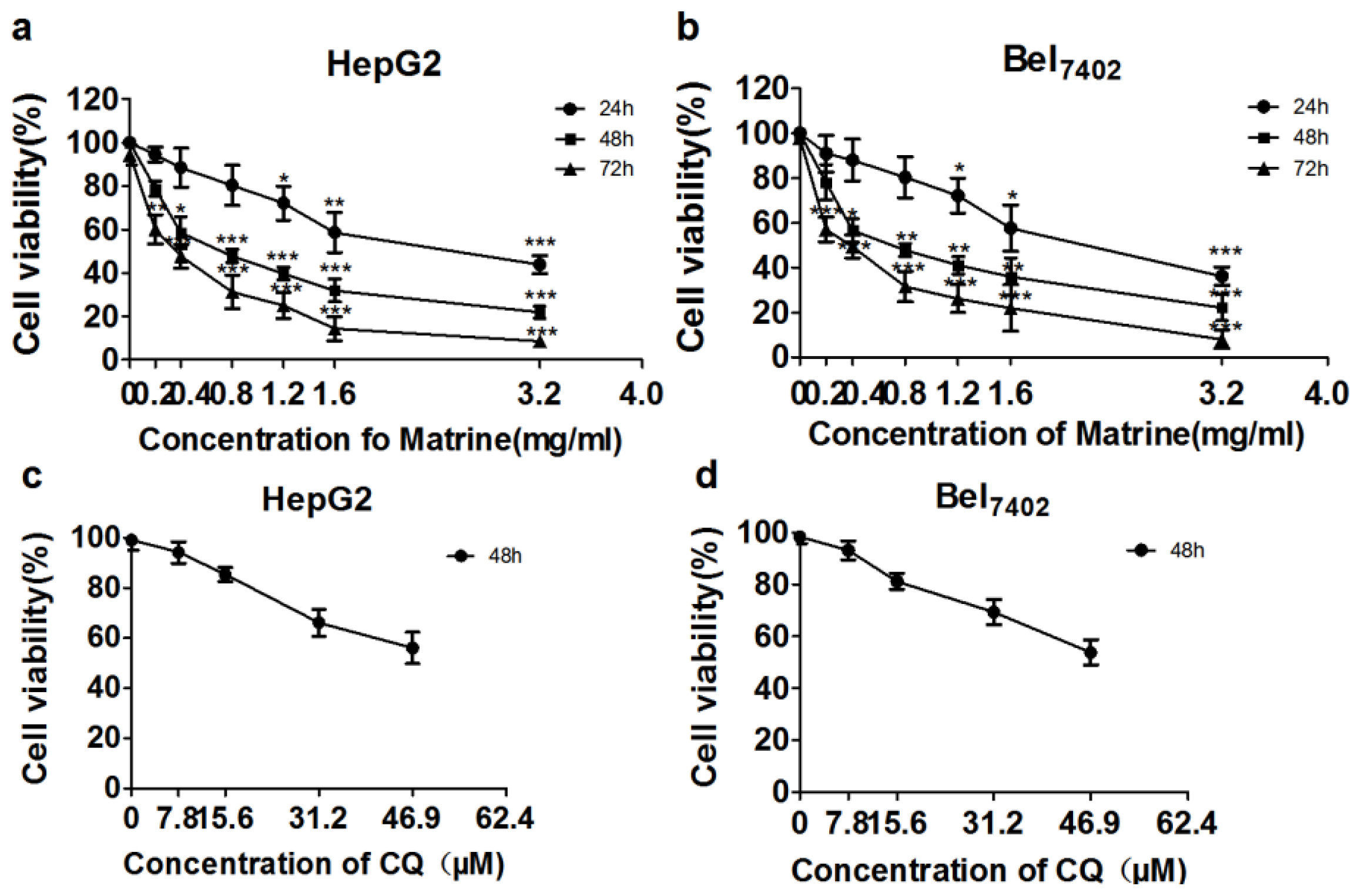 Share & Cite This Article
MDPI and ACS Style
Wang, L.; Gao, C.; Yao, S.; Xie, B. Blocking Autophagic Flux Enhances Matrine-Induced Apoptosis in Human Hepatoma Cells. Int. J. Mol. Sci. 2013, 14, 23212-23230.
Related Articles
Comments
[Return to top]