Effects of Soybean Agglutinin on Mechanical Barrier Function and Tight Junction Protein Expression in Intestinal Epithelial Cells from Piglets
1
College of Animal Science and Technology, Jilin Agricultural University, Changchun 130118, China
2
Key Laboratory of Animal Production, Product Quality and Security, Ministry of Education, Jilin Agricultural University, Changchun 130118, China
*
Author to whom correspondence should be addressed.
Received: 28 August 2013 / Revised: 24 September 2013 / Accepted: 8 October 2013 / Published: 1 November 2013
Abstract
In this study, we sought to investigate the role of soybean agglutinin (SBA) in mediating membrane permeability and the mechanical barrier function of intestinal epithelial cells. The IPEC-J2 cells were cultured and treated with 0, 0.5, 1.0, 1.5, 2.0, 2.5, or 3.0 mg/mL SBA. Transepithelial electrical resistance (TEER) and alkaline phosphatase (AP) activity were measured to evaluate membrane permeability. The results showed a significant decrease in TEER values (
p
< 0.05) in a time- and dose-dependent manner, and a pronounced increase in AP activity (
p
< 0.05). Cell growth and cell morphology were used to evaluate the cell viability. A significant cell growth inhibition (
p
< 0.05) and alteration of morphology were observed when the concentration of SBA was increased. The results of western blotting showed that the expression levels of occludin and claudin-3 were decreased by 31% and 64% compared to those of the control, respectively (
p
< 0.05). In addition, immunofluorescence labeling indicated an obvious decrease in staining of these targets and changes in their localizations. In conclusion, SBA increased the membrane permeability, inhibited the cell viability and reduced the levels of tight junction proteins (occludin and claudin-3), leading to a decrease in mechanical barrier function in intestinal epithelial cells.
View Full-Text
►

▼

Figures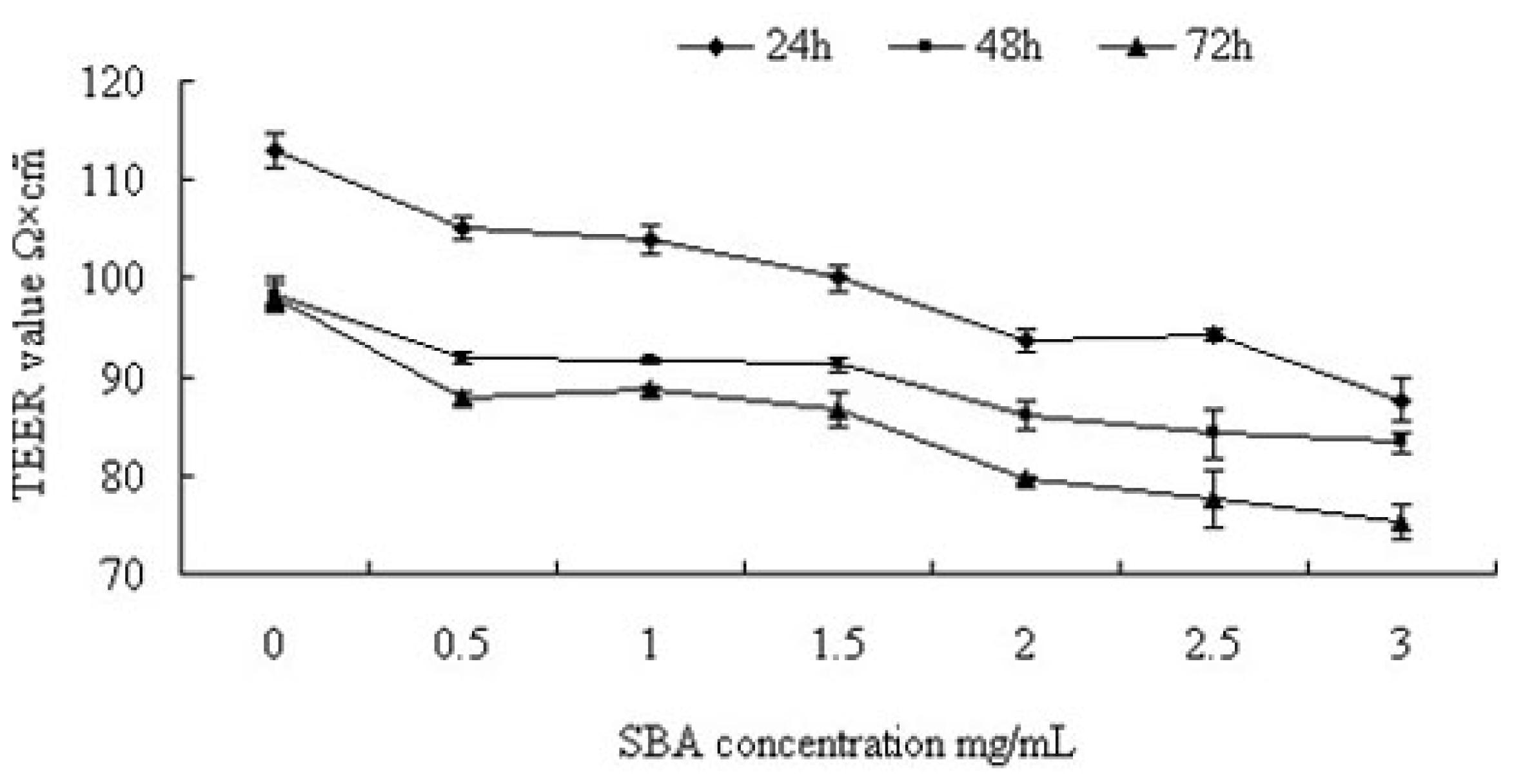 Share & Cite This Article
MDPI and ACS Style
Pan, L.; Qin, G.; Zhao, Y.; Wang, J.; Liu, F.; Che, D. Effects of Soybean Agglutinin on Mechanical Barrier Function and Tight Junction Protein Expression in Intestinal Epithelial Cells from Piglets. Int. J. Mol. Sci. 2013, 14, 21689-21704.
Related Articles
Comments
[Return to top]