Open Access This article is
freely available
re-usable
Review
MicroRNA-Regulated Pathways in Hematological Malignancies: How to Avoid Cells Playing Out of Tune
1
Department of Biology and Biotechnology "Charles Darwin", Sapienza University of Rome, Rome 00185, Italy
2
Department of Medico-Surgical Sciences and Biotechnologies, Sapienza University of Rome, Latina 04100, Italy
†
These authors contributed equally to this work.
*
Authors to whom correspondence should be addressed; Tel.: +39-06-49912341 (A.F.); +39-06-49766575 (F.F.); Fax: +39-06-49912500 (A.F.); +39-06-4462854 (F.F.).
Received: 31 July 2013; in revised form: 3 October 2013 / Accepted: 10 October 2013 / Published: 18 October 2013
Abstract
: The coordinated expression and interplay among lineage specific transcription factors and microRNAs contribute to the regulation of gene expression and determination of cell specificity. In hematopoietic stem cells (HSCs), unique combinations of transcription factors largely control growth and maturation of different blood cell lineages through cooperative regulation of specific target genes. MicroRNAs provide an additional level of control beyond transcription factors. By acting as regulators of crucial lineage-specific genetic programs, microRNAs direct early multipotential progenitor cells to adopt a certain cell fate program. Thus, alteration of specific microRNA levels may affect proliferation, differentiation and genetic stability of HSCs, contributing to the onset of myeloproliferative disorders and leukemia. The major aim of this review is to highlight the critical role of microRNA-regulated pathways during the establishment and progression of hematological malignancies, with a particular attention to leukemia, lymphomas and myelodysplastic syndromes. This will give us the opportunity to discuss the potential use of microRNA-based therapeutic approaches in these diseases. MicroRNAs are indeed emerging as relevant tools to improve the efficacy of currently used therapeutic protocols.
Keywords:
microRNA; leukemia; lymphoma
1. Introduction
Try to imagine that what is happening within our cells as a sort of "symphony". The music is complex, performed by thousands of players who need to be directed. The recently discovered class of non-coding RNAs called microRNAs (miRNAs) has a crucial part in directing what tune our cells play. miRNAs are small, only 20–22 nt long, but mighty. A single miRNA can control the amount of hundreds of different proteins produced in the cell by regulating their mRNA translation and stability via recognition of complementary target sites in their 3′UTR [1]. The biogenesis of miRNAs, their regulation and mode of action has been extensively covered in different reviews [2,3]. The more than 2000 different microRNAs identified in the human genome might regulate as many as half of our coding genes. MiRNAs regulate some of the most basic processes in cells such as cell proliferation, metabolism, and apoptosis and, above all, they are central in contributing what type of cell a developing cell ultimately becomes [4]. They are like "conductors" of protein orchestras. A tumour can be regarded as tissue in which cells "lose their identity", become malignant and start to grow in an uncontrolled or inappropriate manner instead of developing into their determined cell type [5].
Deregulation of miRNAs in cancer cells interferes with normal cell development and causes the cells to "play out of tune". Thus it is not surprising that miRNAs seem to be important players in the initiation and progression of cancer including hematological malignancies [6].
Hematopoiesis is a highly regulated process in which pluripotent hematopoietic stem cells (HSCs) give rise to all the blood lineages: the myeloid lineage, which comprises neutrophils, eosinophils, basophils, monocytes, macrophages, megakaryocytes, platelets and erythrocytes; and the lymphoid lineage, which includes T and B cells. The development of myeloid and lymphoid cells depends on the activation of specific genetic programs that are responsible for the reduction in cell proliferation and the expression of lineage specific genes [7,8]. Among master regulators of these programs are transcription factors [9]. miRNAs provide an additional level of control beyond the transcription factors by fine-tuning differentiation and adjusting the cell response to external stimuli [10]. In particular, they play a crucial role in the regulation of blood cell specification by controlling the precise timing and expression levels of key factors and conferring robustness to regulative networks [11,12].
Aberrant expression of many different miRNAs has been observed in several cancers, including hematological malignancies. Furthermore, about 50% of miRNAs are located at fragile sites and genomic regions in the human genome associated with cancer [13].
In this review, we deal with well-established molecular circuitries between key protein regulators and miRNAs in hematopoietic differentiation and how their deregulation may contribute to hematological malignancies, with a specific focus on leukemia, lymphomas and myelodysplastic syndromes (Table 1). Finally, we also discuss the possible use of miRNA-based therapies as novel clinical approaches in these diseases.
2. Oncosuppressor miRNA Pathways
3. Oncogenic miRNA Pathways
4. miRNA Pathways and Drug Response Efficacy
In recent years many efforts have been made to disclose the molecular processes at the basis of the therapeutic drug response to optimize the efficacy of treatment and to improve the clinical outcomes of hematological malignancies. Different miRNAs are described as reliable biomarkers for risk-stratification and management of leukemia [102]. Moreover, miRNAs involved in the anti-neoplastic drug responses are emerging and the modulation of their expression is becoming a possible central tool to improve the efficacy of current therapeutic protocols.
Cytarabine (or Cytosine Arabinoside), also known as Ara-C, is one of the most commonly used drugs in the treatment of AML. Ara-C-induced drug resistance is associated with down-regulation of miR-181a levels in leukemia cells. On the contrary, enforced miR-181a expression may regulate the death of Ara-C-resistant leukemia cells by targeting caspase-dependent cell death through BCL-2 expression and causing subsequent changes in the apoptosis pathway [115]. Moreover, the ectopic expression of miR-32 in AML cells, resulting in a down-regulation of the pro-apoptotic protein BIM, increases the differentiation response to 1,25-Dihydroxyvitamin D3 and cell survival. Interestingly, the inhibition of miR-32 expression is sufficient to elevate BIM expression and sensitize AML cells to Ara-C-induced apoptosis [116].
Decitabine (5-aza-2′-deoxycytidine) and 5-azacitidine are cytosine nucleoside analogs that, when incorporated into DNA sequence, form irreversible covalent bonds with DNA methyltransferases (DNMTs) resulting in the hypomethylation of DNA [117]. miR-29b, which negatively modulates the expression of genes encoding the transcriptional activator Sp1 and DNA methyltransferases (DNMT1, DNMT3A and DNMT3B), as described above, is down-regulated in AML. Of note, it was recently reported that low pretreatment levels of miR-29b in leukemia cells might be associated with worse prognosis and inferior response to the hypomethylating agent decitabine in AML patients [118]. The up-regulation of miR-29b levels and the resulting reduction of known miR-29b targets, after the sequential administration of a specific histone deacetylase (HDAC) inhibitor followed by decitabine, caused a stronger anti-leukemic activity of the combined treatment in vitro and in vivo. These results open up a novel epigenetic-targeting approach for acute myeloid leukemia [119]. Similar results were obtained by using a novel transferrin-conjugated nanoparticle delivery system for synthetic expression of miR-29b (Tf-NP-miR-29b) in AML cells. The miR-29b induction results in a decreased AML cell growth and impairment of colony formation. Moreover, mice engrafted with AML cells and then treated with Tf-NP-miR-29b had significantly longer survival compared with the Tf-NP-scramble-treated group. Of note, the combined treatment of Tf-NP-miR-29 plus decitabine showed an improvement in the survival of the leukemic mice compared with decitabine alone [120]. Moreover the expression of miR-29b in MM targets DNMT3A and DNMT3B and reduces global DNA methylation. In vitro transfection of synthetic miR-29b mimics in MM cells promoted apoptosis and cell cycle perturbations and potentiated the growth-inhibitory effects of the DNMT inhibitor 5-azacitidine, suggesting new strategies based on the combination of DNA-demethylating agents and miRNAs in the treatment of MM [121].
Imatinib has revolutionized the clinical treatment of CML by inhibiting the tyrosine kinase activity of the fusion protein BCR-ABL and thereby causing tumor cell death. Emergence of resistance to Imatinib has become a significant clinical problem. In CML, miR-203 was silenced in human BCR-ABL-positive cells through hypermethylation of its promoter. Interestingly, ABL is one of the miR-203 targets and re-expression of miR-203 dramatically reduces the proliferation of tumor cells in an ABL1-dependent manner. [122]. Drugs that inhibit DNA methylation, such as 5-azacytidine and 4-phenylbutyrate, could reverse the hypermethylated state of the miR-203 promoter and restore miR-203 expression with consequent reduction in BCR-ABL levels [122]. This has therapeutic implications, as currently available demethylating epigenetic drugs, such as decitabine, may represent a valid alternative to CML patients who develop resistance to tyrosine kinase Inhibitors [123]. It has been also shown that Imatinib itself induces a demethylation of the miR-203 promoter, resulting in low expression of targeted BCR-ABL and loss of proliferation of leukemic cells. These results highlight demethylation of miR-203 as one of the molecular mechanisms of Imatinib-induced inhibition of BCR-ABL-positive leukemic cells [124].
5. Conclusions
In addition to the use of miRNAs as prognostic markers it is very likely that we will see the development of new therapeutic options based on miRNAs in the clinic in the near future. Recent advances in the field demonstrated the feasibility of manipulating miRNA expression levels as a potential therapeutic strategy for cancer [125]. However, it is important to point out that the oncogenic or oncosuppressor activity of specific miRNAs might strictly depend on the cellular context. Therefore, before moving to the clinic it will be critical to fully understand the function of specific miRNAs that constitute therapeutic targets. Hopefully, by controlling the action of these micro-cell conductors in the right time and in the right place we will be able to affect the type of music that cells play and prevent them from playing "out of tune".
Finally, even if at the present miRNAs are the most studied regulative non-coding RNAs, other classes of non-coding RNAs, such as long non-coding RNAs (lncRNAs), appear to play a significant role in the regulation of gene expression programmes that occurs in higher eukaryotes [126]. The study of these ncRNAs in cancer is still in its infancy, but important new developments are expected in this field. Therefore, a major objective for future studies will be to re-evaluate and re-design established regulative molecular circuitries in light of the contribution of this complex class of non-coding transcripts.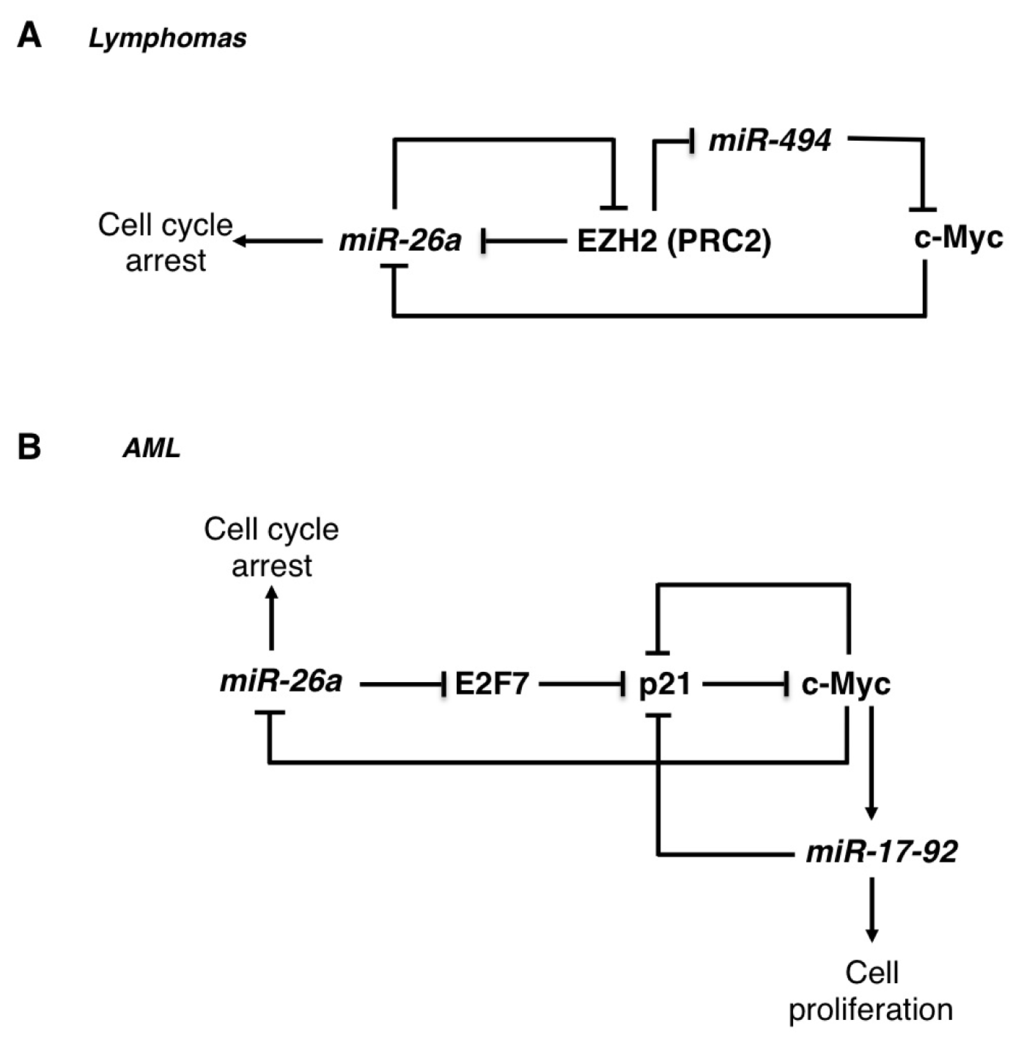 Figure 1.
(
A
) Schematic representation of the regulatory network between miR-26a, c-Myc and EZH2 in lymphomas. Repression of miR-26a by c-Myc induced the expression of its target
EZH2
, which support c-Myc oncogenic activity by epigenetically silencing genes involved in cellular differentiation and tumour suppression. EZH2 targets include miR-26a and the c-Myc repressor miR-494 (see text for details); (
B
) Schematic representation of the regulatory network between miR-26a, c-Myc, E2F7 and p21 in AML. Repression of miR-26a by c-Myc induced the expression of its target E2F7, which in turn inhibits the expression of the tumour suppressor p21. p21 suppression is enforced by c-Myc dependent activation of the oncogenic miR-17-92 cluster (see text for details).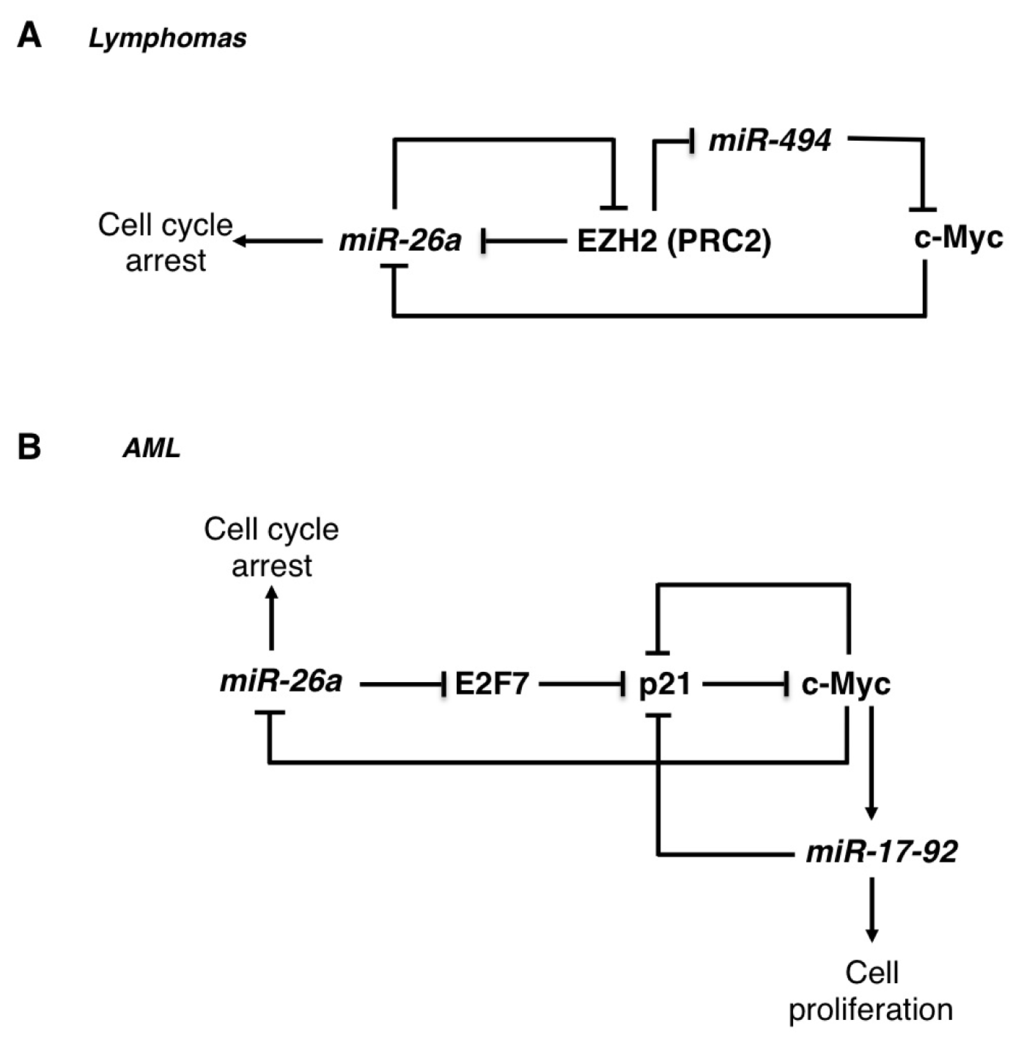 Figure 2.
(
A
) Schematic representation of the regulatory networks mediated by miR-29b in hematological malignancies. miR-29b affects DNA methylation by direct and indirect targeting of
DNMT3A
/
B
and
DNMT1
, respectively. In addition, it represses c-Myc activity through translational repression of Sp1 and stimulates apoptosis by inhibiting Mcl1 (see main text for details); (
B
) Schematic representation of the regulatory networks mediated by miR-34a in leukemia. During myeloid differentiation CEBPα induces miR-34a, which post-transcriptionally represses the transcriptional regulators E2F3 and CREB. This results in decreased cell proliferation. In addition, miR-34a is a transcriptional target of p53 and sustains its expression through inhibition of SIRT1 (see main text for details).


Figure 3. Schematic representation of the regulatory networks mediated by miR-223 in myeloid cells. CEBPα induces miR-223, which post-transcriptionally represses the transcriptional regulators E2F1 and NFI-A during granulopoiesis. This feed-forward loop is connected with feedback loops in which E2F1 and NFI-A inhibits the transcription of miR-223 in undifferentiated myeloid precursors. In addition, CEBPα itself inhibits transcription of the cell-cycle regulator E2F1.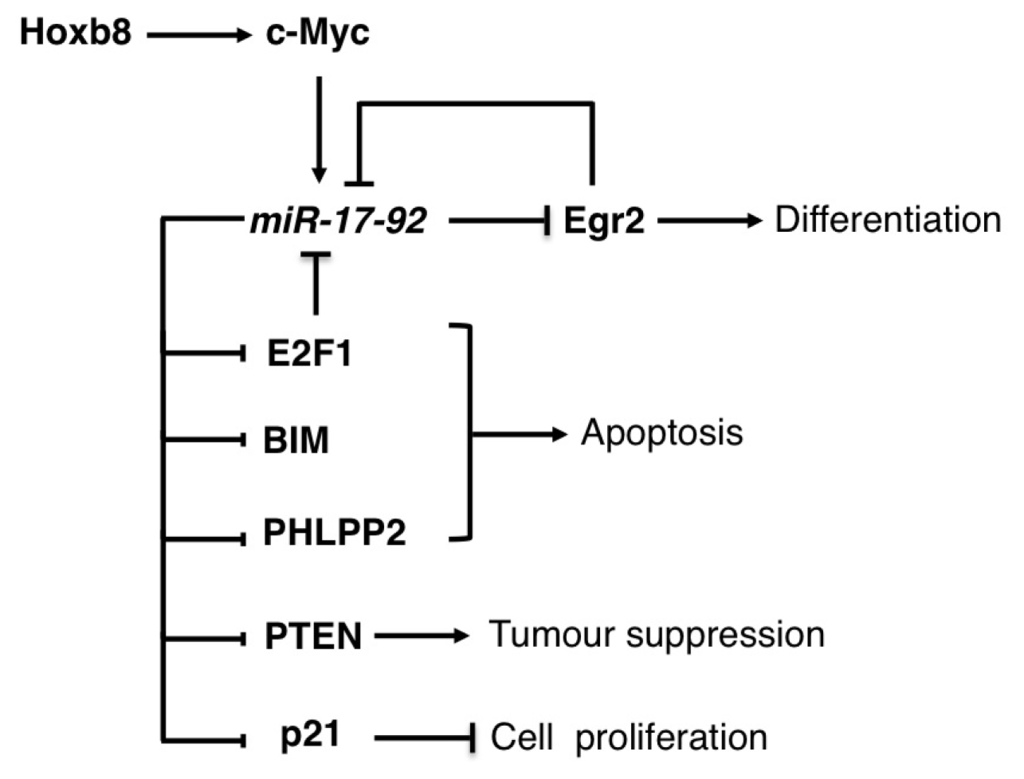 Figure 4. Schematic representation of the regulatory networks mediated by miR-17-92 cluster in hematological malignancies. miR-17-92 exerts its oncogenic activity by affecting multiple pathways trough the inhibition of the apoptotic proteins E2F1, BIM and PHLPP2; the tumour suppressors PTEN and p21 and the pro-differentiative factor Egr2 (see main text for details).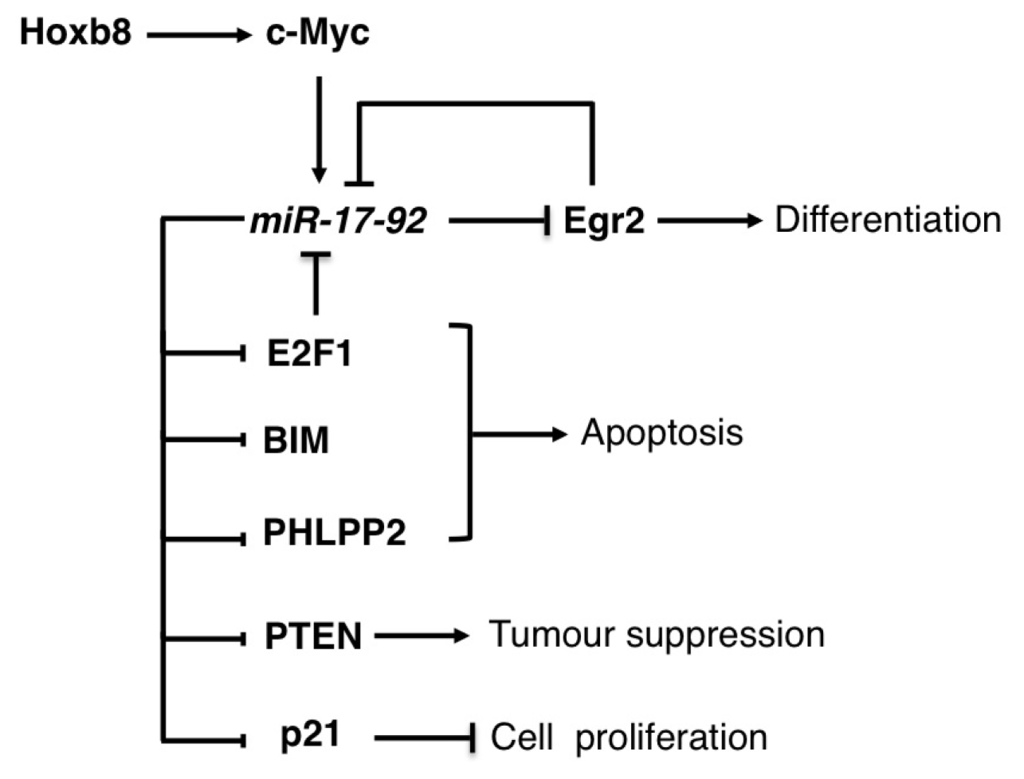 Table 1. Oncogenic and oncosuppressor microRNAs in hematological malignancies.
MicroRNA
Malignancies
Function
Targets
References
miR-17-92
Lymphomas
OG

E2Fs

,

PTEN

,

BIM

,

PHLP2

[14–17]
T-ALL
OG

PTEN

,

BIM

[18]
AML
OG

EGR2

,

BIM

,

P21

[19–22]

---

miR-26
Lymphomas
OS

EZH2

[23]
AML
OS

E2F7

[24]
T-ALL
OG

PTEN

[25]

---

miR-29
Lymphomas
OS

CDK6

[26]
AML
OS

DNMT3A

,

DNMT3B

,

SP1

,

MCL1

[27–29]
B-CLL
OS/OG

HBP1

,

TCL1

,

PXDN

[26,30]

---

miR-34
AML
OS

CREB

,

E2F3

[31,32]
CLL
OS

TCL1

,

SIRT1

[33,34]

---

miR-125
AML and ALL
OG

CBFB

,

ABTB1

,

BAK1

,

PTPN18

,

PTPN7

,

PP1CA

,

PP2CA

,

LIN28

[35–40]

---

miR-146
MDS
OS
TRAF6
[41,42]

---

miR-155
Lymphomas and ALL
OG

SHIP

,

CEBPβ

,

HDAC4

,

BCL6

[43–45]
AML
OG

BACH1

,

SLA

,

CUTL1

,

CSF1R

,

JARID2

,

CEBPβ

,

PU.1

,

ARNT1

,

HIF1A

,

PICALM

[46]

---

miR-223
AML
OS

E2F1

,

NFI-A

[47,48]
T-ALL
OG

FBXW7

[49]

---

miR-328
CML
OS

PIM1

[50]
AML, acute myeloid leukemia; ALL, acute lymphoblastic leukemia; B, B-cell; CLL, chronic lymphocytic leukemia; CML, chronic myeloid leukemia; MDS, myelodysplastic syndromes; OG, oncogene; OS, oncosuppressor; T, T-cell.
Acknowledgments
We acknowledge support from: FP7-PEOPLE-2011-ITN Project HemID (289611), AIRC (4841) and Sapienza University of Rome.
Conflicts of Interest
The authors declare no conflict of interest.
© 2013 by the authors; licensee MDPI, Basel, Switzerland This article is an open access article distributed under the terms and conditions of the Creative Commons Attribution license (http://creativecommons.org/licenses/by/3.0/).