Scutellaria barbata D. Don Inhibits Tumor Angiogenesis via Suppression of Hedgehog Pathway in a Mouse Model of Colorectal Cancer
1
Academy of Integrative Medicine Biomedical Research Center, Fujian University of Traditional Chinese Medicine, 1 Huatuo Road, Minhou Shangjie, Fuzhou, Fujian 350122, China
2
Fujian Key Laboratory of Integrative Medicine on Geriatrics, Fujian University of Traditional Chinese Medicine, 1 Huatuo Road, Minhou Shangjie, Fuzhou, Fujian 350122, China
3
Department of Pharmacology, Fujian University of Traditional Chinese Medicine, 1 Huatuo Road, Minhou Shangjie, Fuzhou, Fujian 350122, China
*
Author to whom correspondence should be addressed.
Received: 6 June 2012 / Revised: 9 July 2012 / Accepted: 11 July 2012 / Published: 25 July 2012
Abstract
Angiogenesis, which plays a critical role during tumor development, is tightly regulated by the Sonic Hedgehog (SHH) pathway, which has been known to malfunction in many types of cancer. Therefore, inhibition of angiogenesis via modulation of the SHH signaling pathway has become very attractive for cancer chemotherapy.
Scutellaria barbata
D. Don (SB) has long been used in China to treat various cancers including colorectal cancer (CRC). Our published data suggested that the ethanol extract of SB (EESB) is able to induce apoptosis of colon cancer cells and inhibit angiogenesis in a chick embryo chorioallantoic membrane model. To further elucidate the precise mechanisms of its anti-tumor activity, in the present study we used a CRC mouse xenograft model to evaluate the effect of EESB on tumor growth and angiogenesis
in vivo
. Our current data indicated that EESB reduces tumor size without affecting on the body weight gain in CRC mice. In addition, EESB treatment suppresses the expression of key mediators of the SHH pathway in tumor tissues, which in turn resulted in the inhibition of tumor angiogenesis. Furthermore, EESB treatment inhibits the expression of vascular endothelial growth factor A (VEGF-A), an important target gene of SHH signaling and functioning as one of the strongest stimulators of angiogenesis. Our findings suggest that inhibition of tumor angiogenesis via suppression of the SHH pathway might be one of the mechanisms by which
Scutellaria
barbata
D. Don can be effective in the treatment of cancers.
View Full-Text
►

▼

Figures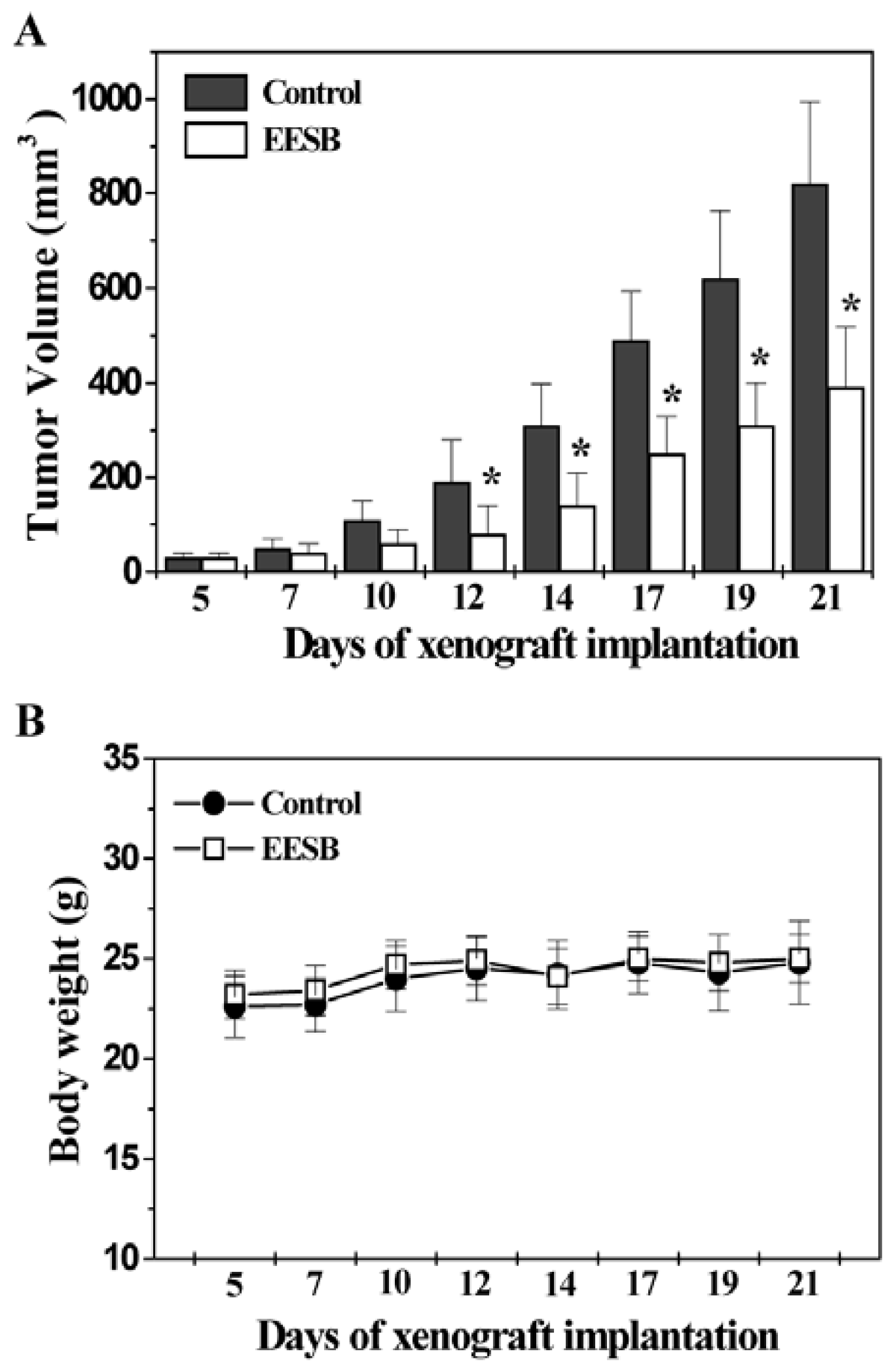 Share & Cite This Article
MDPI and ACS Style
Wei, L.; Lin, J.; Xu, W.; Cai, Q.; Shen, A.; Hong, Z.; Peng, J. Scutellaria barbata D. Don Inhibits Tumor Angiogenesis via Suppression of Hedgehog Pathway in a Mouse Model of Colorectal Cancer. Int. J. Mol. Sci. 2012, 13, 9419-9430.
Related Articles
Comments
[Return to top]