Antisense Oligonucleotide Against Clusterin Regulates Human Hepatocellular Carcinoma Invasion Through Transcriptional Regulation of Matrix Metalloproteinase-2 and E-Cadherin
1
Department of General Surgery, the Affiliated Hospital of Qingdao Medical College, Qingdao University, Qingdao 266003, China
2
Department of Endodontics, School of Stomatology, Shandong University, Jinan 250012, China
3
Department of Oncology, the Affiliated Hospital of medical college, QingDao University, QingDao 266003, China
†
These authors contributed equally to this work.
*
Author to whom correspondence should be addressed.
Received: 21 June 2012 / Revised: 10 August 2012 / Accepted: 20 August 2012 / Published: 23 August 2012
Abstract
Secreted clusterin (sCLU) has been shown to be overexpressed in metastatic hepatocellular carcinoma (HCC) tissue, and its overexpression in HCC cells increases cell migration and the formation of liver metastatic tumor nodules
in vivo
. In this study, we tested the hypothesis that sCLU plays a role in the invasiveness of human HCC and may be associated with its metastatic spread. HCCLM3, a human hepatocellular carcinoma cell line, was transiently transfected with an antisense oligonucleotide (ASO) against sCLU (OGX-011). HepG2 liver hepatocellular cells were transiently transfected with the pc.DNA3.1-sCLU plasmid to overexpress sCLU, and subsequently evaluated for effects on invasion and the expression of molecules involved in invasion. We observed that suppression of the
sCLU
gene significantly reduced the invasive capability of the highly invasive HCCLM3 cells, and
vice versa
in the low invasive HepG2 cell line. The results revealed that knockdown of
sCLU
by
OGX-011
resulted in a significant increase in the expression of E-cadherin and a decrease in
matrix metalloproteinase-2
(
MMP-2
) gene transcription. Overexpression of sCLU
by transfection with pc.DNA3.1-sCLU significantly decreased the expression of E-cadherin and increased
MMP-2
gene transcription. These data were further verified by reverse transcription-PCR and Western blot analysis. A significant reduction in MMP-2
expression and an increase in E-cadherin expression in sCLU-knockdown HCCLM3 cells were observed, as well as a significant increase in MMP-2
expression and a decrease in E-cadherin expression in HepG2 cells overexpressing sCLU. These data indicate a role for sCLU in augmenting MMP-2
transcription and decreasing E-cadherin expression. Our data show the involvement of sCLU in human HCC invasion, and demonstrate that silencing
sCLU
gene expression inhibits the invasion of human HCC cells by inhibiting MMP-2
expression and promoting E-cadherin expression. Thus, OGX-011 could be an effective therapeutic agent for HCC.
View Full-Text
►

▼

Figures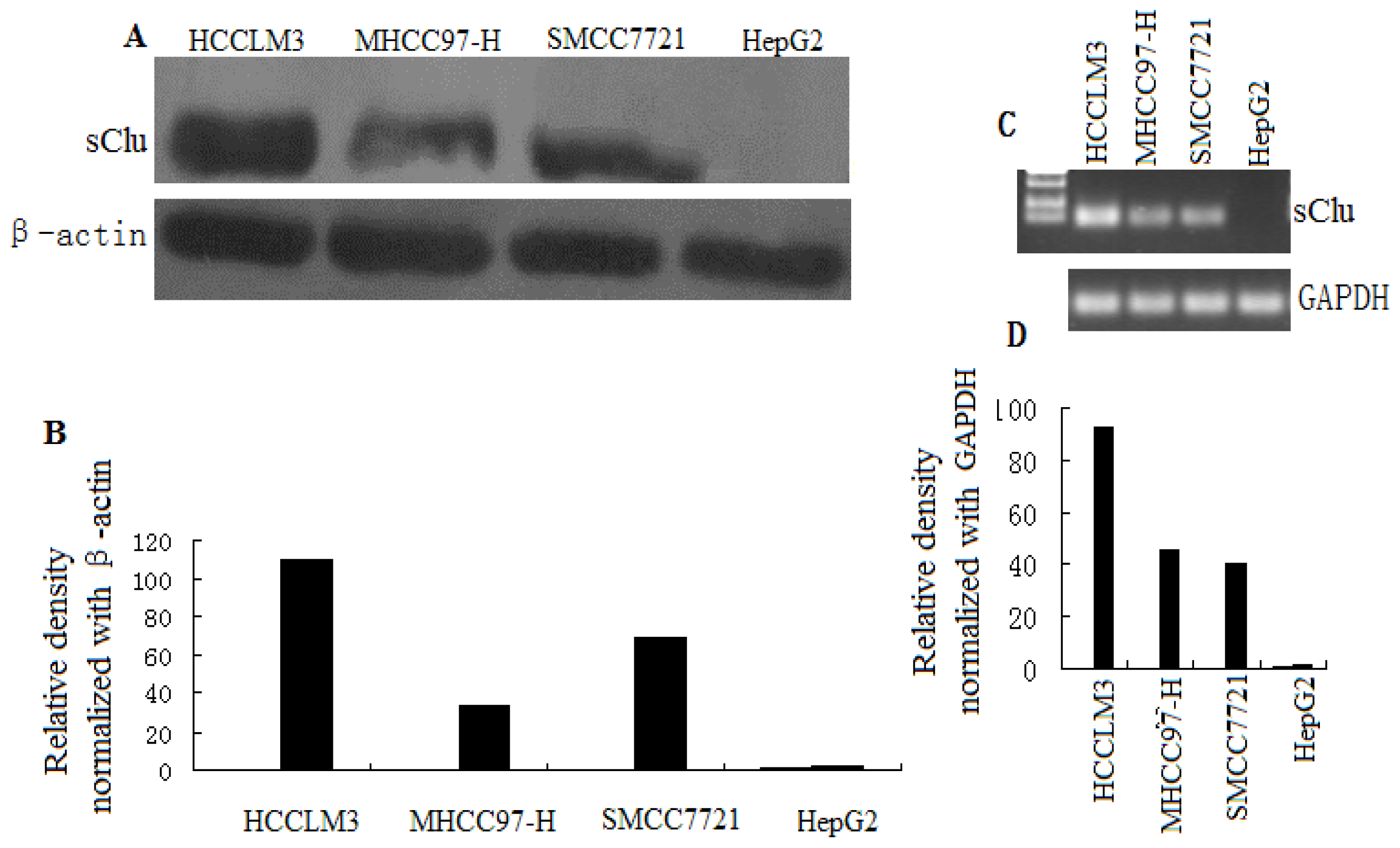 Supplementary material
Correction

A correction was published on 2 April 2013 http://www.mdpi.com/1422-0067/14/3/6516 (PDF, 19 KB)

The original version of the paper reports that "OGX-011 is a second generation 21-mer oligonucleotide with a 20-O-(2-methoxy)-ethyl modification, generously provided by OncoGenex Technologies (OncoGenex, Vancouver, Canada)" [1] (p. 10602). OGX-011 was not provided by OncoGenex Technologies directly. Therefore, we would like to correct the wording to: "OGX-011 was obtained without the benefit of an agreement with OncoGenex, or The University British Columbia, or any other party". The authors would like to apologize for any inconvenience this may have caused to the readers of this journal.
Scifeed alert for new publications
Never miss any articles
matching your research
from any publisher
Get alerts for new papers matching your research
Find out the new papers from selected authors
Updated daily for 49'000+ journals and 6000+ publishers
Share & Cite This Article
MDPI and ACS Style
Chen, D.; Wang, Y.; Zhang, K.; Jiao, X.; Yan, B.; Liang, J. Antisense Oligonucleotide Against Clusterin Regulates Human Hepatocellular Carcinoma Invasion Through Transcriptional Regulation of Matrix Metalloproteinase-2 and E-Cadherin. Int. J. Mol. Sci. 2012, 13, 10594-10607.
Related Articles
Comments
[Return to top]