Species Differentiation of Chinese Mollitrichosiphum (Aphididae: Greenideinae) Driven by Geographical Isolation and Host Plant Acquirement
1
Key Laboratory of Zoological Systematics and Evolution, Institute of Zoology, Chinese Academy of Sciences, Beijing 100101, China
2
Graduate University of Chinese Academy of Sciences, Beijing 100049, China
†
These authors contributed equally to this work.
*
Author to whom correspondence should be addressed.
Received: 21 June 2012 / Revised: 2 August 2012 / Accepted: 3 August 2012 / Published: 21 August 2012
Abstract
The impact of both the uplift of the Qinghai-Tibetan Plateau (QTP) and the separation of the Taiwan and Hainan Islands on the evolution of the fauna and flora in adjacent regions has been a topic of considerable interest.
Mollitrichosiphum
is a polyphagous insect group with a wide range of host plants (14 families) and distributions restricted to Southeast Asia. Based on the mitochondrial Cytochrome C Oxidase Subunit I (COI) and Cytochrome b (Cytb) genes, the nuclear elongation factor-1α (EF-1α) gene, and the detailed distribution and host plant data, we investigated the species differentiation modes of the Chinese
Mollitrichosiphum
species. Phylogenetic analyses supported the monophyly of
Mollitrichosiphum
. The divergence time of
Mollitrichosiphum tenuicorpus
(
c
. 11.0 mya (million years ago)),
Mollitrichosiphum nandii
and
Mollitrichosiphum montanum
(
c
. 10.6 mya) was within the time frame of the uplift of the QTP. Additionally, basal species mainly fed on Fagaceae, while species that fed on multiple plants diverged considerably later. Ancestral state reconstruction suggests that Fagaceae may be the first acquired host, and the acquisition of new hosts and the expansion of host range may have promoted species differentiation within this genus. Overall, it can be concluded that geographical isolation and the expansion of the host plant range may be the main factors driving species differentiation of
Mollitrichosiphum
.
View Full-Text
►

▼

Figures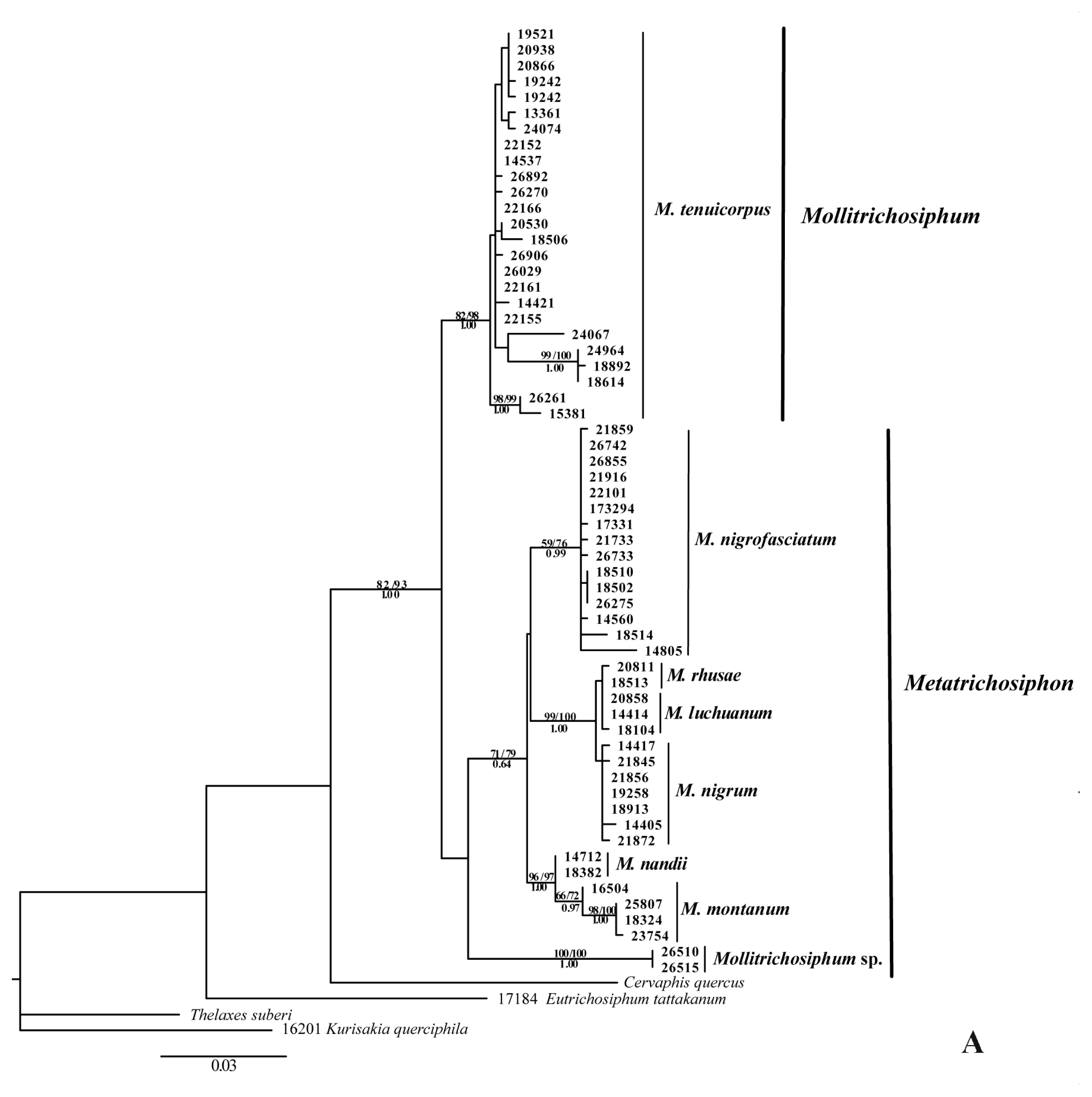 Share & Cite This Article
MDPI and ACS Style
Zhang, R.; Huang, X.; Jiang, L.; Lei, F.; Qiao, G. Species Differentiation of Chinese Mollitrichosiphum (Aphididae: Greenideinae) Driven by Geographical Isolation and Host Plant Acquirement. Int. J. Mol. Sci. 2012, 13, 10441-10460.
Related Articles
Comments
[Return to top]