l-2-Oxothiazolidine-4-Carboxylic Acid or α-Lipoic Acid Attenuates Airway Remodeling: Involvement of Nuclear Factor-κB (NF-κB), Nuclear Factor Erythroid 2p45-Related Factor-2 (Nrf2), and Hypoxia-Inducible Factor (HIF)
Department of Internal Medicine, Research Center for Pulmonary Disorders, Chonbuk National University Medical School, Jeonju 561-180, South Korea
†
These authors contributed equally to this work.
*
Author to whom correspondence should be addressed.
Received: 30 March 2012 / Revised: 9 June 2012 / Accepted: 18 June 2012 / Published: 25 June 2012
Abstract
Reactive oxygen species (ROS) play a crucial role in the pathogenesis of acute and chronic respiratory diseases. Antioxidants have been found to ameliorate airway inflammation and hyperresponsiveness in animal models employing short-term exposure to allergen. However, little data are available on the effect of antioxidants on airway remodeling and signaling pathways in chronic asthma. In the present study, we used a long-term exposure murine model of allergic airway disease to evaluate the effects of an antioxidant, l-2-oxothiazolidine-4-carboxylic acid (OTC) or α-lipoic acid (LA) on airway remodeling, focusing on the ROS-related hypoxia-inducible signaling. Long-term challenge of ovalbumin (OVA) increased ROS production, airway inflammation, and airway hyperresponsiveness, and developed features of airway remodeling such as excessive mucus secretion, subepithelial fibrosis, and thickening of the peribronchial smooth muscle layer. Administration of OTC or LA reduced these features of asthma, including airway remodeling, which was accompanied by suppression of transforming growth factor-β1, vascular endothelial growth factor, and T-helper 2 cytokines. In addition, OVA-induced activation of nuclear factor-κB (NF-κB), nuclear factor erythroid 2p45-related factor-2 (Nrf2), hypoxia-inducible factor (HIF)-1α, and HIF-2α was reduced by OTC or LA. Our results also showed that OTC or LA down-regulated phosphoinositide 3-kinase activity and decreased phosphorylation of p38 mitogen-activated protein kinase but not extracellular signal-regulated kinase 1/2 or c-Jun
N
-terminal kinase. These findings demonstrate that OTC and LA can inhibit activation of NF-κB, Nrf2, and HIF, leading to attenuate allergen-induced airway remodeling.
View Full-Text
►

▼

Figures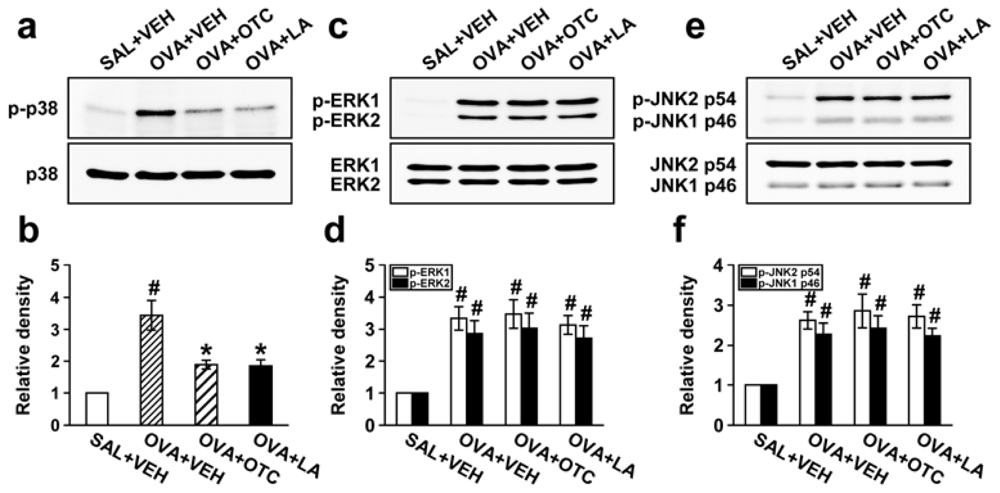 Share & Cite This Article
MDPI and ACS Style
Park, S.J.; Lee, K.S.; Lee, S.J.; Kim, S.R.; Park, S.Y.; Jeon, M.S.; Lee, H.B.; Lee, Y.C. l-2-Oxothiazolidine-4-Carboxylic Acid or α-Lipoic Acid Attenuates Airway Remodeling: Involvement of Nuclear Factor-κB (NF-κB), Nuclear Factor Erythroid 2p45-Related Factor-2 (Nrf2), and Hypoxia-Inducible Factor (HIF). Int. J. Mol. Sci. 2012, 13, 7915-7937.
Related Articles
Comments
[Return to top]