Optimization of Glutamine Peptide Production from Soybean Meal and Analysis of Molecular Weight Distribution of Hydrolysates
1
School of Food Science and Technology, Henan University of Technology, Zhengzhou 450001, China
2
School of Food Science and Technology, Henan Institute of Science and Technology, Xinxiang 453003, China
*
Author to whom correspondence should be addressed.
Received: 5 May 2012 / Revised: 5 June 2012 / Accepted: 8 June 2012 / Published: 18 June 2012
Abstract
The process parameters of enzymatic hydrolysis and molecular weight distribution of glutamine (Gln) peptides from soybean meal were investigated. The Protamex
®
hydrolysis pH of 6.10, temperature of 56.78 °C, enzyme to substrate ratio (E/S) of 1.90 and hydrolysis time of 10.72 h were found to be the optimal conditions by response surface methodology (RSM) for a maximal degree of hydrolysis (DH) value of 16.63% and Gln peptides content at 5.95 mmol/L. The soybean meal was hydrolyzed by a combination of Protamex
®
and trypsinase so that DH and Gln peptides would reach 22.02% and 6.05 mmol/mL, respectively. The results of size exclusion chromatography indicated that the relative proportion of the molecular weight < 1000 Da fraction increased with DH values from 6.76%, 11.13%, 17.89% to 22.02%, most notably the 132–500 Da fractions of hydrolysates were 42.14%, 46.57%, 58.44% and 69.65%. High DH values did not lead to high Gln peptides content of the hydrolysate but to the low molecular weight Gln peptides.
View Full-Text
►

▼

Figures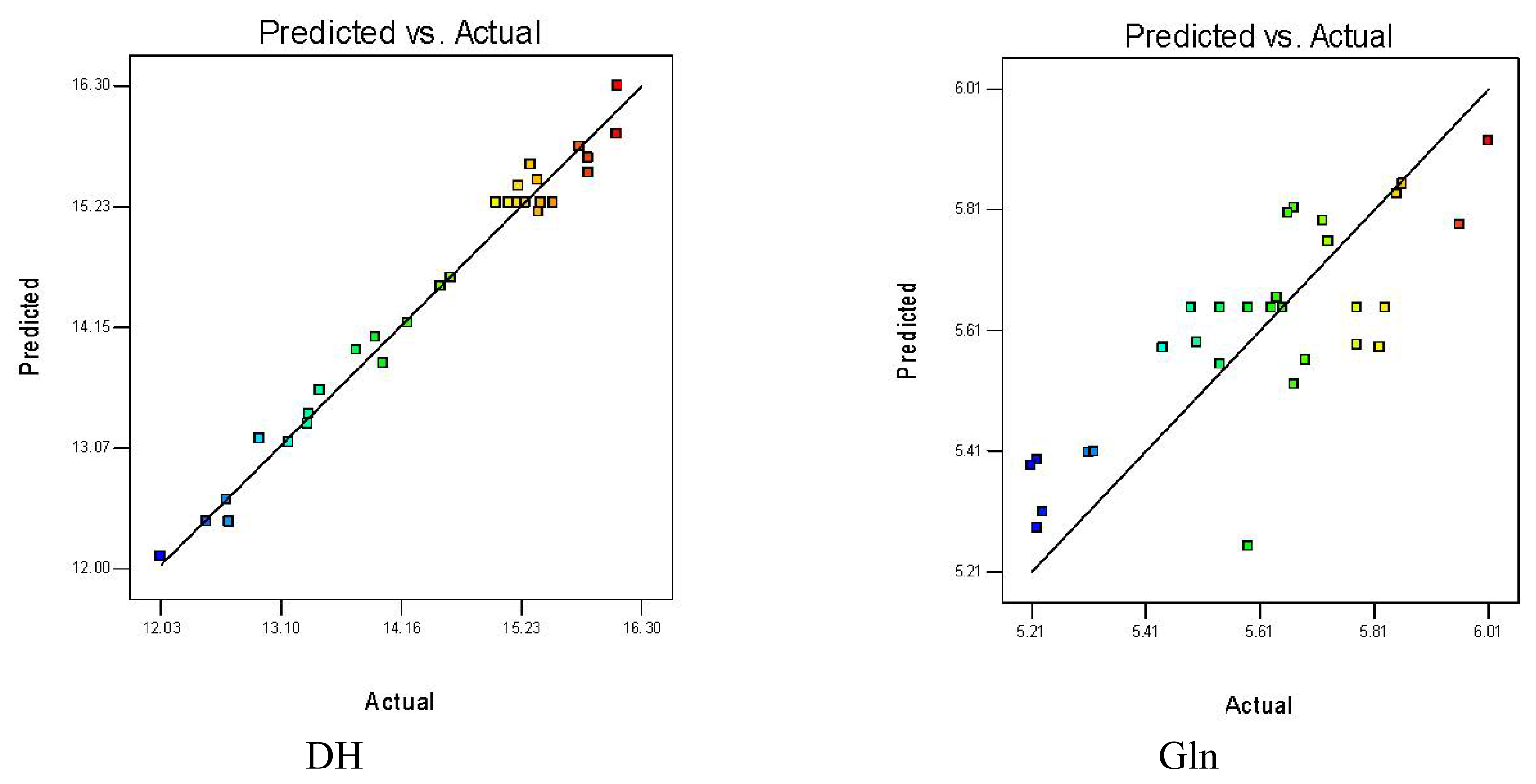 Share & Cite This Article
MDPI and ACS Style
Xie, Y.; Liang, X.; Wei, M.; Zhao, W.; He, B.; Lu, Q.; Huo, Q.; Ma, C. Optimization of Glutamine Peptide Production from Soybean Meal and Analysis of Molecular Weight Distribution of Hydrolysates. Int. J. Mol. Sci. 2012, 13, 7483-7495.
Related Articles
Comments
[Return to top]