8-Oxoguanine DNA Glycosylases: One Lesion, Three Subfamilies
1
Department of Biomedical and Molecular Sciences, Queen's University, 18 Stuart Street, Kingston, K7L 3N6, Canada
2
Department of Microbiology and Molecular Genetics, University of Vermont, E314A Given Building, 89 Beaumont Avenue, Burlington, VT 05405, USA
*
Authors to whom correspondence should be addressed.
Received: 20 April 2012 / Revised: 14 May 2012 / Accepted: 24 May 2012 / Published: 1 June 2012
Abstract
Amongst the four bases that form DNA, guanine is the most susceptible to oxidation, and its oxidation product, 7,8-dihydro-8-oxoguanine (8-oxoG) is the most prevalent base lesion found in DNA. Fortunately, throughout evolution cells have developed repair mechanisms, such as the 8-oxoguanine DNA glycosylases (OGG), which recognize and excise 8-oxoG from DNA thereby preventing the accumulation of deleterious mutations. OGG are divided into three subfamilies, OGG1, OGG2 and AGOG, which are all involved in the base excision repair (BER) pathway. The published structures of OGG1 and AGOG, as well as the recent availability of OGG2 structures in both apo- and liganded forms, provide an excellent opportunity to compare the structural and functional properties of the three OGG subfamilies. Among the observed differences, the three-dimensional fold varies considerably between OGG1 and OGG2 members, as the latter lack the A-domain involved in 8-oxoG binding. In addition, all three OGG subfamilies bind 8-oxoG in a different manner even though the crucial interaction between the enzyme and the protonated N7 of 8-oxoG is conserved. Finally, the three OGG subfamilies differ with respect to DNA binding properties, helix-hairpin-helix motifs, and specificity for the opposite base.
View Full-Text
►

▼

Figures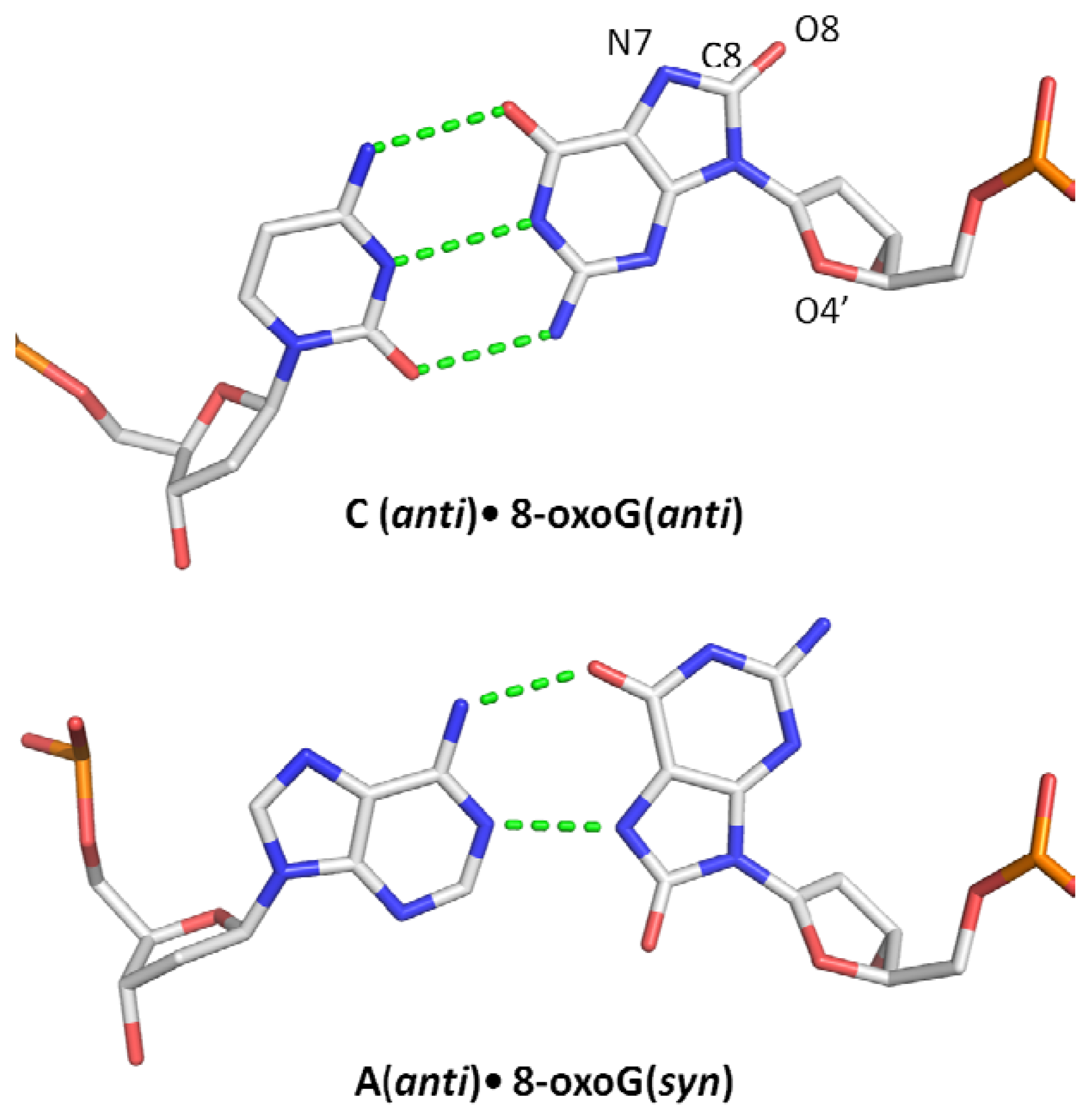 Share & Cite This Article
MDPI and ACS Style
Faucher, F.; Doublié, S.; Jia, Z. 8-Oxoguanine DNA Glycosylases: One Lesion, Three Subfamilies. Int. J. Mol. Sci. 2012, 13, 6711-6729.
Related Articles
Comments
[Return to top]