Isolation and Expression of Glucosinolate Synthesis Genes CYP83A1 and CYP83B1 in Pak Choi (Brassica rapa L. ssp. chinensis var. communis (N. Tsen & S.H. Lee) Hanelt)
1
Department of Horticulture, Zhejiang University, Zijingang Campus, Yuhangtang Road 866, Hangzhou 310058, China
2
Department of Horticulture, School of Agricultural and Food Science, Zhejiang A & F University, Huan Cheng Bei Lu 88, Lin'an, Hangzhou 311300, China
*
Author to whom correspondence should be addressed.
Received: 6 February 2012 / Revised: 22 April 2012 / Accepted: 27 April 2012 / Published: 15 May 2012
Abstract
CYP83A1
and
CYP83B1
are two key synthesis genes in the glucosinolate biosynthesis pathway.
CYP83A1
mainly metabolizes the aliphatic oximes to form aliphatic glucosinolate and
CYP83B1
mostly catalyzes aromatic oximes to synthesis corresponding substrates for aromatic and indolic glucosinolates. In this study, two
CYP83A1
genes named
BcCYP83A1-1
(JQ289997),
BcCYP83A1-2
(JQ289996) respectively and one
CYP83B1
(
BcCYP83B1
, HM347235) gene were cloned from the leaves of pak choi (
Brassica rapa
L. ssp.
chinensis
var.
communis
(N. Tsen & S.H. Lee) Hanelt) "Hangzhou You Dong Er" cultivar. Their ORFs were 1506, 1509 and 1500 bp in length, encoding 501, 502 and 499 amino acids, respectively. The predicted amino acid sequences of
CYP83A1-1
,
CYP83A1-2
and
CYP83B1
shared high sequence identity of 87.65, 86.48 and 95.59% to the corresponding ones in
Arabidopsis
, and 98.80, 98.61 and 98.80% to the corresponding ones in
Brassica pekinensis
(Chinese cabbage), respectively. Quantitative real-time PCR analysis indicated that both
CYP83A1
and
CYP83B1
expressed in roots, leaves and petioles of pak choi, while the transcript abundances of
CYP83A1
were higher in leaves than in petioles and roots, whereas
CYP83B1
showed higher abundances in roots. The expression levels of glucosinolate biosynthetic genes were consistent with the glucosinolate profile accumulation in shoots of seven cultivars and three organs. The isolation and characterization of the glucosinolate synthesis genes in pak choi would promote the way for further development of agronomic traits via genetic engineering.
View Full-Text
►

▼

Figures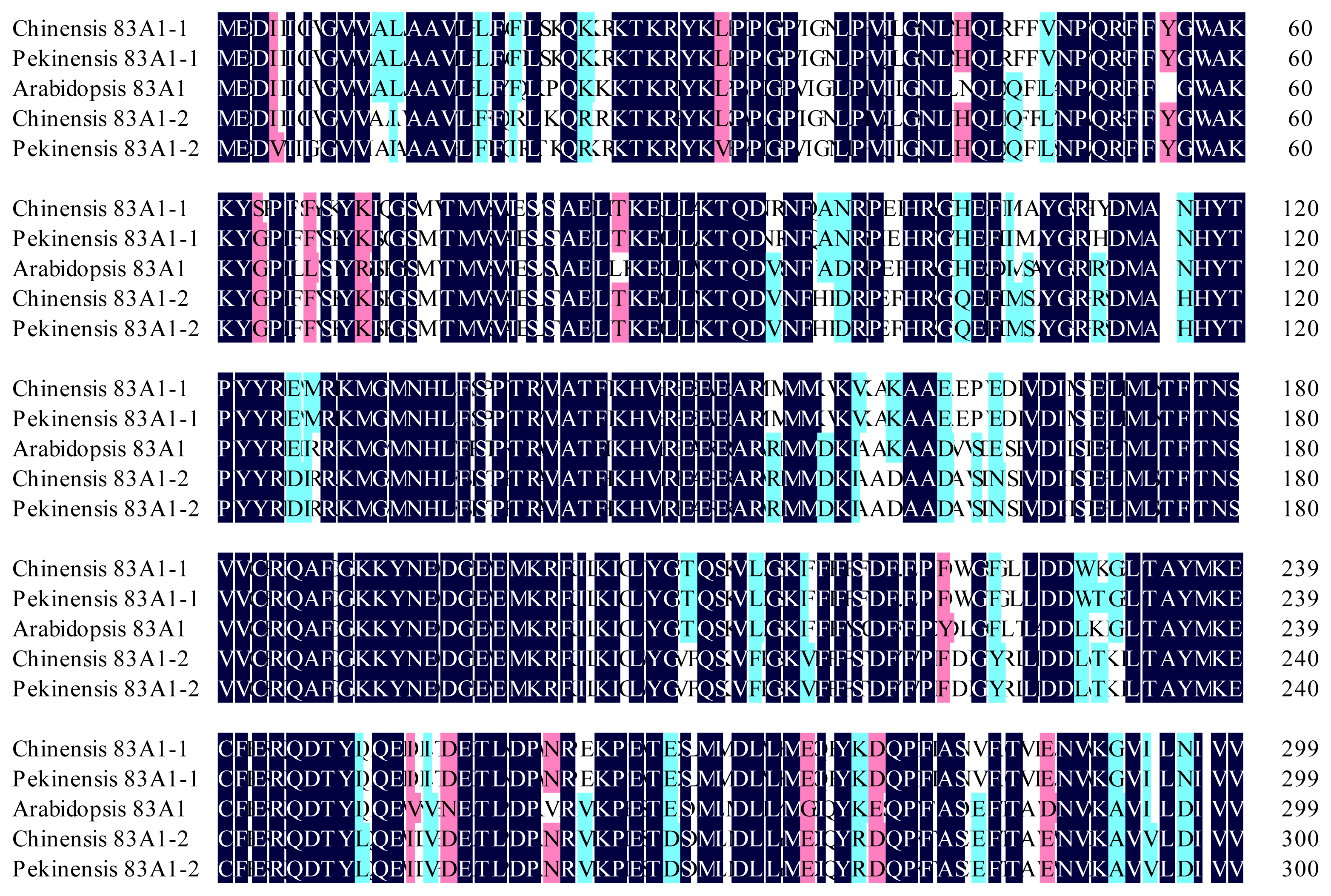 Share & Cite This Article
MDPI and ACS Style
Zhu, B.; Wang, Z.; Yang, J.; Zhu, Z.; Wang, H. Isolation and Expression of Glucosinolate Synthesis Genes CYP83A1 and CYP83B1 in Pak Choi (Brassica rapa L. ssp. chinensis var. communis (N. Tsen & S.H. Lee) Hanelt). Int. J. Mol. Sci. 2012, 13, 5832-5843.
Related Articles
Comments
[Return to top]