Nonselective Blocking of the Sympathetic Nervous System Decreases Detrusor Overactivity in Spontaneously Hypertensive Rats
1
Departments of Urology, Gachon University Gil Hospital, Incheon 405-760, Korea
2
Departments of Urology, Inha University College of Medicine, Incheon 402-751, Korea
3
Department of Preventive and Social Medicine, Inha University College of Medicine, Incheon 402-751, Korea
4
Department of Pharmacology, Inha University College of Medicine, Incheon 402-751, Korea
5
Department of Physiology and Biophysics, Inha university College of Medicine, Incheon 402-751, Korea
*
Authors to whom correspondence should be addressed.
Received: 5 March 2012 / Revised: 20 April 2012 / Accepted: 20 April 2012 / Published: 23 April 2012
Abstract
The involuntary dual control systems of the autonomic nervous system (ANS) in the bladder of awake spontaneously hypertensive rats (SHRs) were investigated through simultaneous registrations of intravesical and intraabdominal pressures to observe detrusor overactivity (DO) objectively as a core symptom of an overactive bladder. SHRs (
n
= 6) showed the features of overactive bladder syndrome during urodynamic study, especially DO during the filling phase. After injection of the nonselective sympathetic blocking agent labetalol, DO disappeared in 3 of 6 SHRs (50%). DO frequency decreased from 0.98 ± 0.22 min
−1
to 0.28 ± 0.19 min
−1
(
p
< 0.01), and DO pressure decreased from 3.82 ± 0.57 cm H
2
O to 1.90 ± 0.86 cm H
2
O (
p
< 0.05). This suggests that the DO originating from the overactive parasympathetic nervous system is attenuated by the nonselective blocking of the sympathetic nervous system. The detailed mechanism behind this result is still not known, but parasympathetic overactivity seems to require overactive sympathetic nervous system activity in a kind of balance between these two systems. These findings are consistent with recent clinical findings suggesting that patients with idiopathic overactive bladder may have ANS dysfunction, particularly a sympathetic dysfunction. The search for newer and better drugs than the current anticholinergic drugs as the mainstay for overactive bladder will be fueled by our research on these sympathetic mechanisms. Further studies of this principle are required.
View Full-Text
►

▼

Figures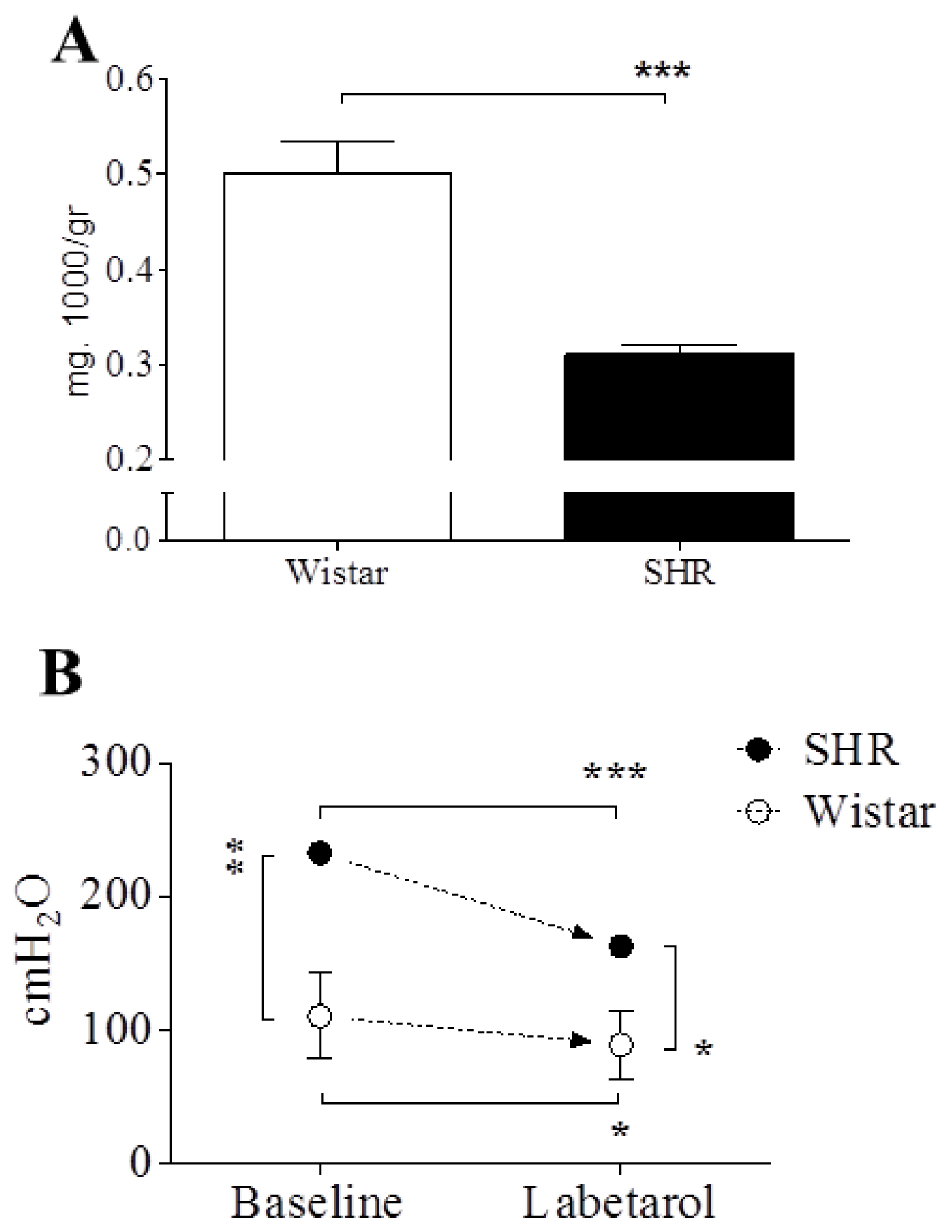 Share & Cite This Article
MDPI and ACS Style
Kim, K.-H.; Jin, L.-H.; Choo, G.-Y.; Lee, H.-J.; Choi, B.-H.; Kwak, J.; Yoon, S.-M.; Park, C.-S.; Lee, T. Nonselective Blocking of the Sympathetic Nervous System Decreases Detrusor Overactivity in Spontaneously Hypertensive Rats. Int. J. Mol. Sci. 2012, 13, 5048-5059.
Related Articles
Comments
[Return to top]