Preparation, Characterization and Thermal Degradation of Polyimide (4-APS/BTDA)/SiO2 Composite Films
1
Department of Chemistry, Universiti Putra Malaysia, 43400 UPM Serdang, Selangor, Malaysia
2
Advanced Materials and Nanotechnology Laboratory, Institute of Advanced Technology (ITMA), Universiti Putra Malaysia, 43400 UPM Serdang, Selangor, Malaysia
3
Department of Chemistry, Islamic Azad University Behbahan Branch, University Street, Behbahan, 6361713198, Iran
4
Department of Mechanical and Manufacturing Engineering, Universiti Putra Malaysia, 43400 UPM Serdang, Selangor, Malaysia
5
Department of Physic, Universiti Putra Malaysia, 43400 Serdang, Selangor, Malaysia
*
Author to whom correspondence should be addressed.
Received: 29 December 2011 / Revised: 27 March 2012 / Accepted: 28 March 2012 / Published: 17 April 2012
Abstract
Polyimide/SiO
2
composite films were prepared from tetraethoxysilane (TEOS) and poly(amic acid) (PAA) based on aromatic diamine (4-aminophenyl sulfone) (4-APS) and aromatic dianhydride (3,3,4,4-benzophenonetetracarboxylic dianhydride) (BTDA) via a sol-gel process in
N
-methyl-2-pyrrolidinone (NMP). The prepared polyimide/SiO
2
composite films were characterized using X-ray diffraction (XRD), Fourier transform infrared spectroscopy (FTIR), scanning electron microscope (SEM) and thermogravimetric analysis (TGA). The FTIR results confirmed the synthesis of polyimide (4-APS/BTDA) and the formation of SiO
2
particles in the polyimide matrix. Meanwhile, the SEM images showed that the SiO
2
particles were well dispersed in the polyimide matrix. Thermal stability and kinetic parameters of the degradation processes for the prepared polyimide/SiO
2
composite films were investigated using TGA in N
2
atmosphere. The activation energy of the solid-state process was calculated using Flynn–Wall–Ozawa's method without the knowledge of the reaction mechanism. The results indicated that thermal stability and the values of the calculated activation energies increased with the increase of the TEOS loading and the activation energy also varied with the percentage of weight loss for all compositions.
View Full-Text
►

▼

Figures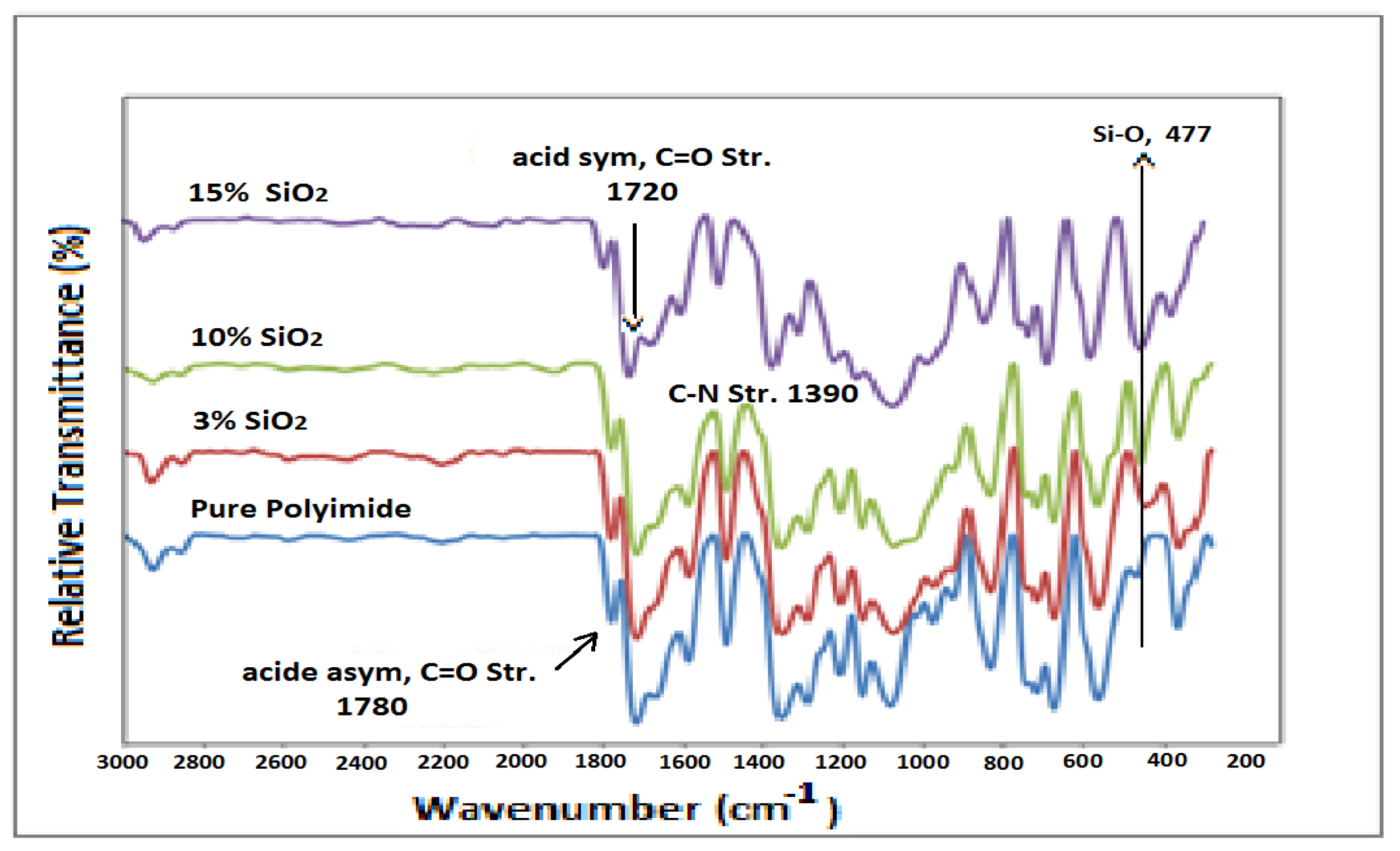 Share & Cite This Article
MDPI and ACS Style
Bin Ahmad, M.; Gharayebi, Y.; Salit, M.S.; Hussein, M.Z.; Ebrahimiasl, S.; Dehzangi, A. Preparation, Characterization and Thermal Degradation of Polyimide (4-APS/BTDA)/SiO2 Composite Films. Int. J. Mol. Sci. 2012, 13, 4860-4872.
Related Articles
Comments
[Return to top]