Folate Intake and Methylenetetrahydrofolate Reductase Gene Polymorphisms as Predictive and Prognostic Biomarkers for Ovarian Cancer Risk
Department of Gynecologic Cancer, Key Laboratory of Cancer Prevention and Therapy, Tianjin Medical University Cancer Institute and Hospital, Tianjin Medical University, Tianjin 300192, China
*
Author to whom correspondence should be addressed.
Received: 16 February 2012 / Revised: 12 March 2012 / Accepted: 15 March 2012 / Published: 23 March 2012
Abstract
Folic acid and methylenetetrahydrofolate reductase (MTHFR) may affect the development of human cancer. However, few studies have evaluated folate intake and MTHFR in susceptibility to and prognosis of patients with ovarian cancer. We conducted a prospective case-control study in 215 ovarian cancer patients and 218 controls (all Chinese) between Jan. 2004 and Jan. 2007. MTHFR C677T genotyping was done by PCR-RFLP. All patients were followed up until Dec. 2010. We found a 2.43-fold increased risk of ovarian cancer among MTHFR 677TT carriers, and a decreased risk of ovarian cancer in individuals with high folate intake (OR = 0.54, 95% CI = 0.32–0.94). Cox regression survival analysis showed that among the ovarian cancer patients, those carrying the 677TT genotype had a higher risk of death (HR = 2.17, 95% CI = 1.20–4.79), while high folate intake was associated with a lower risk of death (HR = 0.43, 95% CI = 0.33–0.88). Moreover, MTHFR 677CC carriers with higher folate intake showed a lower risk of death from ovarian cancer (HR = 0.32, 95% CI = 0.27–0.82). In summary, high folate intake may lessen susceptibility and improve the prognosis of ovarian cancer patients, while the MTHFR 677TT genotype appears to increase ovarian cancer risk and worsen its prognosis in a Chinese population.
View Full-Text
►

▼

Figures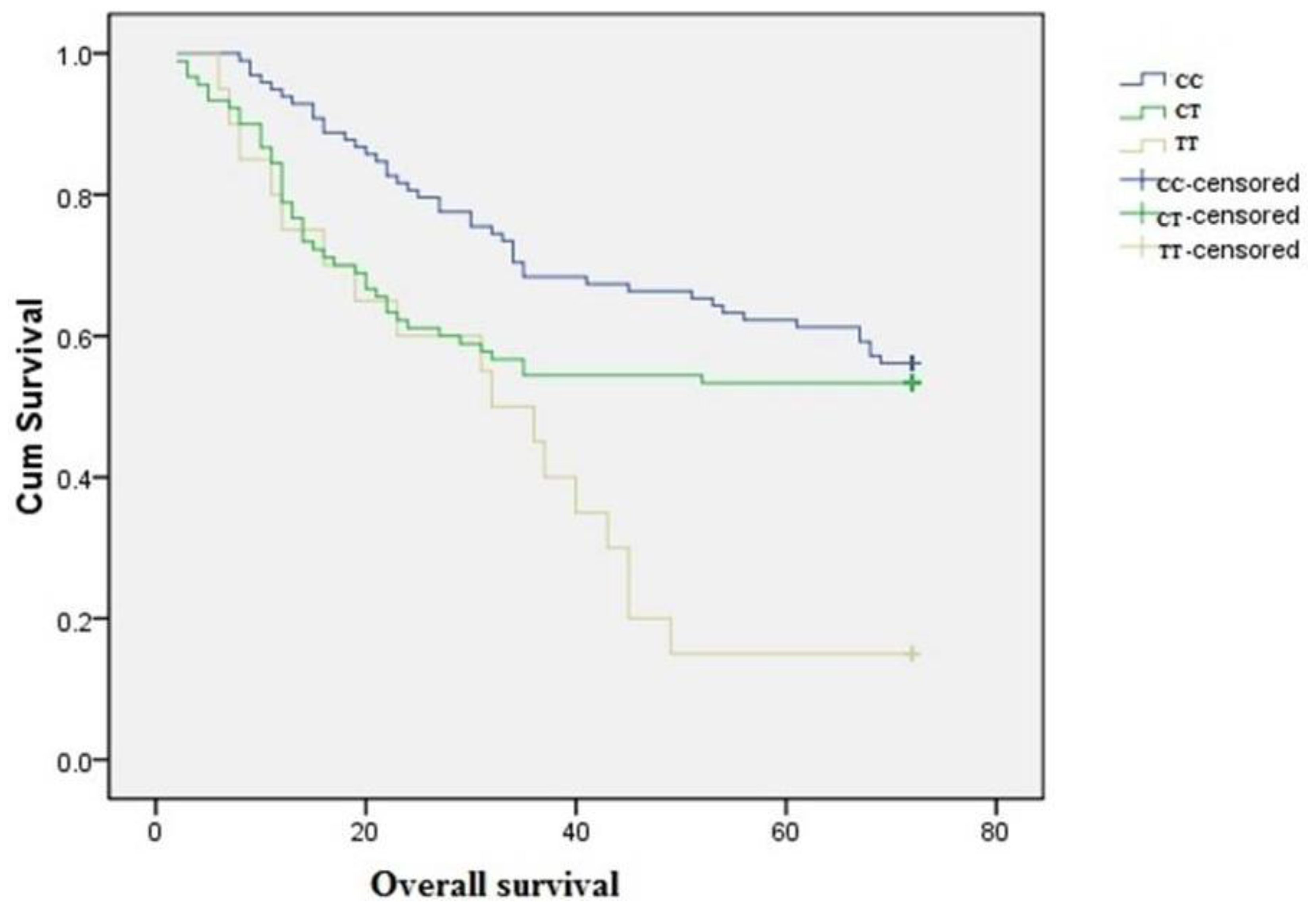 Share & Cite This Article
MDPI and ACS Style
Zhang, L.; Liu, W.; Hao, Q.; Bao, L.; Wang, K. Folate Intake and Methylenetetrahydrofolate Reductase Gene Polymorphisms as Predictive and Prognostic Biomarkers for Ovarian Cancer Risk. Int. J. Mol. Sci. 2012, 13, 4009-4020.
Related Articles
Comments
[Return to top]