Computational Identification and Modeling of Crosstalk between Phosphorylation, O-β-glycosylation and Methylation of FoxO3 and Implications for Cancer Therapeutics
1
Division of Molecular Virology, National Centre of Excellence in Molecular Biology (CEMB), University of the Punjab, Lahore 53700, Pakistan
2
Cancer Biotherapy Ward, Beijing YouAn Hospital, Capital Medical University, FengTai District, Beijing 100069, China
3
State Key Laboratory of Pathogen and Biosecurity, Beijing Institute of Microbiology and Epidemiology, Beijing 100071, China
†
These authors contributed equally to this work.
*
Author to whom correspondence should be addressed.
Received: 30 January 2012 / Revised: 23 February 2012 / Accepted: 28 February 2012 / Published: 5 March 2012
Abstract
FoxO3 is a member of the forkhead class of transcription factors and plays a major role in the regulation of diverse cellular processes, including cell cycle arrest, DNA repair, and protection from stress stimuli by detoxification of reactive oxygen species. In addition, FoxO3 is a tumor suppressor and has been considered as a novel target for cancer therapeutics. Phosphorylation of FoxO3 via the AKT, IKK, and ERK pathways leads to deregulation, cytoplasmic retention, degradation of FoxO3 and favors tumor progression. Identification of the amino acid residues that are the target of different posttranslational modifications (PTMs) provides a foundation for understanding the molecular mechanisms of FoxO3 modifications and associated outcomes. In addition to phosphorylation, serine and threonine residues of several proteins are regulated by a unique type of PTM known as
O
-β-glycosylation, which serves as a functional switch. We sought to investigate the crosstalk of different PTMs on the FoxO3 which leads to the onset/progression of various cancers and that could also potentially be targeted as a therapeutic point of intervention. A computational workflow and set of selection parameters have been defined for the identification of target sites and crosstalk between different PTMs. We identified phosphorylation,
O
-β-GlcNAc modification, and Yin Yang sites on Ser/Thr residues, and propose a potential novel mechanism of crosstalk between these PTMs. Furthermore, methylation potential of human FoxO3 at arginine and lysine residues and crosstalk between methylation and phosphorylation have also been described. Our findings may facilitate the study of therapeutic strategies targeting posttranslational events.
View Full-Text
►

▼

Figures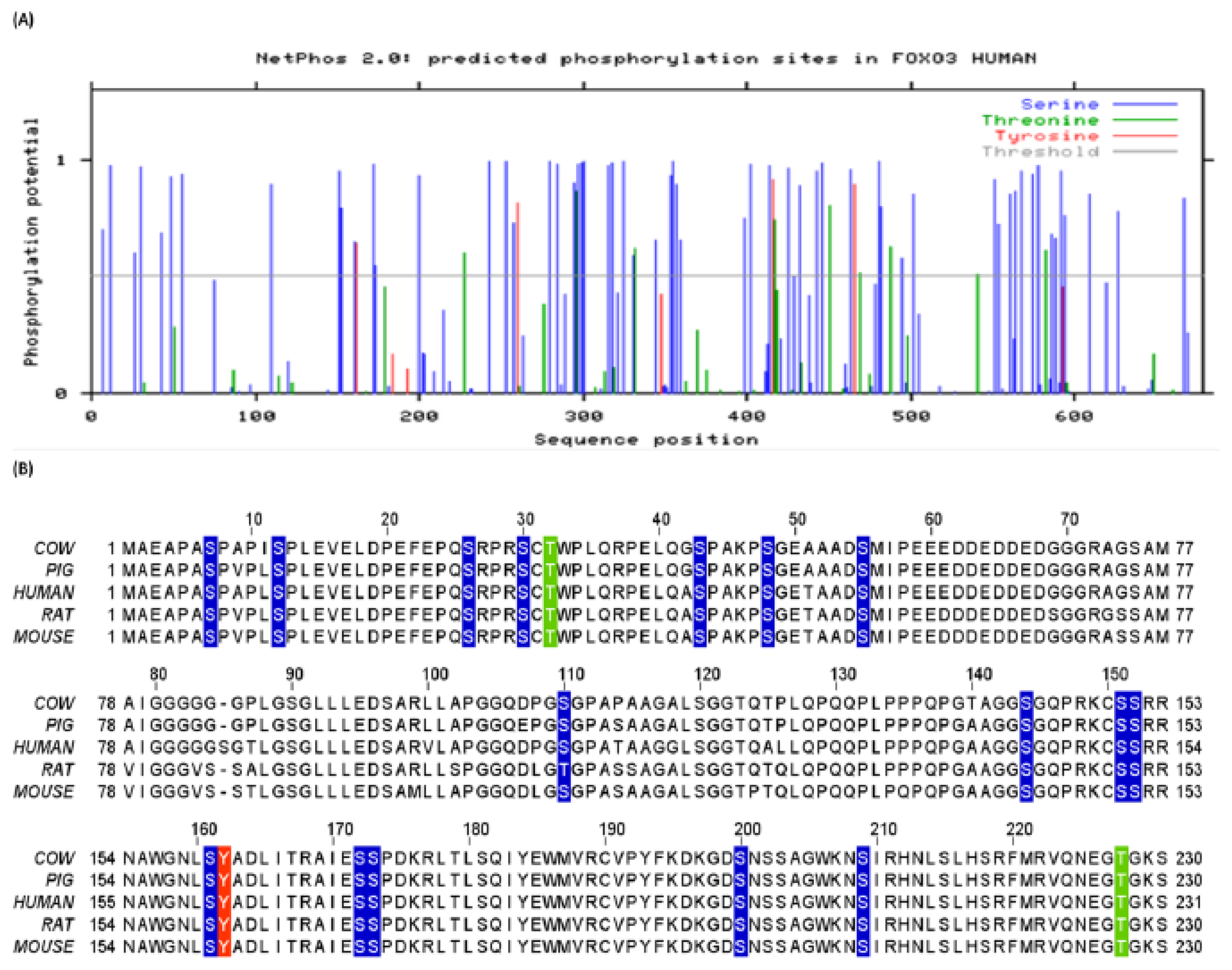 Share & Cite This Article
MDPI and ACS Style
Butt, A.M.; Feng, D.; Idrees, M.; Tong, Y.; Lu, J. Computational Identification and Modeling of Crosstalk between Phosphorylation, O-β-glycosylation and Methylation of FoxO3 and Implications for Cancer Therapeutics. Int. J. Mol. Sci. 2012, 13, 2918-2938.
Related Articles
Comments
[Return to top]