Effect of High-Dose Vitamin D3 Intake on Ambulation, Muscular Pain and Bone Mineral Density in a Woman with Multiple Sclerosis: A 10-Year Longitudinal Case Report
1
Department of Molecular Cell Biology and Immunology, VU University Medical Center,1017 MB Amsterdam, The Netherlands
2
Department of Cariology Endodontology Pedodontology, Academic Centre for Dentistry, 1081 LA Amsterdam, Amsterdam, The Netherlands
3
Aix Marseille Université, Centre National de la Recherche Scientifique (CNRS), NICN, UMR 7259, 13015, Marseille, France
*
Author to whom correspondence should be addressed.
Received: 20 July 2012 / Revised: 28 August 2012 / Accepted: 18 September 2012 / Published: 19 October 2012
Abstract
Mounting evidence correlate vitamin D3 (cholecalciferol) supplementation or higher serum levels of vitamin D (25(OH)D) with a lower risk of developing multiple sclerosis (MS), reduced relapse rate, slower progression or fewer new brain lesions. We present here the case of a woman who was diagnosed with MS in 1990. From 1980 to 2000, her ability to walk decreased from ~20 to 1 km per day. Since January 2001, a vitamin D3 supplement was ingested daily. The starting dose was 20 mcg (800 IU)/day and escalated to 100 mcg (4000 IU)/day in September 2004 and then to 150 mcg (6000 IU)/day in December 2005. Vitamin D3 intake reduced muscular pain and improved ambulation from 1 (February 2000) to 14 km/day (February 2008). Vitamin D intake over 10 years caused no adverse effects: no hypercalcaemia, nephrolithiasis or hypercalciuria were observed. Bowel problems in MS may need to be addressed as they can cause malabsorption including calcium, which may increase serum PTH and 1,25(OH)2D levels, as well as bone loss. We suggest that periodic assessment of vitamin D3, calcium and magnesium intake, bowel problems and the measurement of serum 25(OH)D, PTH, Ca levels, UCa/Cr and bone health become part of the integral management of persons with MS.
View Full-Text
►

▼

Figures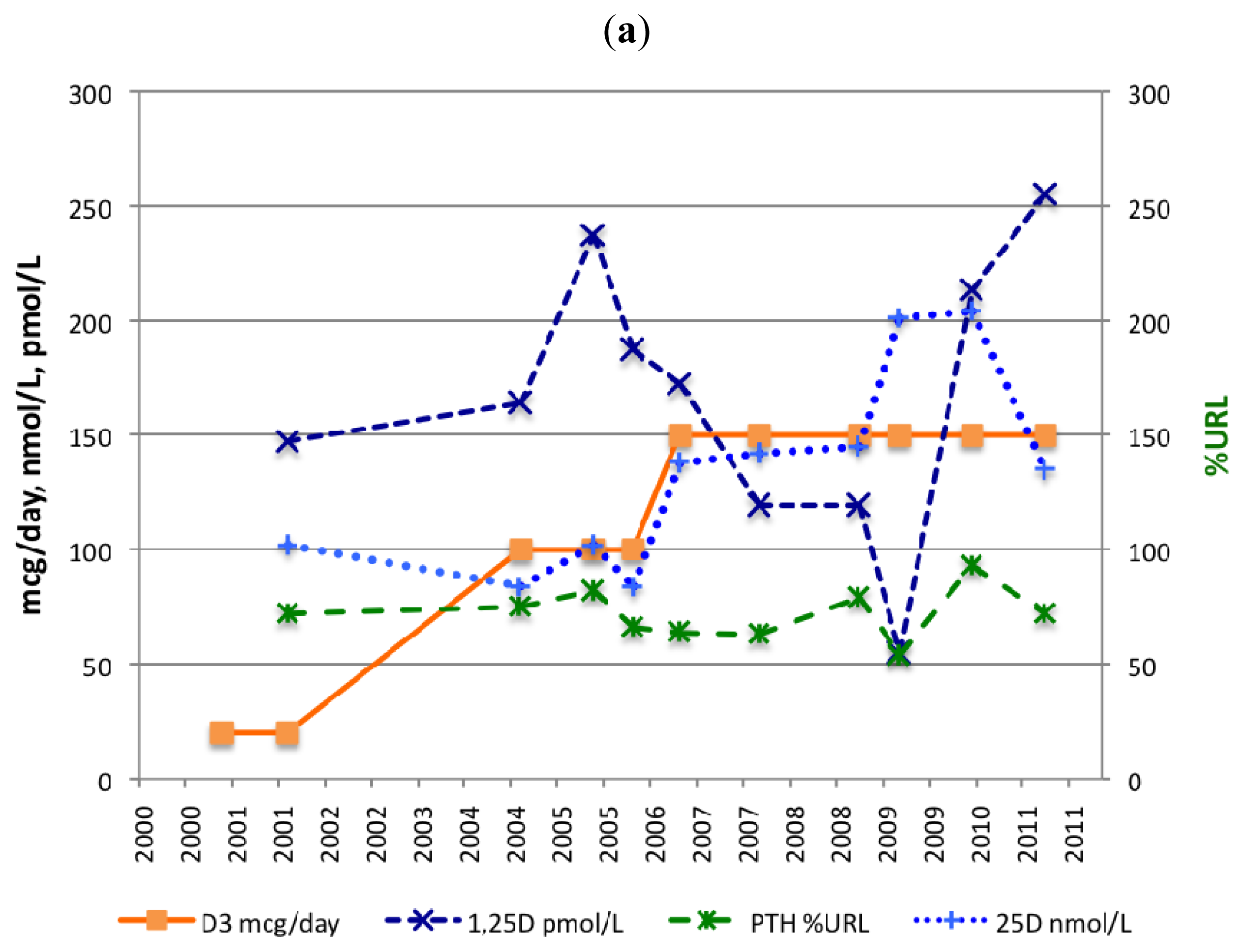 Share & Cite This Article
MDPI and ACS Style
van Amerongen, B.M.; Feron, F. Effect of High-Dose Vitamin D3 Intake on Ambulation, Muscular Pain and Bone Mineral Density in a Woman with Multiple Sclerosis: A 10-Year Longitudinal Case Report. Int. J. Mol. Sci. 2012, 13, 13461-13483.
Related Articles
Comments
[Return to top]