ZnS, CdS and HgS Nanoparticles via Alkyl-Phenyl Dithiocarbamate Complexes as Single Source Precursors
Department of Chemistry, University of Fort Hare, Private Bag X1314, Alice 5700, South Africa
*
Author to whom correspondence should be addressed.
Received: 13 June 2011 / Revised: 27 July 2011 / Accepted: 9 August 2011 / Published: 29 August 2011
Abstract
The synthesis of II-VI semiconductor nanoparticles obtained by the thermolysis of certain group 12 metal complexes as precursors is reported. Thermogravimetric analysis of the single source precursors showed sharp decomposition leading to their respective metal sulfides. The structural and optical properties of the prepared nanoparticles were characterized by means of X-ray diffraction (XRD), transmission electron microscopy (TEM), scanning electron microscopy (SEM) UV-Vis and photoluminescence spectroscopy. The X-ray diffraction pattern showed that the prepared ZnS nanoparticles have a cubic sphalerite structure; the CdS indicates a hexagonal phase and the HgS show the presence of metacinnabar phase. The TEM image demonstrates that the ZnS nanoparticles are dot-shaped, the CdS and the HgS clearly showed a rice and spherical morphology respectively. The UV-Vis spectra exhibited a blue-shift with respect to that of the bulk samples which is attributed to the quantum size effect. The band gap of the samples have been calculated from absorption spectra and werefound to be about 4.33 eV (286 nm), 2.91 eV (426 nm) and 4.27 eV (290 nm) for the ZnS, CdS and HgS samples respectively.
View Full-Text
►

▼

Figures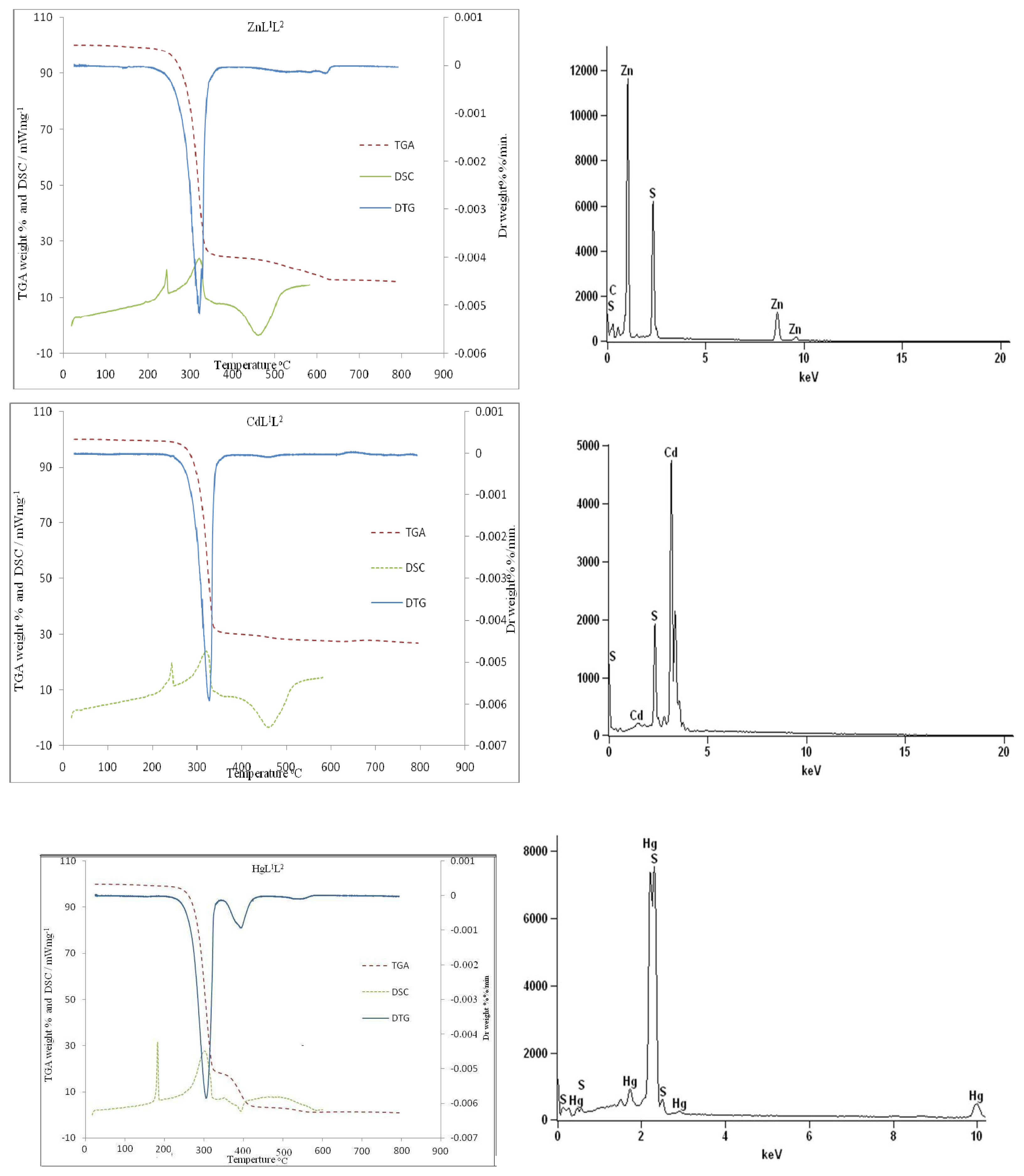 Share & Cite This Article
MDPI and ACS Style
Onwudiwe, D.C.; Ajibade, P.A. ZnS, CdS and HgS Nanoparticles via Alkyl-Phenyl Dithiocarbamate Complexes as Single Source Precursors. Int. J. Mol. Sci. 2011, 12, 5538-5551.
Related Articles
Comments
[Return to top]