Mechanism of Sphingosine 1-Phosphate- and Lysophosphatidic Acid-Induced Up-Regulation of Adhesion Molecules and Eosinophil Chemoattractant in Nerve Cells
1
Department of Medicine, Royal College of Surgeons in Ireland, Beaumont Hospital, Dublin 9, Ireland
2
Department of Dermatology, University of Utah, Salt Lake City, UT 84132, USA
*
Author to whom correspondence should be addressed.
Received: 8 March 2011 / Revised: 5 May 2011 / Accepted: 9 May 2011 / Published: 17 May 2011
Abstract
The lysophospholipids sphingosine 1-phosphate (S1P) and lysophosphatidic acid (LPA) act via G-protein coupled receptors S1P
1–5
and LPA
1–3
respectively, and are implicated in allergy. Eosinophils accumulate at innervating cholinergic nerves in asthma and adhere to nerve cells via intercellular adhesion molecule-1 (ICAM-1). IMR-32 neuroblastoma cells were used as an
in vitro
cholinergic nerve cell model. The G
i
coupled receptors S1P
1
, S1P
3
, LPA
1
, LPA
2
and LPA
3
were expressed on IMR-32 cells. Both S1P and LPA induced ERK phosphorylation and ERK- and G
i
-dependent up-regulation of ICAM-1 expression, with differing time courses. LPA also induced ERK- and G
i
-dependent up-regulation of the eosinophil chemoattractant, CCL-26. The eosinophil granule protein eosinophil peroxidase (EPO) induced ERK-dependent up-regulation of transcription of S1P
1
, LPA
1
, LPA
2
and LPA
3
, providing the situation whereby eosinophil granule proteins may enhance S1P- and/or LPA- induced eosinophil accumulation at nerve cells in allergic conditions.
View Full-Text
►

▼

Figures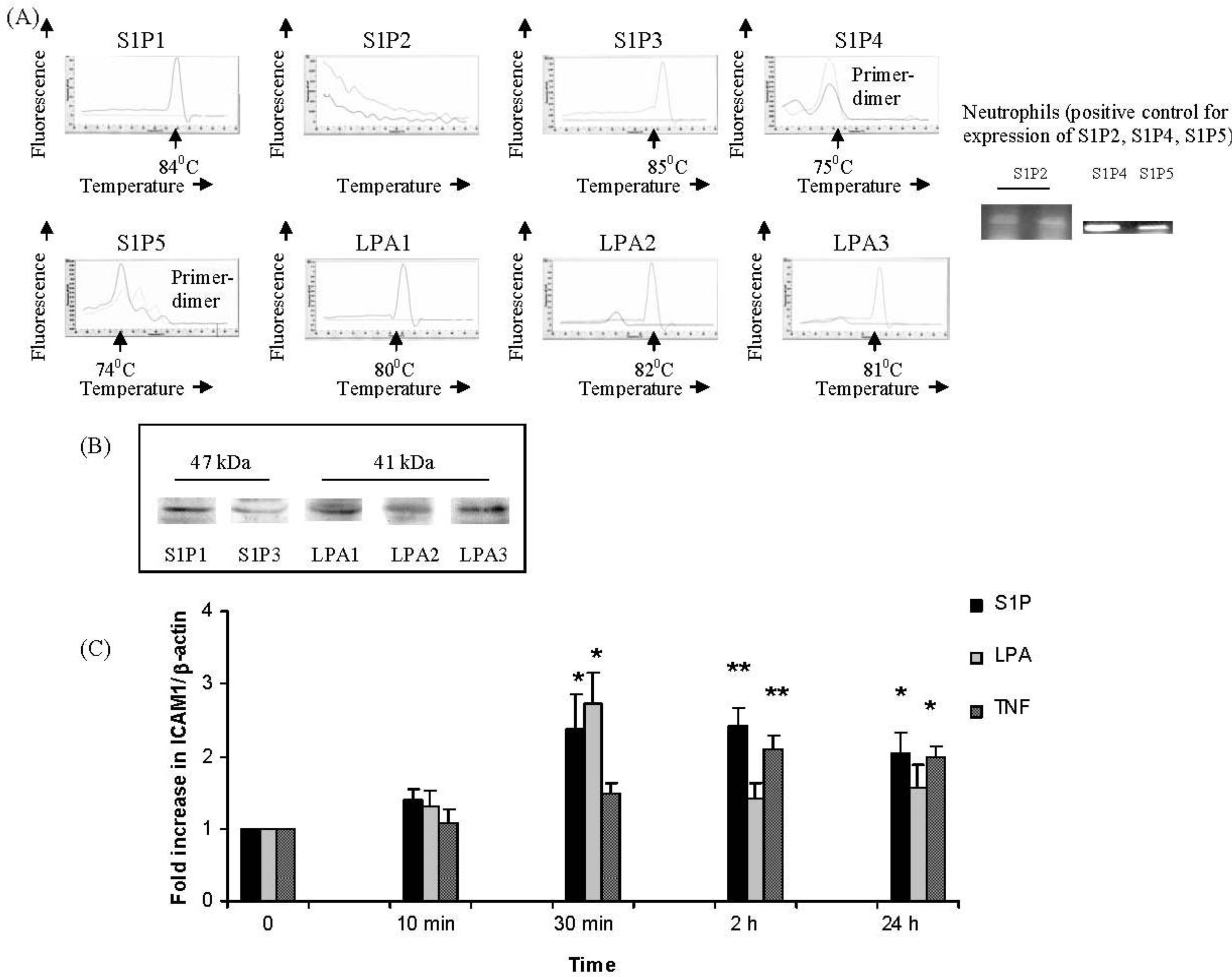 Share & Cite This Article
MDPI and ACS Style
Costello, R.W.; Maloney, M.; Atiyeh, M.; Gleich, G.; Walsh, M.-T. Mechanism of Sphingosine 1-Phosphate- and Lysophosphatidic Acid-Induced Up-Regulation of Adhesion Molecules and Eosinophil Chemoattractant in Nerve Cells. Int. J. Mol. Sci. 2011, 12, 3237-3249.
Related Articles
Comments
[Return to top]