Synthesis, Characterization and Thermal Studies of Zn(II), Cd(II) and Hg(II) Complexes of N-Methyl-N-Phenyldithiocarbamate: The Single Crystal Structure of [(C6H5)(CH3)NCS2]4Hg2
Department of Chemistry, University of Fort Hare, Private Bag X1314, ALICE 5700, South Africa
*
Author to whom correspondence should be addressed.
Received: 25 January 2011 / Revised: 9 February 2011 / Accepted: 8 March 2011 / Published: 17 March 2011
Abstract
Zn(II), Cd(II) and Hg(II) complexes of N-methyl-N-phenyl dithiocarbamate have been synthesized and characterized by elemental analysis and spectral studies (IR,
1
H and
13
C-NMR). The single crystal X-ray structure of the mercury complex revealed that the complex contains a Hg centre with a distorted tetrahedral coordination sphere in which the dinuclear Hg complex resides on a crystallographic inversion centre and each Hg atom is coordinated to four S atoms from the dithiocarbamate moiety. One dithiocarbamate ligand acts as chelating ligand while the other acts as chelating bridging ligand between two Hg atoms, resulting in a dinuclear eight-member ring. The course of the thermal degradation of the complexes has been investigated using thermogravimetric and differential thermal analyses techniques. Thermogravimetric analysis of the complexes show a single weight loss to give MS (M = Zn, Cd, Hg) indicating that they might be useful as single source precursors for the synthesis of MS nanoparticles and thin films.
View Full-Text
►

▼

Figures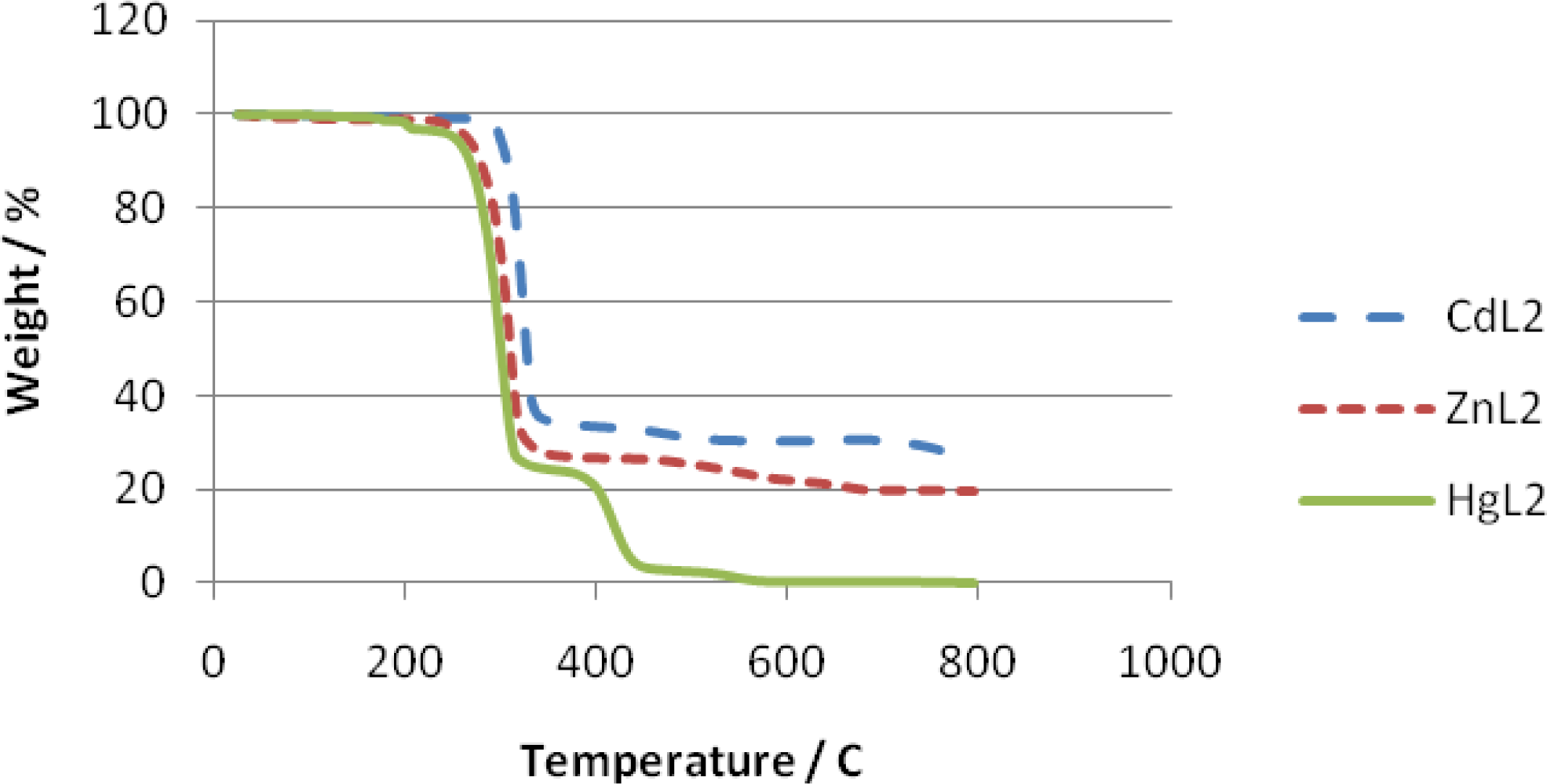 Share & Cite This Article
MDPI and ACS Style
Onwudiwe, D.C.; Ajibade, P.A. Synthesis, Characterization and Thermal Studies of Zn(II), Cd(II) and Hg(II) Complexes of N-Methyl-N-Phenyldithiocarbamate: The Single Crystal Structure of [(C6H5)(CH3)NCS2]4Hg2. Int. J. Mol. Sci. 2011, 12, 1964-1978.
Related Articles
Comments
[Return to top]